Ohio State vs. Michigan State Keys to the Game and Prediction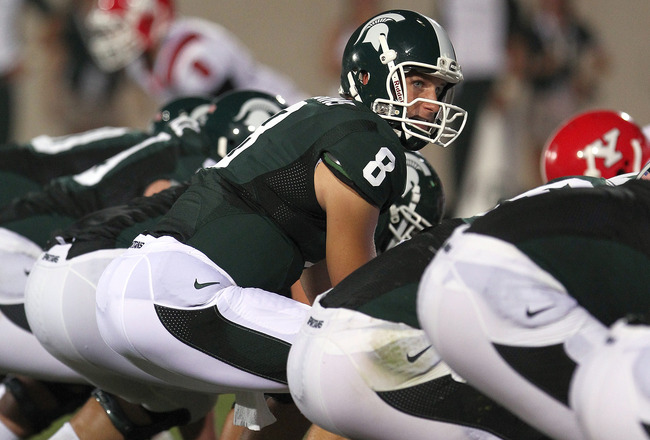 Dave Reginek/Getty Images
If you like an intense atmosphere with your college football, than look no further than Columbus, Ohio on Saturday, where the Michigan State Spartans will meet the Ohio State Buckeyes.
Both teams are looking at starting the season off 4-1, but that fourth win looks very appealing to both teams after a questioning start. Both teams faltered early as the Spartans were beat by an 0-2 Notre Dame squad and Ohio State lost in "The Game of the Cheaters", as they fell to Miami (FL) 24-6.
This game is a must-see for the story lines it holds for both teams. How will Braxton Miller do in his first Big Ten game? Can MSU's offensive line step up to the plate? Better yet, who will start the Big Ten season 1-0?
If each team focuses on these three keys to the game, we could see a barn burner down in Buckeye Country.
Michigan State Key No. 1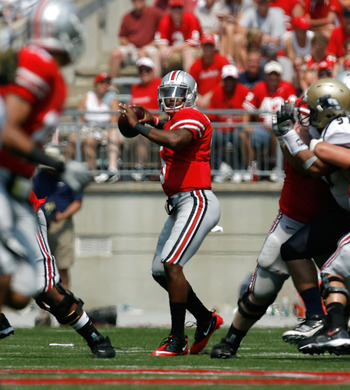 Kirk Irwin/Getty Images
Make Braxton Miller Throw
Last game, true freshman Braxton Miller started his first game, and the debut was mediocre at best.
He showed that he can create a big play with his legs, but if he is forced to throw, than the Spartans will cash in. Miller went 5-13 against Colorado for only 83 yards, but created some good offense with his legs by gaining 83 yards on 17 rushes.
The Spartan's defensive line will have to put a good pass rush on Miller and make sure he can't scramble to the outside at the same time. It will have to take a lot of discipline from young guns William Gholston and Marcus Rush, but if those two can execute, than the Buckeyes will have a very hard time establishing a passing game.
Michigan State Key No. 2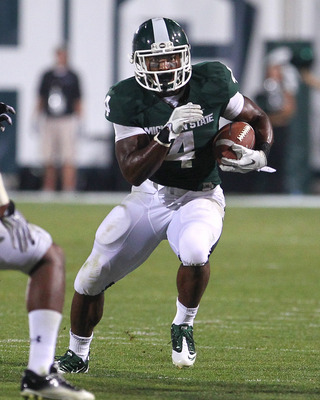 Dave Reginek/Getty Images
Establish a running game
If MSU can't successfully run with the ball, than Ohio State may win by 40.
Against Notre Dame, Michigan State embarrassed themselves on the scoreboard because they couldn't produce a rushing attack. The rushing stat is so pathetic, I don't even want to say it: *cough* only 29 yards *cough*.
Kirk Cousins is a good quarterback, but, just like every other QB, he is visibly better when there is a balance between the running and passing game.
The establishment of the run game will fall heavily on the young offensive line, and they hold the fate of the game with their blocking ability.
Michigan State Key No. 3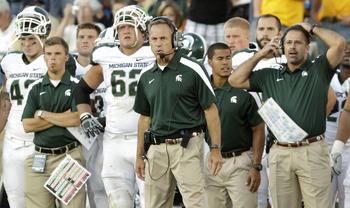 John Gress/Getty Images
Stay disciplined or don't show up
This game can very well be decided by penalties, and, if that is true, Michigan State needs to tighten up on the flags.
The Spartans have themselves a total of 27 penalties this year, and that ties them for 32nd in the nation in most penalties. The Buckeyes, on the other hand, are tied for 96th in the country and have only been flagged 16 times.
Not only do they have to stay disciplined with penalties, but they also need to be focused on defensive assignments too. Again, Braxton Miller has big play potential with his legs, and the best way to avoid that is to not bite on any designed play by the Buckeyes.
Ohio State Key No. 1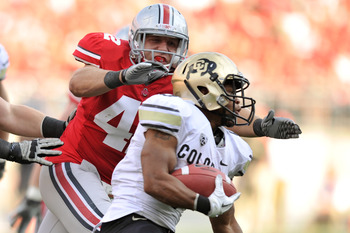 Jamie Sabau/Getty Images
Blitz like its going out of style
Michigan State's line is hurt, young and inexperienced, so the Buckeyes should blitz them heavily on the edge.
When the Spartans clashed with the Fighting Irish, they had the blitz thrown at them left and right, and that led to a spotty passing game and an absence of a running game. Granted, the offensive line has had two weeks to improve, but they will have their hands full with an Ohio State defense that is better than Notre Dame's.
Blitzing frequently may be the way to go for OSU if they want to rush Cousins into quick decisions and erase the run game.
Ohio State Key No. 2
Jamie Sabau/Getty Images
Don't be afraid to play small ball
Small ball could be the recipe for a Buckeye victory, because, lets face it, there is no way Ohio State is going to string together some home-run plays. It just won't work for these reasons:
-Braxton Miller will not have time to let a long-ball play unfolded before he scrambles or gets sacked.
-Michigan State's defense will not give Miller a clear look down field.
-Besides, Michigan State doesn't defend small ball quite well.
That last point is mainly why the Buckeyes should look to throw quick routes and screen passes, because MSU has troubles with open field tackling and defending the screen. The quick routes will also set up a tempo that Braxton can work with and maybe set them up for a big play if they stay on a pattern of short passes.
Ohio State Key No. 3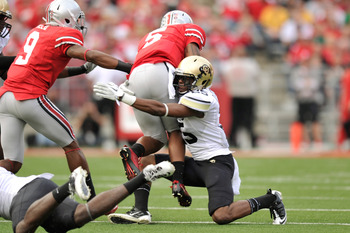 Jamie Sabau/Getty Images
Convert on third down. Don't let them convert on third down. Simple as that.

Ohio State is a very dismal team when it comes to converting on third down, and that is reflected by their 36.5 conversion rate. In their contest against Miami, they went 4-12 on third down and let Miami go 9-15 on third down.
That stat line could have been the game breaker for the Buckeyes, as they were beat 24-6. The Buckeye defense will more than likely stop the Spartans on a good number of third downs, as MSU has a 38.6 conversion percentage.
Prediction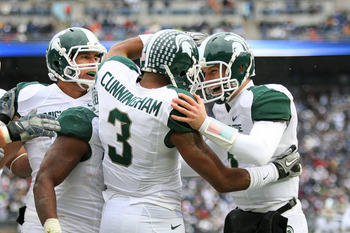 Hunter Martin/Getty Images
Michigan State-31 Ohio State-24
Michigan State's run game will be contained, but not stopped, as they rush for 95 yards and one touchdown collectively. Kirk Cousins will be the deciding factor in this win, as he goes 31-49 with three touchdowns and one interception.
On the defensive side of the ball, Michigan State will make Braxton Miller seem like the freshman he is and force him in to throwing 8-20 with one touchdown and two picks. Late in the game, Joe Bauserman will be tired out, again, and throw a touchdown pass and an interception.
Highlights for Michigan State:
- Kirk Cousins performance will be strong
- Pass rush will rush Miller into some poor decisions
Highlights for Ohio State:
- Running game will have fans realizing how lethal the ground game will be once Dan Herron comes back.
- The front four will start to live up to expectations after containing the run game.
Lowlights for Michigan State:
- Offensive line will still show flaws
- Open field tackling will still be seen as a major issue
Lowlights for Ohio State:
- The bad feeling of "we don't have a quarterback this year, do we?" will hit hard.
- Starting 0-1 in the Big Ten.
Keep Reading

Michigan State Football: Like this team?