College Football Realignment: After Armageddon, Let's Hope the Rivalries Survive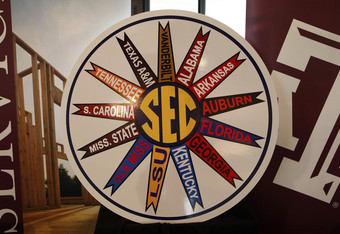 Aaron M. Sprecher/Getty Images
If you want the definitive piece on college football, check out Wright Thompson's astonishingly good piece on the religion known as SEC Football. It's the reason why—given half the chance, permission from the wife and a hundred thousand dollars—I'd move to the South between September and December every year.
When I watch the likes of College Gameday (my favorite program during the Fall months), I get excited about college football.
But you know what? The thing that keeps me going isn't the conference movements, the thought of who might go to the next level (thanks Mel Kiper, but I can do without your comical hairdo) or the NCAA violations. If I'm honest, they perform good offseason fodder for this website, but I don't care. Oh, and the fact that Texas A&M finally made it to the SEC or the fact that Pitt and Syracuse have gone to be the bottom-feeders of the ACC (we see a big rivalry with Duke in football, folks!)? It's interesting only for the 2012 schedule, folks!
I care about the football. I love the talk all week about the best team and the future winner, as though I care. I love the Vegas line as though I'm a gambling expert, despite never dropping a spread bet in my life.
I love the smell of bourbon at eight in the morning when it shouldn't be legal to be even thinking about hard liquor, smoking-hot sorority girls and white-outs, green-outs and purple-outs. I love grills, big-screen TVs for the game before the game and the walk to the stadium.
And when I'm in the stadium, I love the noise. I love the way Swamps, Beavers, Ducks and Tigers all come alive. I love the fact that there are two Death Valleys and you wouldn't want to enter either. I love the Navy and Georgia Tech triple-option and awesome defense, but give me a 40-something SEC game once in a while, too, to keep you happy.
Ronald Martinez/Getty Images
I love breakdowns, Jump-Arounds, war chants, peace chants, love chants. This is your stadium, people.
And while this will all survive college football's upheaval, you can't help but thinking that the "Special Something" will be missed over the next few years.
In Texas, thanks to greed and jealousy, we'll be saying goodbye to the Texas-vs-Texas A&M game, a century-old rivalry that has withstood student deaths, wars and plenty of saw horns.
Aggies fans may love going to the SEC, but it's not good for college football, which was built on rivalries. Heck, the Aggies even have a Midnight Yell song which is about hating Texas! What happens to that when there's no game? How long before Oklahoma does it's own thing and there's no Red River Rivalry against Texas? What happens to the State Fair then? Will anyone care about corn dogs, save for the State of Louisiana?
With the Big East probably imploding, we'll probably be saying goodbye to the "Backyard Brawl" between West Virginia and Pittsburgh, and how long before Notre Dame's forced to get into the Big Ten, all but eliminating the big game against USC that has been a fixture since 1926?
Then there's the SEC. With the new realignment (and don't think that more isn't coming), we could see a whole new shape coming. We could be saying goodbye to Georgia-vs-Auburn (played since 1898 apart from war-time), Alabama-vs-LSU (healthy since the end of World War II) and even those cool interstate rivalries that we love between Florida and Florida State, Clemson and South Carolina, and Georgia and Georgia Tech.
Streeter Lecka/Getty Images
What do we do without the end-of-season rivalries or the Red River Shootout, when National Championship hopes are on the line? I'm sorry, but there's nothing better than the end-of-the-season games when almost every interstate rival is battling it out. Whether it's the Civil Wars that stretch from Oregon to California, to Alabama to Texas, to the Carolinas to Florida, every rivalry is a little bit special. The list is remarkable. And we don't want to say goodbye to it. And if we're honest, the fans don't want to either.
The guys in charge of the colleges and the coaches or players don't really care. Most of them didn't grow up supporting one side or the other, so they won't realize how important in-state games are to communities. Bob Stoops probably recognizes Oklahoma-Texas for the rivalry it is while he's been in charge, but to be honest, his biggest rivalry is probably something in Youngstown, Ohio, where he grew up. They have their own interests at heart, and making money is right at the top of the list. Way above student or social pride.
Look, we know that college football is still going to be as breathtakingly exciting next season and the seasons after that. But without the rivalries, it's simply not as special.
Highlights of what you'd be missing (look away OU fans!)
This article is
What is the duplicate article?
Why is this article offensive?
Where is this article plagiarized from?
Why is this article poorly edited?