BYU Football: 10 Best Games in the Utah State Rivalry
September 29, 2011
What is the best remedy to being blown out 54-10 at home by your most hated in-state rival?
Blowing away your second most hated in-state rival 54-10 at home two weeks later.
Consolation prize, anyone?
While it seems unlikely that this BYU team is capable of a 54-10 victory over the Aggies tomorrow night, do expect them to enter the game riding a sweet wave of momentum after beating UCF a week ago.
The Cougars should win this game but Utah State will keep the score close.
A review of some of the thrilling Utah State-BYU games of the past show a long list of BYU blowout wins, a shorter list of close games and an even shorter list of wins for the Aggies.
2010, Romney Stadium
If you are an Aggie fan, this game is at the very top of your list of all-time greats.
If you are a BYU fan, not so much.
BYU lost its fourth-straight game for the first time since 1973, in a game Coach Mendenhall and Co. would like to pretend never happened.
BYU defensive coordinator Jaime Hill lost his job after the game.
Utah State rushed for 242 yards and three touchdowns pasting a 31-3 lead on the hapless Cougars before BYU made the score look somewhat respectable.
Utah State had not beaten BYU in 17 years and fans in Logan rushed the field to celebrate the smack down.
Final: Utah State 31, BYU 16
2009, LaVell Edwards Stadium
BYU entered this game ranked No. 20 in the country, but things looked bleak in Provo early on.
On the third play of BYU's first offensive drive, the Cougars fumbled on their own 43 yard line. Less than five minutes into the game, Utah State took advantage of the turnover and led 7-0.
Max Hall, Denis Pitta and Luke Ashworth led BYU's offense to respond nicely, pulling ahead of the Aggies 21-7 at halftime.
The highlight of the second half was Utah State going for it on 4th-and-1 early in the fourth quarter. The Cougar's defense stuffed the run play for a loss of one yard, hammering the nail in the Aggies' coffin. .
Final: #20 BYU 35, Utah State 17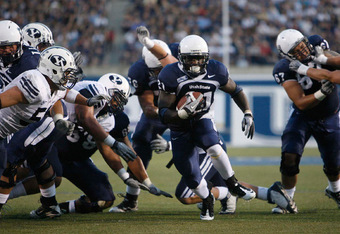 2008, Romney Stadium
Brigham Young traveled to Romney Stadium with a No. 7 ranking and boasted a 59-0 beat down of UCLA earlier in the season.
Utah State had not beaten the Cougars in 15 years.
The first quarter spelled Aggie doom.
After a 76-yard Cougar touchdown pass, Utah State fumbled the ball. BYU recovered for a 35-yard touchdown. BYU scored a field goal on its next possession and then intercepted Utah State for another touchdown.
Final: #7 BYU 34, Utah State 14
2006, Lavell Edwards Stadium
Any time the BYU defense shuts out the opponent, the game will count as one of the greats.
In 2006, the closest Utah State came to scoring in Provo was when a 19-play drive ended in a field goal snap soaring over the holder's head.
Oops.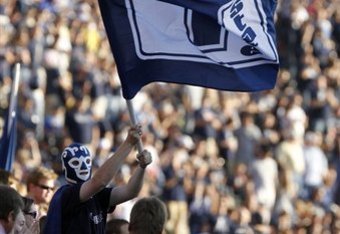 Final: BYU 38, Utah State 0
2002, Romney Stadium
Utah State looked poised to upset BYU in 2002 with a comfortable 24-point halftime lead.
BYU was down 24-7 on the last play of the first half. BYU QB Bret Engemann looked for open receivers in the end zone when the pigskin slipped right out of his hand and into Utah State's Jerome Dennis' grasp. Dennis capitalized on the mistake with a 75-yard touchdown.
What looked like a definite Cougar loss flipped over in the second half.
Curtis Brown rushed for 217 yards, Bret Engemann passed for 294 yards and BYU pulled out the win in a close one.
Final: BYU 35, Utah State 34
1999, Romney Stadium
We're going to overtime!
BYU led the Aggies 31-20 in the fourth quarter, but could not hold on while Utah State came roaring back with a heroic 55-yard field goal by Utah State kicker Brad Bohn as time expired.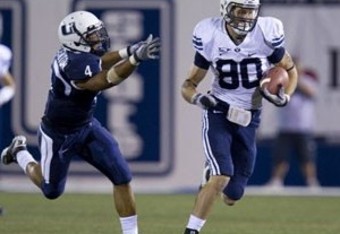 In overtime, Bohn connected again on a 37-yard attempt but the Aggies were penalized for illegal procedure and moved back 5 yards. Bohn's 42-yarder was no good.
A few plays later BYU kicker Owen Pochman connected from 33 yards out and the Cougars rolled on to victory.
Final: BYU 34, Utah State 31
1993, Romney Stadium
The Cougars and the Aggies combined for 104 points in this 58-56 Aggie victory.
Down 58-49, BYU scored on a 42-yard pass with 59 seconds left in the game. The on-side kick attempt was recovered by Utah State as time expired. Aggie fans rushed the field to tear down the goal posts in celebration.
Chuck Bell, the Utah State athletic director at the time, cut the goal post into nine-inch pieces and sold them for $58.56.
Clever!
Final: Utah State 58, BYU 56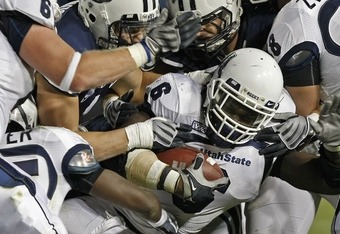 1992, Cougar Stadium
Any day that BYU's third-string quarterback passes for three touchdowns and 385 yards, the game is going on the list as one of the greats.
Ryan Hancock was a pitcher for the BYU baseball team, but ended up starting the game as BYU quarterback when John Walsh and Steve Clements both suffered injuries.
Hancock threw touchdown passes from 25 yards, 65 yards and 67 yards out.
Final: BYU 30, Utah State 9
1986, Cougar Stadium
Robbie Bosco graduated and the 18th ranked Cougars were looking for a hero.
Steve Lindsley stepped into some very large shoes in the 1986 season opener and threw two shaky first-quarter interceptions.
He recovered nicely, though, in the second half and ultimately completed 24 of 37 attempts.
BYU scored 42 points in the second half.
After the game, the team ate Aggie stew for appetizers with a fat doughnut on the side.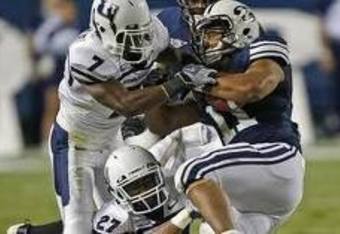 Final: #18 BYU 52, Utah State 0
1981, Cougar Stadium
10th ranked BYU was in a pickle with Jim McMahon's injured knee and Utah State leading 7-0 early in the first quarter. It was the first time that the Cougars had trailed all season.
Leave it to a true Brigham Young bloodline descendant to save the day!
Steve Young threw for 307 yards and ran for 67 yards.
With the game tied at 26-26, Todd Shell returned an intercepted Aggie pass for 12 yards to finally put the Cougars one touchdown ahead of Utah State late in the fourth quarter.
Those pesky Aggies.
Final: #10 BYU 32, Utah State 26