Notre Dame vs. Purdue: TV Schedule, Live Streaming, Radio, Game Time and More
September 29, 2011
Gregory Shamus/Getty Images
The Notre Dame Fighting Irish and Purdue Boilermakers may have comparable records, but their schedules have been miles apart in difficulty.
The Boilermakers rank highly in rushing yards per game, points per game and points allowed, but they've also faced bottom-feeders like Middle Tennessee, Rice and Southeast Missouri State. The reality is, they should be entering this game 3-0.
On the other hand, the Fighting Irish lost their first two games of the season to then-unranked South Florida and Michigan. However, they've fought back since, including a win against then-No. 15 Michigan State, and USF and Michigan have proven to be legitimate top-25 teams. Notre Dame continues to play with its fans' minds.
Where: Ross-Ade Stadium

When: Saturday, Oct. 1, 8 p.m. EST

Watch: ESPN

Live Stream: ESPN3

Radio: Notre Dame ISP Sports Network, Purdue Sports Network

Betting Line: Notre Dame - 12

Notre Dame Injury Report
Danny Spond, Questionable
Mike Ragone, Out for Season
Eiler Hardy, Out for Season
Tate Nichols, Out (mid-Oct)
Purdue Injury Report
Jared Crank, Questionable
Gerald Gooden, Questionable
Gabe Holmes, Questionable
Rob Henry, Out for Season
BCS/Top 25 Poll Implications
Both teams are likely out of the BCS bowl picture, but Notre Dame has a chance to get back into the top 25 with wins against USC and No. 6 Stanford. The likelihood of the Fighting Irish defeating Stanford, however, is slim to none. However, if they put up a good fight against Stanford and win out moving forward, they have a shot at the top 25.

Key Storyline
Tommy Rees. Notre Dame's starting sophomore quarterback, Rees has taken control of the team after taking over for Dayne Crist in the first game of the season. Rees undoubtedly is still progressing as a college quarterback and needs to cut down on his interceptions, but there's no doubt he's injected more life into a Notre Dame team that looked awful in the first half of Week 1 with Crist under center. The Fighting Irish may have to run the table to grab a BCS bid this season, and Rees' development will be key in that respect.

What They're Saying
Notre Dame tight end Tyler Eifert:
"Yeah there's some frustration when you're not putting points on the board. But at the same time, you've got to keep grinding...our defense stepped up big, and our offense scored just enough points."
The Notre Dame defense, led by linebacker Manti Te'o, was expected to be dominant this season, but haven't met expectations yet. However, they've limited Michigan State to 13 points and Pittsburgh to 12 points in the last two games and have definitely rebounded.
Eifert caught the game-winning touchdown against Pittsburgh, and it appears if the Fighting Irish are to win the rest of their games they'll have to grind out a lot of victories.
ESPN Big Ten blogger Adam Rittenberg:
"You have to evaluate TerBush independently of the team's record, and I agree his performance has been mixed. But I understand Danny Hope's desire to create some continuity at quarterback after dealing with so many injuries there. Having Marve healthy is huge and Marve will play, but TerBush has earned the right to remain on the field. If he struggles early on against Notre Dame, go to Marve."
Caleb TerBush has been the Boilermakers' starting quarterback since Robert Marve has been out, but there's no question Marve has immense upside and is now healthy now after coming back from injury. The Boilermakers have a quarterback controversy on their hands, and they'll likely take a quarterback-by-committee approach until one of the other distances himself.
Notre Dame Player to Watch: Tommy Rees
Rees will be the key from here on out. The Fighting Irish know he's their starting quarterback now. If he can make strides each game, the Fighting Irish have the defense to make a run at a BCS bowl. That's not to say they can stop Stanford's Andrew Luck at the end of the season, though. Let's just say Rees is going to have to improve a lot for the Fighting Irish to hang around against Stanford.
Purdue Player to Watch: Robert Marve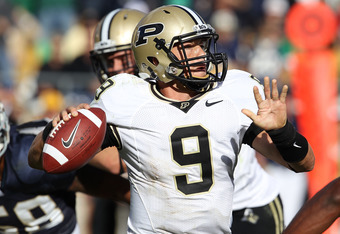 Jonathan Daniel/Getty Images
Marve went 7-for-8 for 91 yards and a touchdown in Week 4 against Southeast Missouri State in his first game back from injury. He started the 2010 season before tearing an ACL. TerBush has earned the right to keep the starting job for now, but you can't help but think Marve is the more talented quarterback. If he gets on a roll against Notre Dame, he may take hold of the QB spot and never look back.
Key Matchup: Caleb TerBush/Robert Marve vs. Notre Dame defense
Notre Dame has proven it has a defense to be feared after limiting Kirk Cousins and the Spartans to 13 points. They have a young, dangerous defensive line and a linebacking corps that includes a top prospect in Te'o. TerBush and Marve will have their biggest test of the season against the Fighting Irish. If they pull off a win here, they're going to make waves.
Prediction: Notre Dame 27, Purdue 17