Texas A&M vs. Arkansas: TV Schedule, Live Streaming, Radio, Game Time and More
September 28, 2011
Bob Levey/Getty Images
The Texas A&M Aggies will square off on a neutral field against a future division opponent in the Arkansas Razorbacks this Saturday afternoon. 
Both are coming off a loss to top five teams, and they are in desperate need of a win. Right now, teams are approaching the meat of their schedules, and losing back-to-back weeks is never a good thing, especially when you have the potential to make it to a BCS bowl.
The Aggies will join the SEC next year, and they are likely to be in the West division, where they'll face the Razorbacks every year. Saturday's game might make the Aggies think twice about their decision to join the best conference in the country, or it could give them great confidence towards the future of the program. 
With that said, let's dig into some specifics about this fantastic Week 5 showdown.
When: Saturday, Oct. 1, 12:00 p.m. ET
Where: Cowboys Stadium, Arlington, TX
Watch: ESPN, ESP3.com
Listen: KASR 92.7 FM Arkansas, KZNE 1150 AM, College Station
Betting Line 
According to bodog.com, the Aggies are favored by a field goal, which is fair, since they're ranked higher and the game is played in Texas. I'd take the Razorbacks given the history the Aggies have had against SEC teams; plus, the Arkansas defense should be the difference maker on Saturday.
Texas A&M Injury Report 
 Cornerback Coryell Judie was out against Oklahoma State with a hamstring injury, and his status is still unknown for Saturday's matchup against the Razorbacks. Wide receiver Ryan Swope sat out practice earlier this week because of a hard hit that was labeled a person foul; however, it was just a day of rest, as he is expected to play on Saturday. 
Arkansas Injury Report
Defensive end  Tenarius Wright is expected to be out at least four to six weeks after suffering a broken arm against Alabama. However, senior defensive end Jake Bequette was back working out with the team after missing the Alabama game, and the Razorbacks are hopeful that he will be good to go on Saturday. 
BCS/Top 25 Poll Implications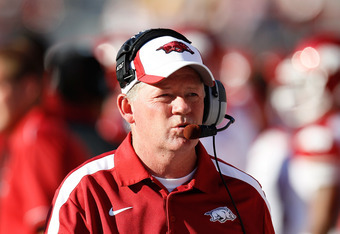 Kevin C. Cox/Getty Images
If either team wants a crack at a BCS Bowl this year, then they have to win this weekend. It is also likely that the loser of this game will drop out of the Top 25. In order to avoid a big drop off, a win on Saturday will keep their team alive. 
Unfortunately, one team has to lose, which will be the beginning of a bad run for said team. 
What They're Saying
Texas A&M head coach Mike Sherman told reporters that his defense should be ashamed about their performance last week. Per FOXSports:
"[Allowing] 245 yards in a quarter is unacceptable. Not being able to get off the field is unacceptable. It should make them mad and focused on getting that fixed. If they want to claim lineage to the Wrecking Crew, then they need to step up and get that fixed."
The Aggies are about to face another fast pace offense that thrives on the pass, so their secondary needs to be prepared. The Razorbacks have a slew of talented receivers, and if the Aggies aren't ready, they'll get torched.
In a Wednesday teleconference with the media, Bobby Petrino was asked if he thought the Aggies coming to the SEC will affect this game. Rudy Jones of the The Greenville News tweeted Petrino's response.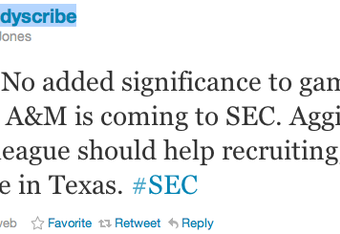 Most coaches haven't said much about the Aggies joining the SEC, but for a team very close to the state of Texas, Petrino is obviously happy about having more access to the state. 
Texas A&M Player to Watch 
Cyrus Gray has 13 carries last week, but he only rushed for 35 yards. The senior running back only averaged two yards a carry, and the Aggies need him to rebound strong on Saturday.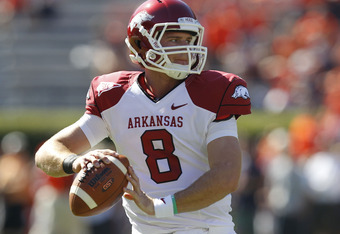 Mike Zarrilli/Getty Images
Gray averaged over 100 rushing yards and two touchdowns in his first two games, but the Cowboys did a solid job of shutting him down. The Razorbacks will be looking to do the same thing, but they struggled to stop Trent Richardson, which could mean good news for Gray. 
Arkansas Player to Watch 
Tyler Wilson has consistently completed over 60 percent of his passes this season, but he's thrown an interception in the last three games. After a big loss on the road, will Wilson be able to bounce back? 
He's a talented quarterback, but he'll be put to the test in overcoming adversity. The Razorbacks need him to lead them to victory, and he cannot make any mistakes on Saturday. 
Key Matchup 
The Razorbacks' defense versus the versatile Aggies offense is the matchup to watch here because the Aggies have struggled to find success against SEC defenses. The Razorbacks are known for their offense, but their defense is capable of dominating. 
Key Storyline 
The Aggies are joining the SEC next year and will soon find out if was a good idea or not. Texas A&M is on a six game losing streak against the SEC, and they're hoping to end that on Saturday. They're a well rounded team, so winning this game is very possible. 
Prediction
The Aggies' stars will be in full force on Saturday, as the Razorbacks will struggle early against Ryan Tannehill, Jeff Fuller and Cyrus Gray. Expect a shootout, though, as both teams have great offenses. 
In the end, the Razorbacks defense will prevail, and in the process, they'll show the Aggies what they're getting into by joining the SEC. I do expect this game to come down to the wire, though, and it definitely works in the Aggies favor that this is at a neutral site that happens to be closer to their stadium.
Arkansas 34, Texas A&M 28