Why the Big 12 May Only Add One School...and Why TCU May Be the Surprising Pick
September 29, 2011
Jeff Gross/Getty Images
The Big 12 is once more pouring over expansion candidates.  While fans may want a larger expansion to 12 or more to reduce the sway UT has over the conference and give the conference the numbers to ride out future instability, there appears to be a second line of thinking on expansion within the conference. 
The first line of thinking is allegedly espoused by Oklahoma's leadership.  John E. Hoover, beat writer for the Tulsa World, tweeted that OU would prefer adding TCU, Air Force, and BYU to get back to 12 and fleshed out that logic in a related story, adding that interim commissioner Chuck Neinas is a TCU advocate. 
(In fact try finding an editorial written by an Oklahoma reporter that doesn't beat the drum for at least TCU or BYU...if not all three of above schools.  It is kind of relevant if you consider who those reporters talk to at the Big 12 schools.)
The other line of thinking, pushed by UT athletic director DeLoss Dodds, thinks the conference should either stay at nine members or expand only back to 10. 
More surprising still, the candidate that is receiving the most talk to fill that slot lately is one that was widely discounted as a pipe dream when Texas A&M was in the conference—Texas Christian University.
Chip Brown of Orangebloods.com is reporting TCU is a strong candidate. Many feel that anything that comes out of Chip Brown should either be considered what brown, an accomplished reporter, has unearthed UT is thinking at the time...or what Dodds and company are pushing out to the public through Brown.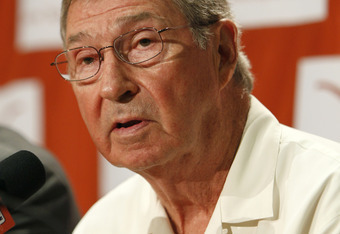 Erich Schlegel/Getty Images
Oklahoma State president Burns Hargis, a part of the 5 member Big 12 expansion committee, rattled off a list of possible candidates that included SMU, TCU, BYU, Air Force, Utah and Houston in time for the newspapers on September 22nd. (Barring the ridiculous idea of the Big 12 raiding Utah, BYU and TCU seem the most prominent members of that list.)
Just a month ago, plugged-in Oklahoma State super booster T. Boone Pickens and others were confirming what a lot of us believed—that OU and UT were out on TCU.
When did up become down and all logic in the Big 12 universe get flipped on it's head?  Its been an ongoing process, but a key moment does jump out...
Key date in Big 12 history - September 9, 2011 - The day Dodds became a share the wealth communist...?!
Lost in the day-to-day minutia of this year's Big 12 expansion roller coaster ride was a story about UT suddenly deciding to reverse their position on revenue sharing.  To me, the news was glaring. UT has long been against sharing the conference wealth.
UT, under Dodds, has been all about UT keeping the revenue Dodds feels they generate.  "We eat what we kill" is UT's athletic department's often quoted mantra.
On September 9th, Dodds curiously started championing the idea of sharing the tier 1 (broadcast) TV revenue evenly.  (The Big 12 already shares their tier 2 (cable) TV revenue equally.)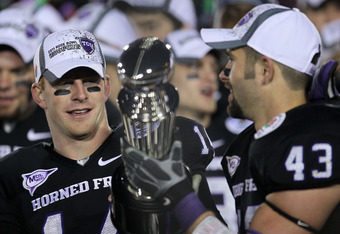 Stephen Dunn/Getty Images
With UT on board, eight of the nine effective members of the conference were said to be in support of the measure at the time. (A&M, who had already checked out of the conference mentally, apparently was not solicited for a position.)
This was seen by most as an effort to mollify their conference mates to allow UT to keep the tier 3 revenue that the new Longhorn Network generates.
I believe that is an incorrect read.
Dodds doesn't seem to give away assets to make his conference mates feel better.  His history suggests he trades them for other things he wants.
When Dodds signaled that, at long last, he was willing to give in on this issue, he ensured that it would happen.  (And frankly with the loss of A&M, there may have been a recognition that UT no longer had the votes to block a movement to share tier 1 revenue, so why not champion it in exchange for some things UT wants?)
UT can afford to give away up to $5 million of their tier 1 revenue because they are getting a new, and partially unexpected, $15 million from ESPN for the Longhorn Network.
On the other hand A&M and OU, the conference's other two breadwinners, do not have appeal for ESPN to offer them their own national networks.
For them, UT's proposal meant as much as a $5 Million dollar cut on those two school's conference payouts.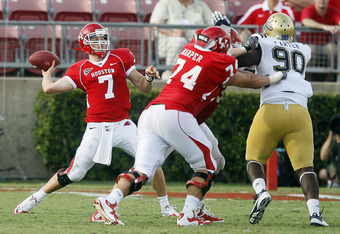 Bob Levey/Getty Images
It would seem to be an action designed to chase the other two out of the conference.  After all, since A&M was allowed to leave without bringing another school with them, it certainly seems UT has a precedent to leave on their own at any time now.
If OU's PAC-12 invite had materialized, the Big 12 could be pronounced dead.  There would be nothing but some negotiation with an eastern conference to prevent the Longhorns from either completing a solo jump to the Big 10 (or a solo jump to the ACC short term to give UT a good Olympic home and prepare UT fans for football independence down the road).
For Dodds, the short term trade was to ensure there would be no saving A&M and to try to push OU out the door, making the conference weak enough that UT could leave at any time...without push back in Texas.
But there is also the long term play that was equally overlooked.
The Power of Greed
By embracing this policy, UT has put the short-term greed of their conference mates at odds with their conference mates' own long-term interest.
To get what I am suggesting, one has to consider the likely pool of TV money available.
As Texas A&M jumped to a conference that also has a deal with ESPN, there is every reason to believe ESPN will insure that the Big 12 receives every cent of the TV money they were scheduled to receive over the the length of their ESPN contract (and possibly over the Fox deal as well).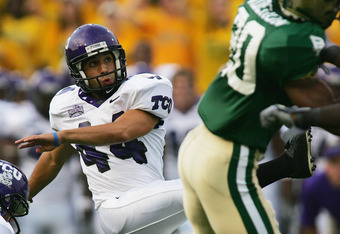 Ronald Martinez/Getty Images
A lot of expansion writers have covered the legal issues conference realignment causes for ESPN.  Lawyer turned sports reporter Clay Travis of OutKickTheCoverage.com is one of the best of that lot.   He offered a well written insight into the issues facing the Big 12's TV partners in this era of torturous realignment.
The long and short of it is that ESPN would not want to be sued over actions that show a conflict of interest with their agreement with the Big 12.  With their deals with the SEC and Texas, the best way to ensure that they aren't sued is to honor the money in full.
Once you accept that, a totally different view emerges.
Essentially, the $155 million tier 1 and tier 2 pie is still likely going to be just as big (but potentially no larger).  Instead of UT, A&M and OU getting their larger shares of the tier 1 money first, now everyone gets the same share of tier 1 and tier 2 revenue.
Last year, UT, OU and A&M might have eaten almost 40% of the pie, leaving a little over 60% to be divided between the other seven schools.  So lets say 8.5% each.
If the Big 12 should go with 12 members, next year, the same pie split evenly would leave each school with 8.3%...the same money, or even a slight pay cut.
At 9 members, each school would get 11.1%.  At 10, each would get 10%.
The members of the conference are weighing "Do we vote to expand to 12 and take a pay cut?  Or do we stay at nine or only add one new member and each take a $2-3 Million dollar raise in this tough economy?  While we all see the need for a larger membership, do we need it today or can it wait and use this extra cash to help us through the economic downturn?"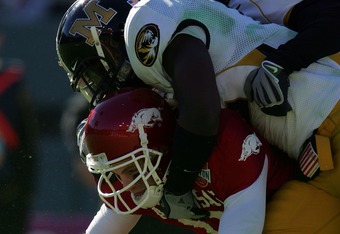 Ronald Martinez/Getty Images
TV and the potential for collusion
Three years ago, I took a non-standard look at the BCS conferences.  I took a map of the US and wrote in the state populations.  Then, for every member of a BCS conference, I evaluated whether they had a statewide following (most AQ conference members) or a Designated Market Area-wide following (many Big East members).
Depending on the school, I either credited the conference with appeal with a state's entire population, or only a DMA's population.
I found at that time that most AQ conferences had in the ballpark of 60-70 million people in their footprints.
One notable exception was the Big 12, which fell far below that ballpark.
Last year, the Big 12 lost Nebraska and Colorado, shrinking their footprint to about 41 million people, 25 Million of which live in Texas.
Now, following that logic, you can see why many media insiders argue that OU, UT and (what may be surprising to some fans) Texas A&M contributed by far the lion's share of the media value to this conference.  Their fanbases dominate Texas.
The loss of A&M and their very large and dedicated fan base has to be a kick in the teeth to the Big 12 partners ABC/ESPN and FOX, and has to make the decision to partner with the Big 12 much less profitable.
Adding a single school from yet another small population state—a poor state like Kentucky (Louisville), or even a richer state like Utah (BYU)—is not likely to fully replace an A&M's value, especially if SEC recruiting advances hurt UT and OU's national title chances—and therefore their TV appeal.
The networks have to be thinking "If only something could be done in-state to pick up some of that TV audience and consume some of the media oxygen for the SEC..."
TCU - "You've come a long way baby!"
Two years ago if you'd have told me that Mountain West Conference member TCU would be at the top of the Big 12 expansion list today, I'd have asked you for some of what you were smoking.
While I think TCU played their cards brilliantly in joining the Big East, I thought they had probably topped out in their conference climbing.
After all, with UT, A&M, Tech, OU, OSU and even Baylor, the Big 12 didn't need another Texas member in order to have media relevance throughout the state.  A strong argument could be made that UT, A&M, Tech, OU and OSU all had bigger fan bases TCU, at that point, only represented another mouth to feed. 
Last year, after the Big 12's near collapse, Dan Beebe summed up the conference's position. "We're not looking to expand at all and certainly we wouldn't look to expand with any institutions that are in our geographic, five-state area."  UT ran the conference, and, as we touched on earlier, DeLoss Dodds doesn't believe in conference charity.
But things have changed now.  A&M leaving and the bad economy combine to totally rewrite the underlying logic of blocking another Texas school.
No one really knows how much A&M going to the SEC will injure college football in Texas.  The SEC infection has a chance to pull an unprecedented number of top Texas recruits and to undermine all of the top football programs in the state and in the conference.
Erosion of TCU, UT, Tech, OSU and OU's programs would yields lower ratings for those school's broadcasts.  The warm-weather fans of those universities who only tune in for games with title significance, could instead tune in for the SEC game of the week.
The Big 12 membership and the networks lose in that scenario.  The idea of protecting Texas football has a monetary value.
Along those lines, there has been growing support in the last two weeks for adding schools from Texas.
With that in mind, the question becomes if the Big 12 adds a single school, and if it is another school from Texas, will it be TCU or Houston? 
TCU has some big advantages over Houston, especially where it matters
Houston's biggest asset may be one that they cannot use. Houston seems to have more political clout than TCU.  They have a collection of representatives who have been weakly championing their admission to the Big 12 for over a year.
Sadly, it is a long time since a real Texas politician who made the powerful tremble (like Bob Bullock) roamed the earth. Texas is a one-party state today, and no one seems willing to rock the boat.
It doesn't help the fact that the party that runs the state is anti-government intervention. (Bullock was one of the last great Texas Democrats.)
Everything else seems to favor TCU.
TCU draws more fans than Houston.
TCU has a more developed program than Houston.  They have rebuilt over and over and continue to win at an elite level. Things are not as certain with Houston.  Houston may just have a good coach and a great QB.
The Horned Frogs are sexy to the general public. Houston is not. (Given that the networks are really focused on their relationship with the Big 12 for the next 5 years, TCU is the better short term bling).
Dallas and Houston are NFL cities.  They have a lot of entertainment choices and, as such ,will only follow winners.
A game featuring a 7-0 TCU team in the Big 12 will draw a lot of unaffiliated viewers.  A 5-2 or 6-1 Houston school will not do the same in Houston.
Adding Houston alone represents fighting with A&M for the Houston and East Texas recruiting grounds.  Adding TCU amounts to conceding Houston and east Texas to the deep south and attempting to consume all of the media oxygen in Dallas/Fort Worth for the next few years.  One can argue until the cows come home which is the better play.
Politics makes strange bedfellows
The idea that UT and OU are receptive to adding TCU is a tremendous change of position.  The orangebloods article on TCU's candidacy suggests UT, who has long been out on any reunion with the privates of the Southwest conference, could be OK with the admission of TCU.
A TCU admission makes sense for the Longhorns.  
UT's actions have driven off 3 of the strongest academic members in the conference.  There was a time where the BCS world looked down at the SEC as being substandard academically as BCS conferences go, and the Big 12 as being merely a better mix of great BCS academic programs and uninspiring ones. 
Things have changed.  The Big 12's average ranking in the US News University ranking is now 105, trailing the SEC's average of 99.  The Big 12 only has a single program (UT) that averages over 250 million in annual research.  The SEC has six.
While Houston's academics do not compare favorably to the rest of the BCS world, TCU's do.
While admitting Houston would be admitting another large Texas alumni-base, and could open the door for Houston and A&M fans to work together to bind UT into the Big 12 long term, they would be the worst academic school in the conference and at the BCS AQ level. Should UT leave, Houston's admission could hurt a gutted Big 12's argument for remaining at the BCS AQ level.
And it doesn't work as well for UT.  Alumni have a vested interest in seeing their schools maintain an affiliation with UT; fans do not.  UH has a ton more alumni than TCU.  Adding a Texas private school with their much smaller alumni-base could have less down the road political implications for UT.
In practical terms, in the case of UT, a conference the Longhorns abandon with TCU in it is far more likely to survive as a BCS conference than a conference with Houston because TCU has athletic and academic credibility at the BCS level.
In other words, it would be easier for UT to leave.
UT appears to be trying to massage another few years out of the Big 12, nothing more.  TCU looks good on the front end and appears to do nothing on the back end to bind UT.
And UT is not the only school that may be giving this some thought.
OU was publicly out on TCU only last month. That may not be the case any more. It was the president of Oklahoma's partner OSU who announced the latest candidate list with TCU being one of the most prominent names on it.
TCU and Baylor have had bad blood since Baylor got to move from the SWC to the Big 12 and TCU did not.  Last year, when the Big 12 appeared to be dead, TCU was reported to be actively blocking Baylor's admission to the MWC. 
Baylor fans certainly cannot be happy with the idea of rewarding TCU after that.  One would think Baylor boosters would make their opinions well known to Baylor leadership.  
When a team in a conference has a deep-seeded problem with an expansion candidate, their conference mates tend to go along.
One would have to think Baylor would love to return the favor and block TCU.  The conference membership owes a lot to Baylor.
The fact TCU is getting this talk of being a legitimate candidate, even in the face of a possible or even likely block attempt by Baylor, suggests the desires of the networks may be being considered by the Big 12 membership.
TV arguments
Consider the two networks that have TV contracts with the Big 12. Fox does not have a contract with the SEC.  ESPN does. 
The $65 million a year ABC/ESPN deal goes until 2016.   Fox's $1.17 million deal lasts until 2024/2025, but they reportedly have the ability to void their deal if the Big 12 membership changes.
If Fox cancelled the deal due to A&M leaving and argued that ESPN's actions lead to this...I think you can see why ESPN is probably pushing for Fox to get what they might want.
Fox signed the deal to broadcast UT and OU games.  They don't want to lose this deal. It is highly unlikely they would cancel it now.  They just need it to be bearable (perhaps only until the Kumbaya "right surrendering deal" is over and UT and/or OU bolt the conference in 2016.  Then they can void it and negotiate a more favorable deal with UT and/or OU.).
Fox may look at the landscape of the Big 12 and prefer the addition of TCU if there is only one school added. It may be the best single school to add to limit lost revenue over the length of the Fox deal (or the portion of that deal they intend to have to honor).  
Adding TCU could help ensure the Big 12 doesn't fall out of the BCS before the Fox deal is complete.  If UT leaves in 5 years, Fox would have the option of either continuing their deal with a Big East level Big 12 (if the money is sensible) or cancelling their contract at that point and investing the money into another conference.  It would seem to protect Fox's options.
As ESPN might feel a need to makeup any shortfalls, they are likely to also push for whatever Fox wants to reduce that FOX earnings shortfall as much as possible.
The rank and file of the Big 12 may feel there is significant value in earning future goodwill with their network partners by expanding at least back to 10 and giving Fox and ESPN a replacement asset to sell.
That may mean TCU.
While this should in no way be considered a guarantee from me that TCU will be team ten in the Big 12, there appears to be a mounting case for them being a serious candidate for that slot. 
"TCU to the Big 12!" is no longer exclusively the delusional rantings of the most disturbed Horned Frog fans.
Update: As I was editing this article, I noticed the firestorm of talk of Missouri possibly going to the SEC culminating with the replacement of Missouri Chancellor Brady Deaton with Kansas State President Kirk Schulz as the chair of the 5 member Big 12 expansion committee.  When I started the article, it seemed Missouri had more or less seen their rumored bid vanish. (Alas, that is life as a realignment writer...)
It seems like either Missouri stays and TCU is the heavy favorite for slot 10 (with UT's likely approval no less) or Missouri goes and 12 is the likely number and TCU could be on the outside looking in.
The loss of Missouri could again tilt the needs of the conference away from more Texas schools.
If Missouri leaves (taking with it a state with a population of 6 million), there would be a lot of additional pressure for a larger expansion to 12 in order to string together a number of smaller population states.  Chuck Carlton of the Dallas Morning News reports that that could lead to an expansion featuring West Virginia, Louisville, Cincinnati, and TCU, while Jon Wilner of the Silicon Valley Mercury News reports Boise State, Brigham Young, West Virginia and Louisville might be the choices.
While both reporters are credible, proven reporters who have histories of running stories based on good sources, IMO there is a good chance both lists will prove wrong.  First, there is every indication that the decision is not made yet.  These lists are likely who those sources think will emerge.
Secondly, there are potential realignment logic problems to both scenarios. 
Carlton's report of that plan to take four schools from the Big East would kill that conference's BCS future.  Given the fact that the Big East membership appeared ready to throw most of the have-nots in the Big 12 a life preserver, it may be unlikely that that kind of expansion gets approval by the majority of the Big 12 membership, unless the ACC strikes again destabilizing the Big East beyond any conceivable repair.
Now, on the flip side, Neinas fielded that question and gave an answer that implied the Big 12 membership may be ready to rip apart the Big East.  "Neinas said league administrators 'won't restrict ourselves' in the expansion process because of the vulnerability of another league if attractive members from that conference could bolster the Big 12."
We will see...
Wilner's report oddly seems more possible to me, but given the conference's needs, I have my doubts that the Big 12 would pass on TCU for Boise State.  Still perhaps the logic is to allow the Big East to keep TCU—their best BCS asset—around which to rebuild.  Despite a small native market, Boise State is a better TV asset than TCU as the face of the Non-AQ masses for the last decade.  They are a national brand that drew good viewership on ESPN.  But they are, in BCS terms, an abysmal academic addition sure to brutally tarnish what remains of the Big 12's academic arguments for remaining a BCS AQ conference.