College Football 2011: The Top 50 Players After the First Month of the Season
Brett Deering/Getty Images
College football's 2011 season is a month old, and plenty of questions have already been answered.
There have also been a whole host of new questions posed, such as who will emerge as the top players by season's end.
We're only a quarter of the way through the season, but we've already seen some amazing performances from young and veteran players alike. As the nation moves into the start of conference play, who are the top performers thus far? Who is likely to lead his team towards a conference title and BCS berth?
Here are our picks for the top 50 players thus far in the 2011 college football season.
Kenjon Barner, Oregon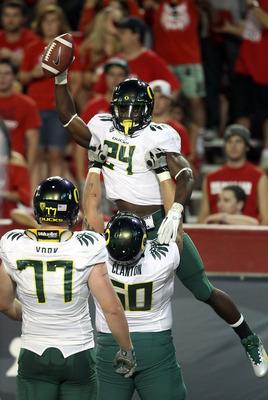 Christian Petersen/Getty Images
Barner is shaking off an early-season injury, but has rebounded nicely.
In his two appearances, he has proven to be a dangerous threat every time he touches the ball for the Ducks.
As he continues to heal, expect his role to increase in the Ducks offensive attack.
2 games played, 17 rush attempts, 79 yards, 2 touchdowns, 4.65 yards per carry, 39.5 yards per game, 3 receptions, 15 yards, 1 touchdown, 5.0 yards per reception, 7.5 yards per game
Chris Polk, Washington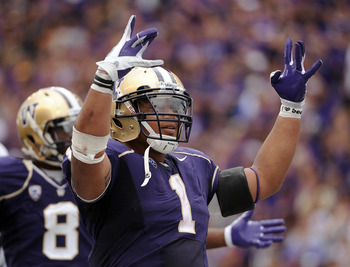 Harry How/Getty Images
After Jake Locker graduated, there were more than a few observers who thought the Huskies might be in trouble. Lucky for Washington fans, they had Chris Polk to fall back on.
While Washington's passing attack certainly benefited from a quarterback like Jake Locker, this year's Husky squad is seeing the benefits of a solid run game, led by Polk.
4 GP, 87 rush att, 422 yds, 3 TD, 4.85 ypc, 105.5 ypg, 7 rec, 112 yards, 1 TD, 16 ypr, 28.0 ypg
Robert Woods, USC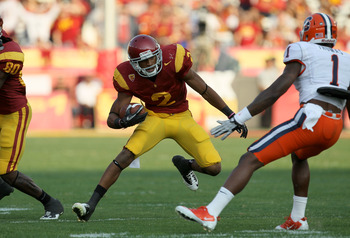 Stephen Dunn/Getty Images
Only a sophomore, Robert Woods is showing that his future is very bright at USC.
This young Trojan has proven to be a bright spot in a pass-happy, one-dimensional USC team this season.
4 GP, 41 rec, 492 yds, 4 TD, 12.0 ypr, 123.0 ypg
Chase Minnifield, Virginia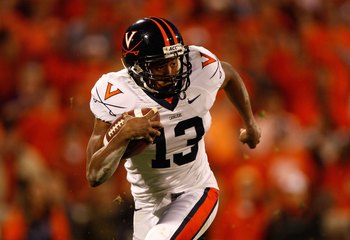 Streeter Lecka/Getty Images
On an otherwise lackluster Virginia defense, Chase Minnifield is one player that opposing offensive coordinators avoid at all costs. So far this season, Minnifield has been impressive in the Cavaliers' secondary.
4 GP, 19 tackles, 3 tackles for loss for -11 yards, 1 sack, 3 passes broken up
Michael Egnew, Missouri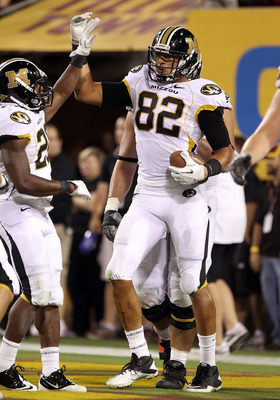 Christian Petersen/Getty Images
Since Blane Gabbert has left Missouri, Egnew's stats have taken a pretty big hit. As one of the favorite targets of Gabbert, this tight end is seeing a diminished role this season, at least in terms of receptions and yards. Even so, Egnew is still considered one of the top tight ends in the FBS.
4 GP, 8 rec, 97 yds, 1 TD, 12.1 ypr, 24.3 ypg
Courtney Upshaw, Alabama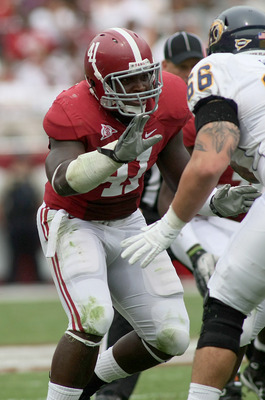 Greg McWilliams/Getty Images
Alabama certainly has a legit shot at winning the SEC this season, and quite possibly competing for the BCS title come January. One of the key pieces in the Crimson Tide's defensive puzzle is Courtney Upshaw. Head coach Nick Saban can and should be able to count on the leadership in the defensive secondary from his seniors, like Upshaw.
4 GP, 12 tackles, 4.5 TFL for -11 yds, 0.5 sacks, 5 QB hurries
Sean Spence, Miami (FL)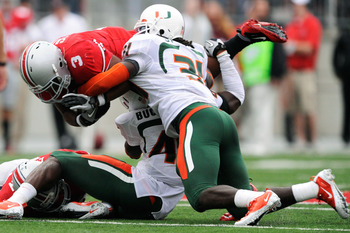 Jamie Sabau/Getty Images
Miami certainly has had its share of problems this season, on and off the field.
Spence was part of the scandal now embroiling The U, and he was suspended for the first game of the 2011 season. Since returning to the lineup, Spence has definitely been making an impact for the 'Canes, and will likely continue to do so as the season wears on.
2 GP, 20 tackles, 2.5 TFL for -8 yds, 1 sack, 1 forced fumble
Jeff Fuller, Texas A&M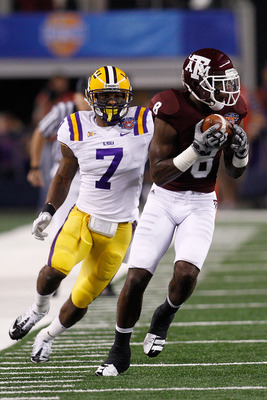 Chris Graythen/Getty Images
Fuller's stock this season may rise and fall with A&M's, but there's little doubt that he's one of many great receivers in the Big 12 this season. So far, he's proven to be an important part of the Aggies' offensive gameplan.
3 GP, 17 rec, 186 yds, 2 TD, 10.9 ypr, 62.0 ypg
Bruce Irvin, West Virginia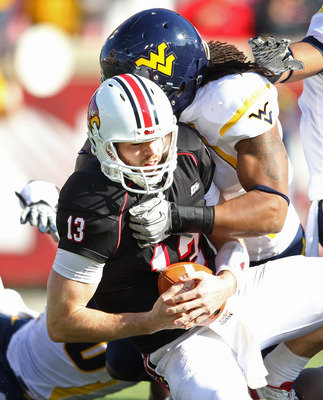 Andy Lyons/Getty Images
This senior defensive end for West Virginia is one of the top defensive players in the Big East, and possibly the nation.
Irvin had 14 sacks last season, along with two forced fumbles. Although his 21 tackles don't pop off the page, it's his constant harassment of opposing quarterbacks that make him such a major factor.
His 2011 tackling numbers are on pace to destroy last year's totals.
4 GP, 13 tackles, 4.5 TFL for -19 yds, 1 sack
Mark Barron, Alabama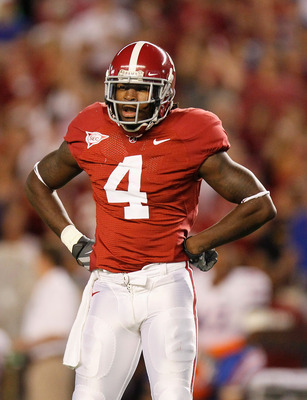 Kevin C. Cox/Getty Images
If the Crimson Tide hope to win an SEC title this season, senior DB Mark Barron will figure quite large in that equation.
Barron has quite a resume at Alabama, and he's hoping to go out in a blaze of glory for the Tide. So far, he's on track for another impressive season.
4 GP, 22 tackles, 1 interception, 2 PBU
Greg Reid, Florida State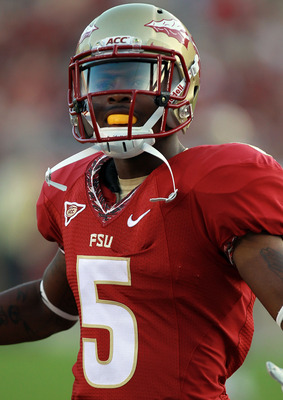 Ronald Martinez/Getty Images
Reid has seen playing time in just two games thus far this season, and after his arrest on Monday (September 26), he may not see the field very much going forward.
That's too bad, too, because Reid showed some great potential this season, especially as a kick returner for the Seminoles.
2 GP, 5 tackles, 3 kick ret, 62 yds, 20.7 ypr, 5 punt ret, 71 yds, 14.2 ypr
Lavonte David, Nebraska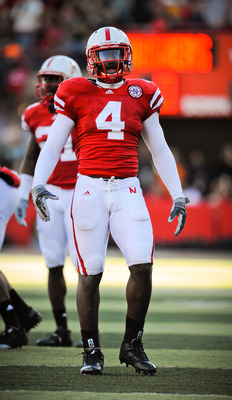 Eric Francis/Getty Images
Tough defenses are a must if any team wants to have a chance to compete for a Big Ten championship. Lavonte David is just the type of linebacker needed in the conference, and Bo Pelini has to be happy with his senior's production thus far.
4 GP, 38 tackles, 1.5 TFL for -3 yds, 1 INT
Barrett Jones, Alabama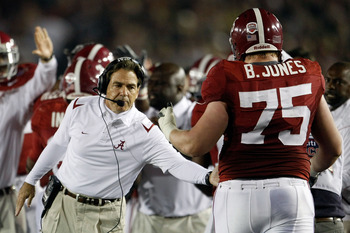 Jeff Gross/Getty Images
As we get deeper and deeper into this list, it seems as if Crimson Tide players become more and more prevalent.
Perhaps the number of top players is much of the reason Alabama is ranked so high in every major poll.
Barrett Jones is easily one of the top offensive linemen in the nation. This 6'5", 311-pound behemoth is one of the best quarterback protectors in the game, and any defensive player than gets past him to make a play in the backfield best savor the moment—it probably won't happen again on his watch.
Chris Owusu, Stanford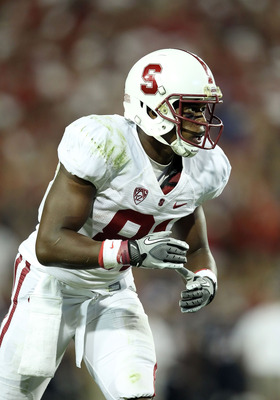 Christian Petersen/Getty Images
With all of the attention surrounding Andrew Luck at Stanford, it's easy to overlook some of the supporting cast that help make Luck look good.
Chris Owusu is definitely on the football Oscar nomination list for best actor in a supporting role. As one of Luck's favorite targets—and one of only a handful of Cardinal returning starters for 2010—he'll play a major role in Stanford's quest for the 2011 Pac-12 title.
3 GP, 16 rec, 227 yds, 1 TD, 14.2 ypr, 75.7 ypg, 4 kickoff returns, 98 yds, 24.5 yards per return
Robert Lester, Alabama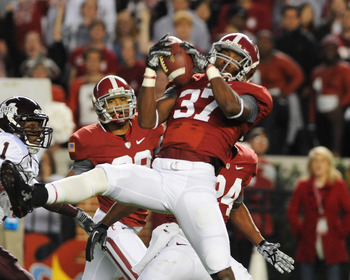 Al Messerschmidt/Getty Images
Through four weeks in the young 2011 season, Alabama's defense is shaping up to be one of the nation's best. The Tide rank second in total defense in the FBS (behind only Michigan State), giving up a scant 184.0 yards per game.
If the Tide hope to keep that lofty ranking going forward, they'll need to rely on players like Robert Lester to get the job done.
So far, his numbers aren't spectacular, but that may have more to do with his spot-on coverage than anything else.
4 GP, 9 tackles, 3 PBU, 1 kick block
Case Keenum, Houston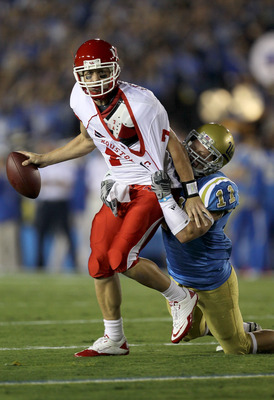 Stephen Dunn/Getty Images
Case Keenum is returning for his sixth season after receiving a medical redshirt from the NCAA after starting just three games last season.
Anyone who doesn't know Keenum's value to a pretty bad Houston team just needs to look at the Cougars' record with and without him.
Wit Keenum in the lineup, the Cougars are a serviceable team. Without him, they're just downright terrible.
With Keenum starting and healthy through the whole game, Houston is 24-9. Without Keenum, Houston is just 3-7. While that speaks to Keenum's importance, it probably also underscores the lack of depth in Conference USA.
4 GP, 110-of-155 (71.0 percent) for 1,534 yds, 12 TD, 2 INT, 177.1 QB rating
Cliff Harris, Oregon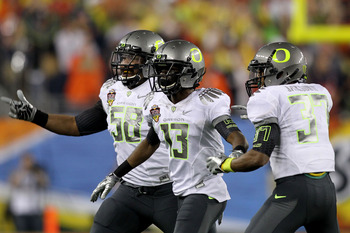 Jonathan Ferrey/Getty Images
After some off-the-field issues, Cliff Harris is looking to get out of head coach Chip Kelly's dog house. Harris has seen limited playing time since his return, and his stats reflect that. But he can still make an impact on the field, and expect his playing time to increase as Oregon enters the heart of their difficult Pac-12 schedule. Harris is one of the nation's top corners, and the Ducks won't be the same team without him.
3 GP, 4 tackles, 2 PBU
Mike Brewster, Ohio State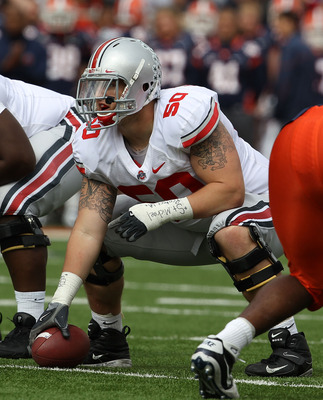 Jonathan Daniel/Getty Images
With all of the suspensions that Ohio State has dealt with this season, Mike Brewster has proven to be an anchor for a depleted defense.
All things considered, Ohio State has performed fairly well. With a huge test looming against Michigan State, the play of seniors like Brewster at center will be the difference between a close game and a blowout loss.
Brewster's play so far this season has been impressive, and he'll likely end up on multiple postseason award watch lists.
Quinton Coples, North Carolina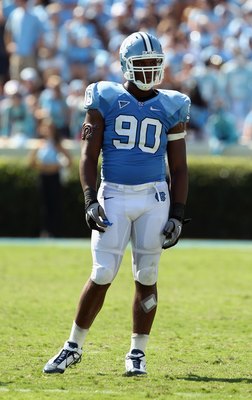 Streeter Lecka/Getty Images
There was once a time where the UNC defense was one of the most feared defensive unites in the nation. That time came and went very quickly with the rash of suspensions and dismissals the team suffered in the wake of a massive cheating scandal.
Still, UNC is not without their star defensive players, perhaps most notibly Quinton Coples. His steady play this season should have him in the running for postseason ACC honors.
4 GP, 11 tackles, 2 TFL for -8 yds, 2 sacks
Montee Ball, Wisconsin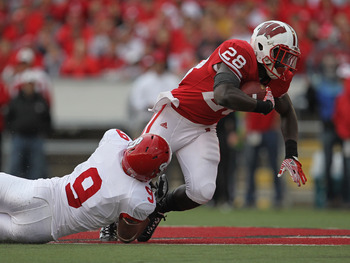 Jonathan Daniel/Getty Images
How many running backs in the nation could look back on their 18 touchdowns from 2010 and not be satisfied that is was the best he could possibly do?
Not many. But Montee Ball is one of them.
Last season, Ball split time in the Badgers' backfield with two other backs. Even though Ball wasn't the only ball carrier for Wisconsin, his numbers were pretty amazing. This season, he may have even better numbers, and Wisconsin's options, while still impressive, are slightly more limited in 2011.
4 GP, 63 rush att, 360 yds, 9 TD, 5.71 ypc, 90.0 ypg, 6 rec, 120 yds, 1 TD, 20.0 ypr, 30.0 ypg
Jayron Hosley, Virginia Tech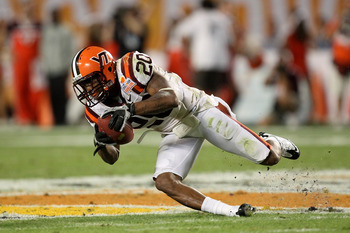 Streeter Lecka/Getty Images
Jayron Hosley enters his junior season as one of the top corner backs in the ACC.
In addition to his stellar skills at corner, Hosley has also been returning punts for the Hokies.
4 GP, 13 tackles, 2 INT, 3 PBU, 11 returns, 123 yds, 11.2 ypr
Brandon Jenkins, Florida State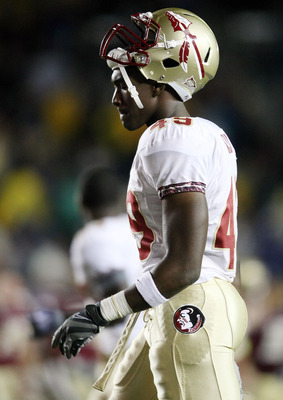 Elsa/Getty Images
Brandon Jenkins started all but one game as a true freshman in 2009, and in 2010, he improved greatly and built on his experience. With 13.5 sacks last season, Jenkins finished in the top three in the FBS.
If Florida State is going to rebound from their losses to Oklahoma and Clemson, they're going to need players like Jenkins to step up and take a leadership role.
4 GP, 16 tackles, 4 TFL for -24 yards, 2 sacks, 1 PBU
Taylor Martinez, Nebraska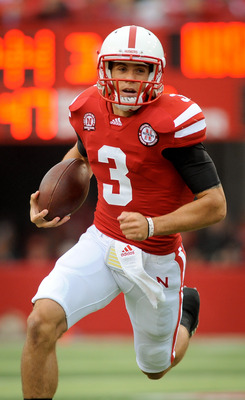 Eric Francis/Getty Images
Nebraska fans have high hopes for young Mr. Martinez. He's yet to face a Big Ten defense, so it's too soon to make any kind of statement about his role in a new conference. But so far, some of the troubles that plagued him during the 2010 season have followed him to his sophomore season.
He's not the most accurate passer in the world, and his passing numbers are depressed as a result. But Martinez can create on his feet, and he's one of the more mobile quarterbacks in the Big Ten.
He's no Shoelace, but he has the raw talent to succeed at Nebraska—if he can limit his own mistakes.
4 GP, 43-of-85 (50.6 pct) for 647 yds, 4 TD, 2 INT, 161.8 ypg, 125.4 QB rating, 63 rush att, 421 yds, 7 TD, 6.7 ypc, 105.25 ypg
Matt Barkley, USC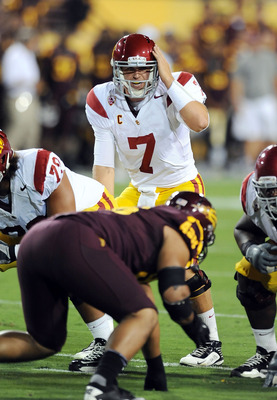 Norm Hall/Getty Images
There are a lot of people across the nation that believe Matt Barkley is vastly overrated.
That may be true, but so far, we haven't seen any reason not to include him in a list of the top 50 players through four weeks.
His numbers aren't staggering, but they're solid. It's probably worth mentioning that USC seems to be a bit one-dimensional this season. If the pass-happy Trojans had any lesser of a quarterback at the helm in 2011, they'd be in real trouble. Luckily, Barkley isn't all bad, contrary to what many would have you believe.
4 GP, 101-of-149 (67.8 pct) for 1,119 yds, 10 TD, 3 INT, 149.0 QB rating
Kirk Cousins, Michigan State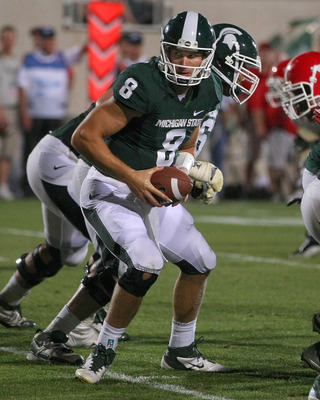 Dave Reginek/Getty Images
Kirk Cousins is one of the better pure pocket passers the Big Ten has seen in some time. The problem there is the Big Ten has been moving away from pocket passing quarterbacks.
Still, head coach Mark Dantonio has been able to find a great deal of success behind the amazingly accurate and powerful arm of Kirk Cousins.
4 GP, 81-of-118 (68.6 pct) for 947 yds, 5 TD, 2 INT, 236.8 ypg, 146.6 QB rating
Jared Crick, Nebraska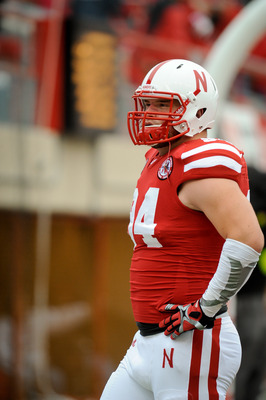 Eric Francis/Getty Images
Jared Crick had a good season in 2010 on Nebraska's defensive line. This season, as the Cornhuskers move to the Big Ten, much more will be asked of a defensive line encountering some of the biggest, strongest run offenses in the smash-mouth Big Ten.
As the conference schedule begins, it will be interesting to see how the 'Husker defense rises to the challenge.
3 GP, 14 tackles, 2.5 TFL for -7 yds, 1 sack, 1 PBU
Darron Thomas, Oregon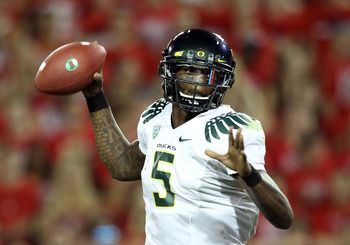 Christian Petersen/Getty Images
The Oregon Ducks were hoping for a repeat of last season, where they tore through the regular season en route to a BCS Championahip Game berth.
That didn't quite happen, as the Ducks were trounced in Week 1 by what is turning out to be a very impressive LSU squad.
Since then, the Ducks have rebounded nicely with three victories, and are finding themselves back in the top ten.
The Ducks high-flying offense, however, is being overshadowed not by a few, but by several teams in the country right now. In fact, the Ducks rank just 58th in the nation in passing offense. If Darron Thomas and the Ducks hope to earn a trip back to the BCS this season, that number will have to improve.
Even so, Thomas is still one of the most feared passers in the nation, and he can add a little fancy footwork when the need arises.
4 GP, 66-of-108 (61.1 pct) for 842 yds, 12 TD, 1 INT, 161.4 QB rating, 15 rush att, 99 yds, 2 TD, 6.6 ypc, 24.75 ypg
Alshon Jeffery, South Carolina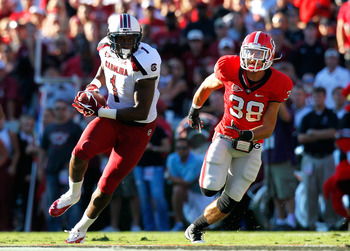 Kevin C. Cox/Getty Images
With the rash of great receivers in the SEC last season, Alshon Jeffery's solid performance for Steve Spurrier went largely unnoticed by the national media. Expect different this season as the Gamecocks make a run at the SEC title with a top 10 ranking in tow.
Another year older and another year more experienced, 2011 could be Jeffery's breakout season to make a name for himself in a conference stacked with talent.
4 GP, 14 rec, 246 yds, 1 TD, 17.6 ypr, 61.5 ypg
Nate Potter, Boise State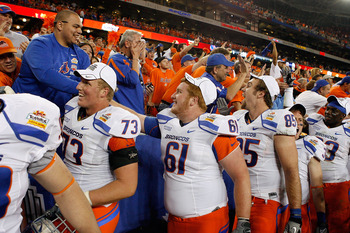 Christian Petersen/Getty Images
Nate Potter is easily one of the best offensive tackles in the entire country. Anyone who doubts that only needs to look at the copious amount of time Kellen Moore has each game to throw the ball.
Potter provides such great quarterback protection, he's almost completely unnoticed during the games. But he's also able to keep even the best pass rushers out of the backfield each and every down.
Travis Lewis, Oklahoma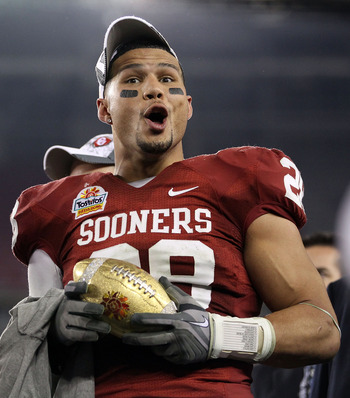 Christian Petersen/Getty Images
Despite suffering a broken foot in early August, Lewis has returned to the Sooners' lineup, and is already making an impact in his two games back.
Good thing, too. If Oklahoma really wants to prove they're the best team in the nation, they're going to need all hands on deck to make a run at the BCS title this season.
2 GP, 15 tackles, 1 TFL for -1 yds, 1 PBU
Ryan Broyles, Oklahoma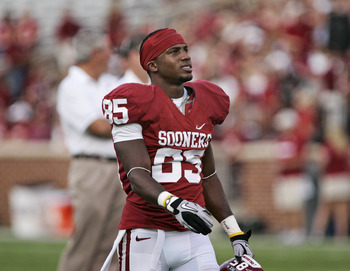 Brett Deering/Getty Images
Last season, Broyles led the FBS with 131 receptions for 1,622 yards and 14 touchdowns. He had 10 games with 100 or more receiving yards. That exactly the type of performance Bob Stoops will need again this season if OU is hoping to win a BCS title.
3 GP, 34 rec, 367 yds, 4 TD, 10.8 ypr, 122.3 ypg
Devin Taylor, South Carolina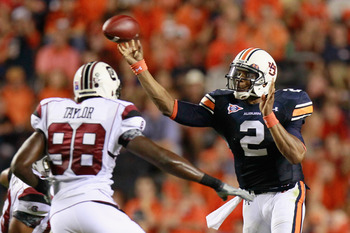 Kevin C. Cox/Getty Images
No great team is really complete without a standout defensive end these days. South Carolina has the potential for a stellar defensive end in Devin Talyor.
This junior DE from just down the road in Beaufort, SC will have his sights set on opposing SEC quarterbacks throughout 2011, and even when he doesn't get to the QB in time, he's always in his face, affecting the play.
4 GP, 16 tackles, 2 TFL for -12 yds, 1 sack, 1 PBU
Michael Dyer, Auburn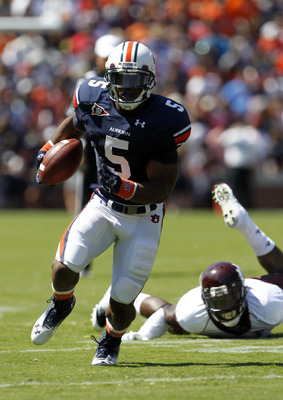 Butch Dill/Getty Images
Michael Dyer had a pretty decent 2010 season. It just happened to be completely and utterly overshadowed by some guy named Cam Newton.
This season, Dyer has the backfield almost all of himself.
While the luster may have been removed from Auburn after their loss to Clemson and very narrow victories against Mississippi State and Utah State, you can't blame much of that on Dyer. His numbers have been completely solid so far this season, and he'll need to be a big part of the Tigers' offense headed into the heart of the SEC season.
4 GP, 62 rush att, 426 yds, 6 TD, 6.9 ypc, 106.5 ypg
Vontaze Burfect, Arizona State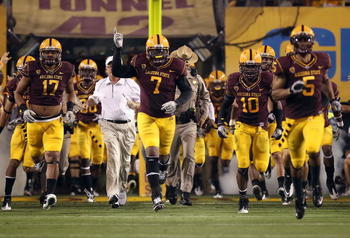 The strike against Burfect is that he's too physical. While that sounds strange when talking about a football player, that's the world of football these days. Burfect deliveres punishing blows withing seemingly little effort, and his motor is always running in high gear. Burfect has two settings: off and destroy. Unfortunately, that can frequently lead to 15-yard penalties in the modern powderpuff game.
Still, Burfect is a major cog in the Arizona State machine, and the Sun Devils will need to rely on continued strong play from Burfect to reach the Pac-12 Championship Game this season.
4 GP, 22 tackles, 4.5 TFL for -35 yards, 4 sacks, 1 INT, 1 PBU
Edwin Baker, Michigan State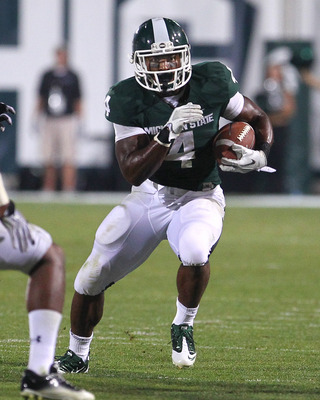 Dave Reginek/Getty Images
For Michigan State, Edwin Baker "The Touchdown Maker" has played a major role in the resurgence of the Spartans.
The deadly combination of a precision passing game and speedy run game in East Lansing has surprised many Big Ten opponents, and led MSU to their first Big Ten championship in 20 years last season. Sparty is looking for another Big Ten title—this time outright—and Baker will need to continue his impressive performances if the Spartans hope to get past opponents like Michigan, Nebraska and Wisconsin this year.
4 GP, 50 rush att, 216 yds, 1 TD, 4.3 ypc, 54 ypg, 4 rec, 43 yds, 10.75 ypr, 10.8 ypg
Manti Te'o, Notre Dame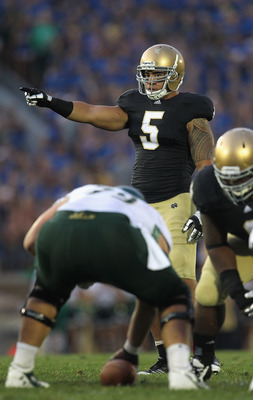 Jonathan Daniel/Getty Images
Now that the Irish are back in the win column over the past two weeks, the cynical eyes of the media are giving way to the focus on individual efforts and team successes.
One of the bright spots for Notre Dame is, unsurprisingly, Manti Te'o. In his second year as a full-time starter for the Irish, Te'o has been deadly efficient for the Irish. Opposing offensive coordinators know where this guy is on every single play, and even then, he's frequently making the stop.
4 GP, 36 tackles, 3 TFL for -9 yds, 2 sacks
Aaron Murray, Georgia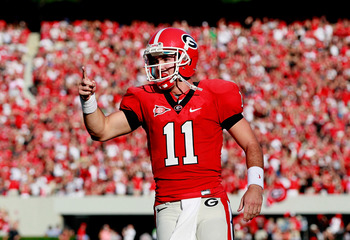 Kevin C. Cox/Getty Images
The goal for Georgia this season was to improve on last year—the first losing season for the Bulldogs in umpteen seasons.
So far, UGA is succeeding, barely. The Bulldogs are 2-2 heading into the heart of the SEC schedule. That's far better than the 1-4 start UGA came out of the gate with in 2010. Additionally, the two losses for Georgia are both against teams that now reside in the top 10 in the country. That 2-2 record is looking better all the time, isn't it?
On reason for hope in the future for Georgia fans is young Aaron Murray. After a freshman season that was filled with growing pains and flashes of brilliance, Aaron Murray appears to have the potential to blossom into the next great SEC quarterback.
So far in 2011, he's recorded some impressive numbers.
4 GP, 70-of-110 (63.6 pct) for 940 yds, 11 TD, 3 INT, 235.0 ypg, 163.0 QB rating
Luke Kuechly, Boston College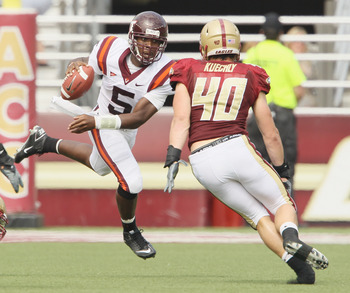 Elsa/Getty Images
This junior linebacker is one of the bright spots in an otherwise dark sky of Boston College this season. The Eagles aren't impressing much of anyone right now as a whole, starting the season 1-3, with their only win coming against FCS UMass.
Kuechly, on the other hand, has been an impressive anchor of an otherwise porous BC defense. His tacking this season is on track for a staggering 200-plus tackle year.
4 GP, 69 tackles, 3.5 TFL for -5 yds, 1 INT
Michael Floyd, Notre Dame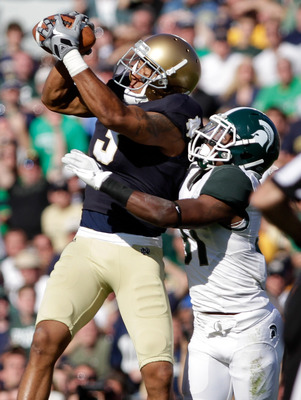 John Gress/Getty Images
Michael Floyd is one of the nation's premiere wide outs. He's so good, in fact, that most defenses gear their secondary coverages around Floyd. If he's not constantly double-covered, you can count on him for some big yardage.
The trick for Notre Dame will be to find a way to exploit the holes opened up by the opposing secondary paying so much attention to Floyd. So far, they've only had very limited success in that regard.
4 GP, 35 rec, 424 yds, 2 TD, 12.1 ypr, 106.0 ypg
Justin Blackmon, Oklahoma State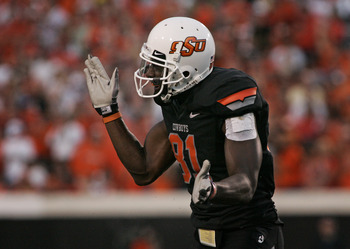 Brett Deering/Getty Images
So it turns out the Cowboys are that good. After knocking off fellow top 10 team Texas A&M this past weekend, the Cowboys have announced to the nation that they are for real, and their BCS aspirations aren't a pipe dream.
One of the key ingredients in Mike "The Man" Gundy's recipe for success is standout wide receiver Justin Blackmon. One peek at his stats will show you that he's clearly an important part of the high-octane Oklahoma State offense.
4 GP, 38 rec, 450 yds, 4 TD, 11.8 ypr, 112.5 ypg
Andrew Luck, Stanford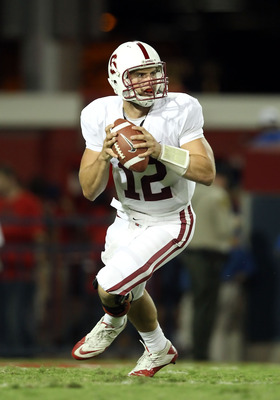 Christian Petersen/Getty Images
The jury on Andrew Luck seems to be pretty equally split. Part of the country believes he is the greatest quarterback ever to suit up. The other half seems to believe he's vastly overrated and was only made great by his supporting cast.
It might be too early for a verdict, but one thing is clear: Luck's numbers through three games don't seem to quite compare with the best of the best signal callers thus far into the season.
3 GP, 57-of-85 (67.1 pct) for 786 yds, 8 TD, 1 INT, 262.0 ypg, 173.4 QB rating
LaMichael James, Oregon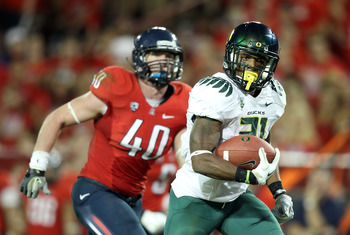 Christian Petersen/Getty Images
Last season's leading FBS rusher established himself as one of the elite running backs in the country, with his 2010 exploits leading the Ducks all the way to the BCS title game.
This season, James will have to be equally impressive if the Ducks hope to reach the BCS again. With his 153.3 yards per game, he's off to a great start.
4 GP, 65 rush att, 613 yds, 7 TD, 9.4 ypc, 153.3 ypg
Russell Wilson, Wisconsin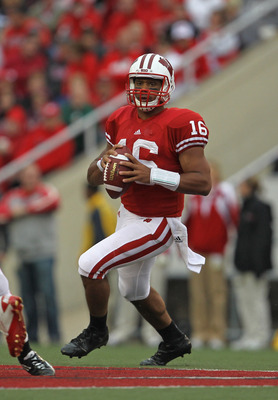 Jonathan Daniel/Getty Images
In the complex recipe of successful football teams, Wisconsin's head chef Bret Bielema got it almost right last season.
Were it not for a loss at Michigan State, Wisconsin may have found itself competing for a BCS title. Wisconsin had to "settle" for the Rose Bowl, where the Badgers came up just short against a feisty TCU team.
Russell Wilson may be just the ingredient needed for that ultimate success. So far, against admittedly low-level competition, Russell and the Badgers have looked very, very good.
4 GP, 69-of-91 (75.8 pct) for 1,136 yds, 11 TD, 1 INT, 284.0 ypg, 218.4 QB rating
Brandon Weeden, Oklahoma State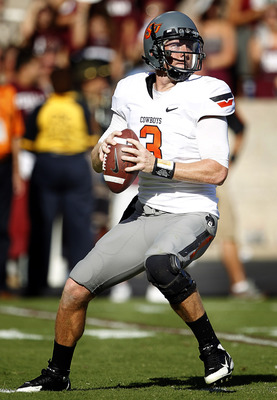 Bob Levey/Getty Images
Not only is Brandon Weeden the leader of the high-flying Oklahoma State offense, he's a legit Heisman candidate this season. After the performance put in by Weeden last season, many were wondering what he would do for an encore. We're beginning to see the answer. An impressive fourth quarter victory over A&M may have been just the opening act.
4 GP, 142-of-191 (74.3 pct) for 1,592 yards, 398.0 ypg, 10 TD, 6 INT, 155.4 QB rating,
Trent Richardson, Alabama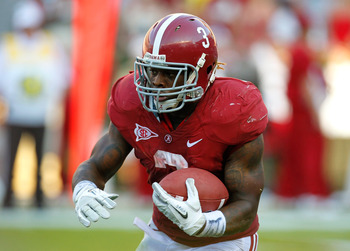 Kevin C. Cox/Getty Images
With the departure of Heisman Trophy winner Mark Ingram, the Crimson Tide backfield belongs to Trent Richardson. After years of patience and paying his dues, Richardson is emerging as one of the premiere running backs in the FBS. His running ability is unrivaled in the deep south, and he's easily one of the top backs in the SEC.
As the season progresses, his success, along with the continued success of the Tide, may propel Richardson into the Heisman conversation.
4 GP, 67 rush att, 441 yds, 8 TD, 6.6 ypc, 110.25 ypg
Denard Robinson, Michigan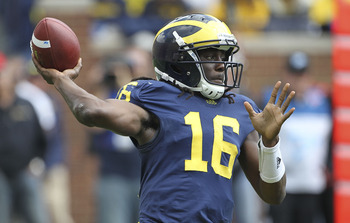 Leon Halip/Getty Images
Denard "Shoelace" Robinson is one of the fastest players in all of college football, not just at the quarterback position.
The man who famously doesn't tie his shoes has left countless defenses looking at his backside as he whizzes down the field in a maize and blue blur.
He's already set numerous U-M and FBS records for quarterbacks, and the smart money is on this junior adding a few more honorifics to his resume before all is said and done.
Robinson is clearly a Heisman favorite this season, and if Michigan can achieve a little more success in the win column than it did last year, Robinson might as well buy a ticket to New York right now.
The strike against Denard is his lack of passing ability. But he more than makes up for that with his production on the ground. That makes him one of the most difficult players to defend against in the nation.
4 GP, 35-of-72 (48.6 pct) for 624 yds, 6 TD, 6 INT, 156.0 ypg, 132.2 QB rating, 71 rush att, 552 yds, 5 TD, 7.8 ypc, 138.0 ypg
Robert Griffin, III, Baylor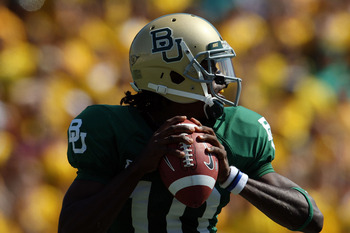 Ronald Martinez/Getty Images
Robert Griffin, III, or "RG3" has been one of the best players in recent memory for the Baylor Bears—maybe one of the best ever.
After the epic upset of TCU to start the season, RG3 and the Bears haven't looked back en route to a Top 25 ranking and best start (3-0) since 2005.
As the Big 12 season gets underway for Baylor, it will be interesting to see if the Bears can maintain their momentum going forward. Griffin has yet to throw an interception this season, and despite having just 82 pass attempts, he's closing in on 1,000 yards and has 13 touchdowns already. That's just downright impressive.
3 GP, 70-if-82 (85.4 pct) for 962 yds, 13 TD, 0 INT, 320.7 ypg, 236.2 QB rating
Marcus Lattimore, South Carolina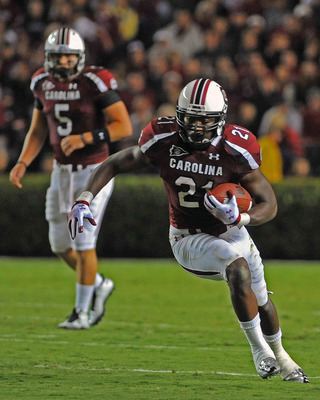 Al Messerschmidt/Getty Images
Marcus Lattimore has got to be one of the most impressive sophomores in the recent history of college football.
What this young man did as a freshman was impressive enough, but his impressive stats through four weeks this season are putting him on track to have an even better season in 2011.
4 GP, 107 rush att, 611 yds, 8 TD, 5.7 ypc, 152.75 ypg, 12 rec, 139 yds, 1 TD, 11.6 ypr, 34.8 ypg
Landry Jones, Oklahoma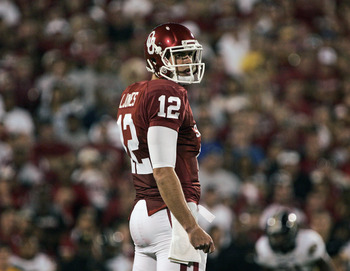 Brett Deering/Getty Images
When you're the talented quarterback on the preseason No. 1 team in the country, you're pretty much expected to perform like a Heisman contender.
Good thing for OU fans; Landry Jones is doing just that. We could go on and on with superlatives about Jones, but it's best to let his impressive numbers speak for themselves.
3 GP, 88-of-122 (72.1 pct) for 1,022 yds, 5 TD, 4 INT, 340.7 ypg, 149.5 QB rating
Kellen Moore, Boise State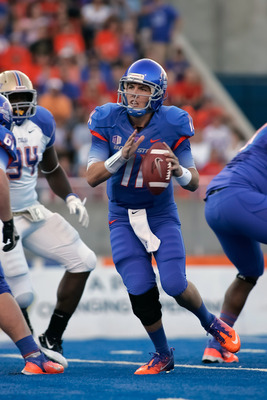 Otto Kitsinger III/Getty Images
There really can't be any doubt that Kellen Moore is one of the best quarterbacks in the FBS. In fact, he may be one of the best quarterbacks ever to play in the FBS.
Later this season, Moore will likely become the winningest starting quarterback in FBS history. Beyond that, his stats this season are scary-good.
Boise State in on track for another undefeated season, and unless they keep getting screwed in the polls, there's a decent chance this could be Boise State's year to play for it all...
3 GP, 83-of-105 (79.0 pct) for 995 yds, 12 TD, 2 INT, 331.7 ypg, 192.6 QB rating
Keep Reading