Purdue Football: Who Should Start at Quarterback Against Notre Dame
September 28, 2011
Jonathan Daniel/Getty Images
Purdue has once again been thrown into a quarterback dilemma after a stellar performance by back-up quarterback Robert Marve against Southeast Missouri State. 
Caleb TerBush has been the starter since Rob Henry went down with an ACL tear in practice, and he will more than likely continue to start against the Irish—but should he?
TerBush has a completion percentage of 63 percent and has limited his interceptions to only one, but he has only thrown for three touchdowns.
TerBush has shown inability to find the open man and really open up the field with big plays as his longest pass of the season was a 35-yard strike during the first game of the season.
If TerBush does not get the start, it will be Robert Marve.
A lot of Purdue fans have shown interest in having Robert Marve start the game as he had a great few series against SEMO.
Coming off an injury, Marve completed 7-of-8 passes for 91 yards and touchdown.
This was a very impressive performance, though it came against a worn down SEMO defense that wasn't so great fresh.
Another thing Marve brings to the plate is mobility.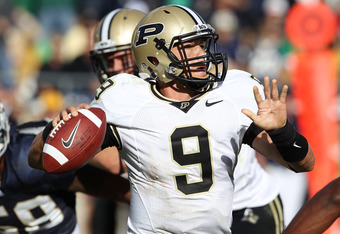 Jonathan Daniel/Getty Images
Although TerBush has proven that he can run when given the opportunity, Marve has the ability to make plays with his feet. He also has a bigger arm than TerBush.
When it comes down to it though, TerBush should get the start. He has started the three previous game and seems to have a great feel for the offense.
Although he will start, the coaching staff will not hesitate to bench him knowing they have a very capable backup ready to strap up.
Although Boilermaker fans might be looking for Marve against the Irish, TerBush is the safer start. 
James Evens serves as a National Featured Columnist for college football and basketball as well as the FC for the Purdue Boilermakers.    Follow him on Twitter or like him on Facebook.