College Football Predictions: Notre Dame Football Standouts in Week 5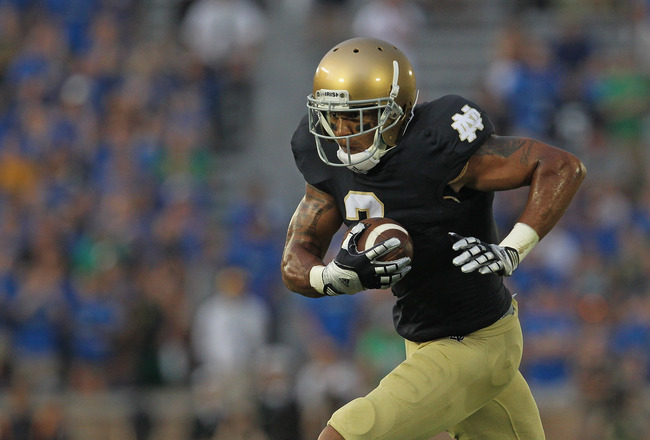 Jonathan Daniel/Getty Images
Notre Dame, 2-2, faces a 2-1 Purdue team Saturday that has struggled so far this season.
Purdue gives Notre Dame the opportunity to keep steering the ship in the right direction after consecutive wins.
While Notre Dame has played well at times, the Irish have been too prone to mistakes. The team literally handed over wins to opponents in the Irish's first two games and almost did so again the last two weeks.
Notre Dame needs to put on a commanding performance by playing well in all four quarters, something the Irish have yet to do thus far.
So, who are the guys that can propel the Irish to a dominant victory? Here are some players whose performances will help the Irish come out on top this Saturday.
Jonas Gray and Cierre Wood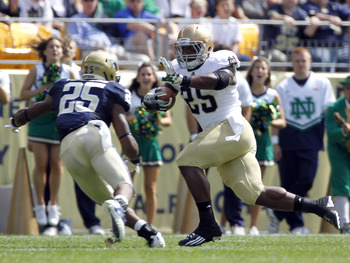 Justin K. Aller/Getty Images
After three games the Purdue Boilermakers rushing defense ranks a respectable 36th in the NCAA, but that doesn't mean that Jonas Gray and Cierre Wood won't run all over Purdue.
South Florida ranks 15th in rushing defense and Wood dropped 104 yards with a five yard per carry average on the Bulls, and that was with the Irish throwing the ball on nearly every possession in the second half (Notre Dame was playing from behind).
Against the ninth-ranked rushing defense, Michigan State, Gray and Wood were able to put up decent numbers. Gray ran for 65 yards with a 5.4 yard per carry average, and Wood rushed for 61 yards with two touchdowns while gaining 4.4 yards per carry.
Pittsburgh ranks just ahead of the Boilermakers at 35th in the nation at rushing defense, and Gray and Wood put up 178 yards combined on Pittsburgh. Gray had 84 yards on three carries with an amazing 79-yard touchdown run.
The Boilermakers haven't been tested with a powerful offense either. Purdue has faced Middle Tennessee, Rice and Southeast Missouri State—not exactly offensive powerhouses.
If the Irish offensive line can get some push, Gray and Wood will be used frequently and both will have big days.
Michael Floyd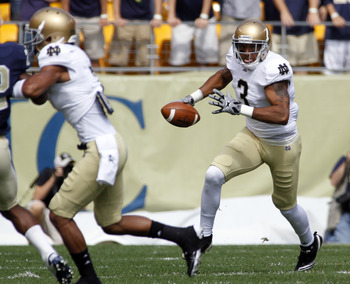 Justin K. Aller/Getty Images
The Pittsburgh defense focused primarily on stopping Michael Floyd in Week 4, and it worked pretty well with Floyd only posting 27 yards on four receptions.
After Floyd's lack of yardage against Pitt, he dropped all the way down to 18th in receiving yards in the NCAA.
Do you really think that Floyd will be content with being a decoy for a second straight game?
While the concentration on Floyd opened up the field for the rest of the Irish offense against Pittsburgh, Brian Kelly will be drawing up plays to get Floyd the ball even if defenses hone in on the star receiver.
Expect Floyd to get involved early against Purdue, and if he is covered heavily, then Floyd will either try to beat out defenders for jump balls or just burn by them on deep routes.
And Irish fans know that Tommy Rees has no problem throwing the ball to Floyd when he is double-covered.
Tyler Eifert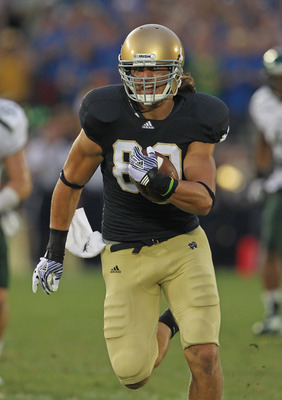 Jonathan Daniel/Getty Images
Behind Michael Floyd, Eifert has become Tommy Rees' favorite target. Through four games, Eifert has 20 receptions for 244 yards and a touchdown.
Last game against Pittsburgh, Eifert was the greatest beneficiary from the attention that Floyd drew. Floyd is likely to get the same attention, and Eifert is likely to benefit once again.
Adding to chances of a big day from Eifert (and Floyd for that matter), the Purdue Boilermakers passing defense is just average. The Boilermakers are smack in the middle of the NCAA with the 60th best passing defense in the nation.
Eifert will have another solid game. If he keeps up his production for this season and next (he's a junior), he will be added to the list of recent Irish tight ends that have been picked up in the NFL Draft.
Tommy Rees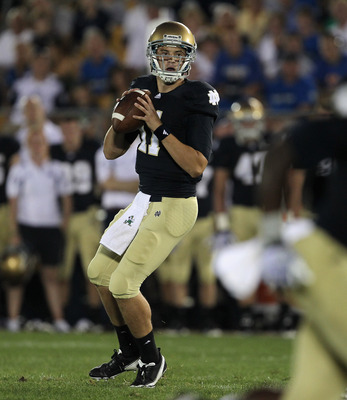 Jonathan Daniel/Getty Images
Going up against Purdue's mediocre passing defense, Tommy Rees should have one of his better performances this Saturday.
Rees didn't take advantage of the horrid passing defense of Pittsburgh, but Brian Kelly is planning on giving Rees plays that he is more familiar with so Rees can get off to a better start against Purdue.
In Purdue's first two games, Rice and Middle Tennessee combined for 560 yards passing. They did shut down Southeast Missouri State, who had just 61 passing yards against the Boilers.
Rees needs to start showing improvement, and Purdue is a perfect game to do so. Rees will be able to do as well as Rice or Middle Tennessee did, and if he doesn't that should raise some red flags.
While Kelly has firmly stated that Rees will remain the starter as long as he is posting wins, Kelly might be forced to see what Dayne Crist can do if Rees can't produce against Purdue.
Manti Te'o
Jonathan Daniel/Getty Images
Manti Te'o is well on his way to leading the Irish in tackles again this year.
Te'o has 36 tackles on the season already, 22 of which came in the team's last two matchups, including a sack versus Pittsburgh.
Purdue has a versatile rushing attack. The Boilermakers have two primary running backs in Ralph Bolden and Akeem Shavers. Altogether, the team has five running backs that have carried the ball and another four receivers that have posted at least one carry.
Te'o leads the Irish's 25th ranked rushing defense, which means the Boilermakers will have an extremely difficult time getting past Te'o and the gang.
The Irish rushing defense will remain stout versus Purdue, and Te'o is poised for another double-digit tackling performance.
Harrison Smith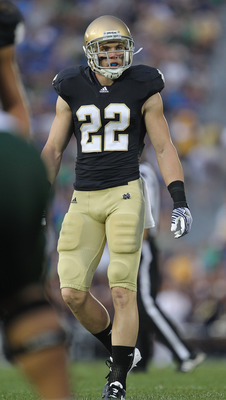 Jonathan Daniel/Getty Images
The Purdue Boilermakers' passing attack might not be prolific, but the team spreads the ball around.
No Purdue receiver has more than 140 yards on the season, but three have over 100 yards and two more have at least 80 yards.
That means that Notre Dame's best cornerback, Robert Blanton, probably will not get many balls thrown in his direction, but safety Harrison Smith will sit back and watch for the ball.
Against Pittsburgh, Smith recorded six tackles. He will record at least as many versus Purdue, and if Smith can manage to make quick breaks on the ball he might just have an interception or two as well.
Purdue's starting quarterback, Caleb TerBush, won't be bombing the ball down the field often with his 6.74 yards per passing attempt, and many Purdue fans want the sparingly used Robert Marve to get in the game.
Smith's speed will help him break up some of TerBush's underneath passes, and he might be the reason that the Purdue coaching staff puts Marve in the game (On the season, Marve is 7-of-8 for 91 yards and a touchdown while averaging 11.38 yards per passing attempt).
Keep Reading

Notre Dame Football: Like this team?