50 Best College Football Tweets from Week 4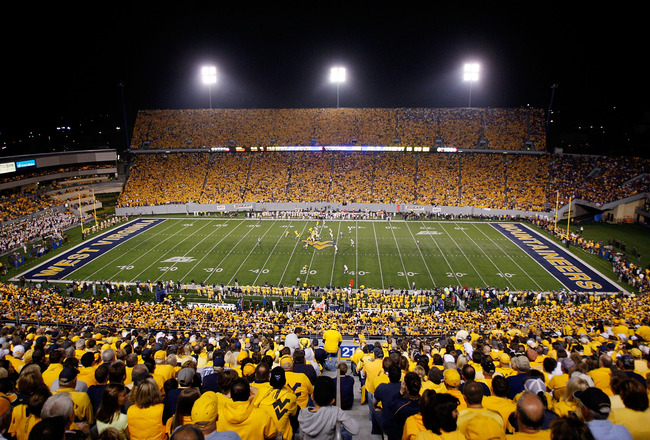 Jared Wickerham/Getty Images
It's once again time to fight through realignment issues and see what was hopping in social media this week about the great sport of college football.
It's amazing what Twitter has done to a sport that has been around for years and been in the spotlight since its inception. It has allowed players to interact with fans and fans to get in their two cents, as long as it was under 140 characters of course.
So here they are...the best tweets from this week in college football!
The Owls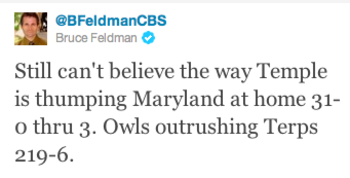 The Owls dominated the Terps.
A Pretty Epic Prank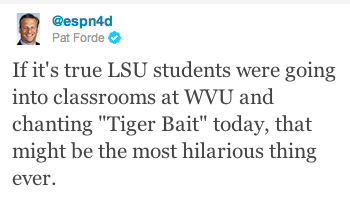 I would have laughed so hard if this happened to me.
I Get It!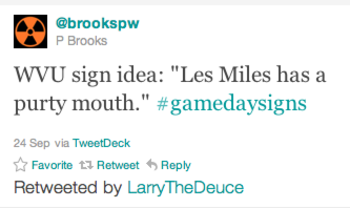 Not much to say about this one!
Ha Ha!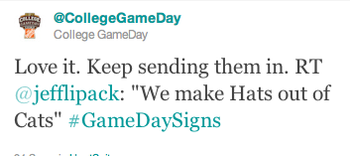 Clever!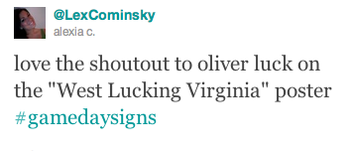 So True!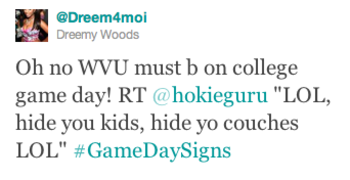 The Mountaineers are crazy!
So True!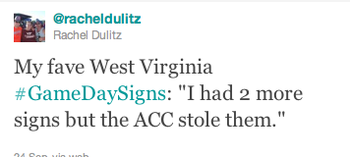 A little poke at the realignment!
The Mad Hatter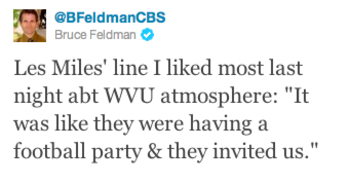 He is quite entertaining really ha.
Choke?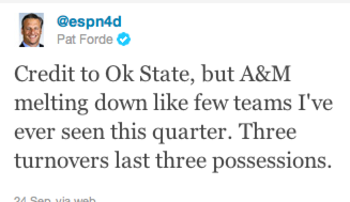 Where is Reggie Miller when you need him?
Nope, She's Mine!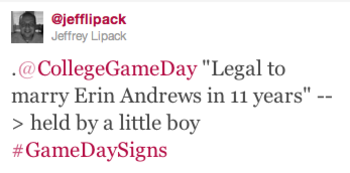 Man, gotta love some EA, even when you are seven.
Weird Combo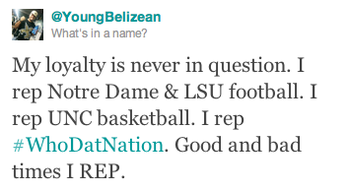 Weird Combo.
What a weird combination?
Harsh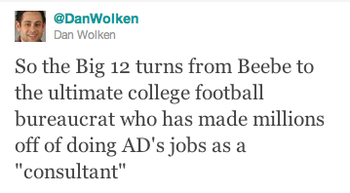 Some harsh words for the Big 12.
A Little High School Action!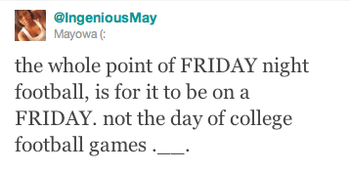 So true though. Never play high school games on Saturday; that's UnAmerican.
OK State Comes Back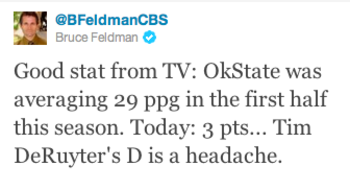 OK State had a rough first half but got it figured out.
Oh, He Knows!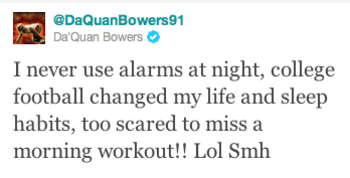 College football coaches are ruthless!
Great State!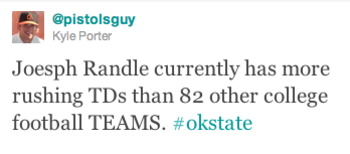 Leave It Be but Good Question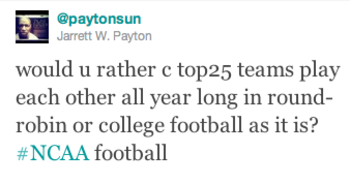 I definitely think it needs to stay!
Airport Troll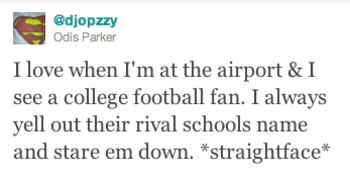 I wonder how many fingers are thrown his way!
Once Again Classic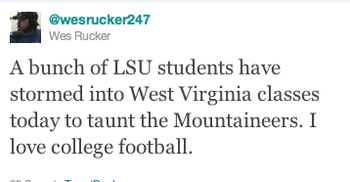 This Would Be a Great Party!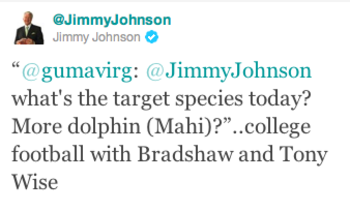 How great would it be to watch football with these guys!
Always Rep!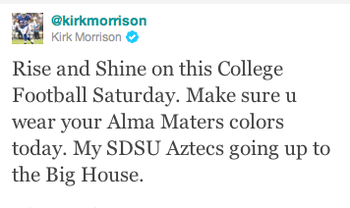 Great Game!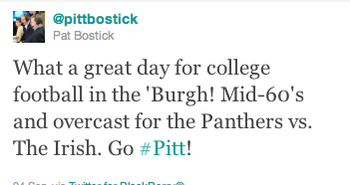 What a great game it turned out to be as well!
Oh No! Bad Idea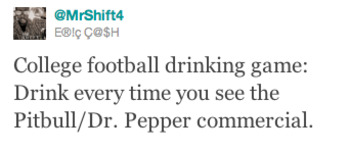 Please drink responsibly and have the puke bucket ready!
Who's the Heisman?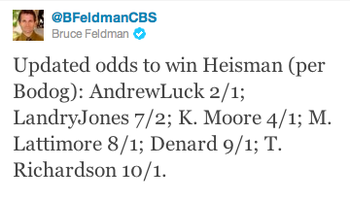 Here are some odds for the Heisman to get us started. I'd take Luck, no-brainer here.
College Football Rave!

Not Sure about This!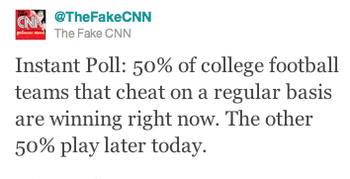 SEC Football!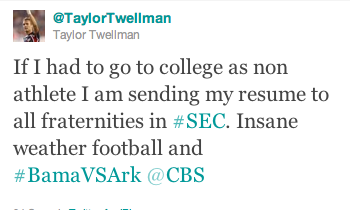 The Truth!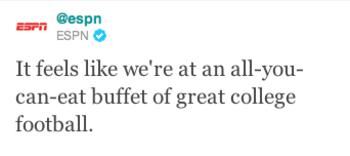 The best part is it's cheap!
Ha Ha!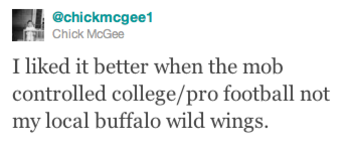 Kenny Is a Trooper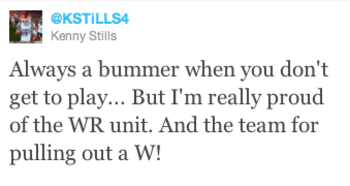 Fighting Words!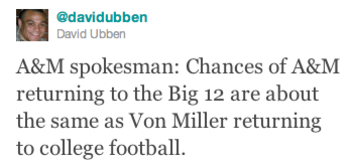 This tweet got real, very fast!
Depends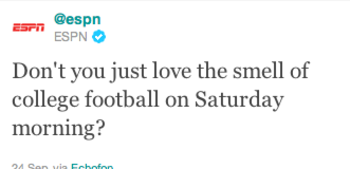 Are we talking about the grass smell or the smell of alcohol from the tailgaters?
Dickie V Is a Suck Up!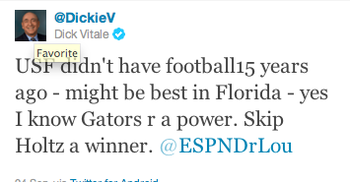 I'm not sure about this one BABY!
Not Good Enough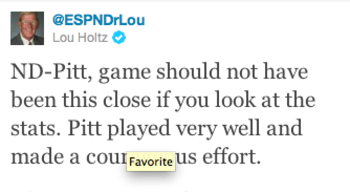 Looks like the Irish will be 2-2 heading into primetime in West Lafayette!
It Was Wild in Morgantown!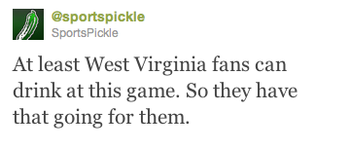 It's college football! Of course!
Strange Uniforms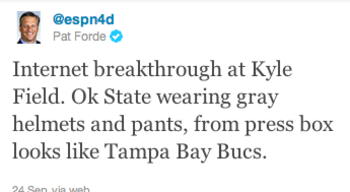 At least, they were not the orange ones!
Wow!

They definitely played like it!
Personally Love Them!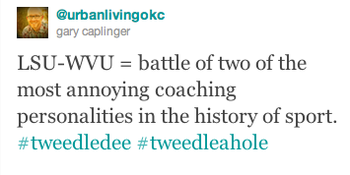 They may take a lot of criticism, but they are entertaining!
The AP Poll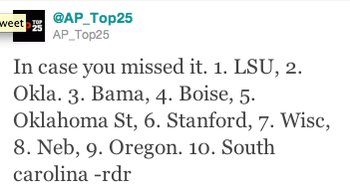 Get Well!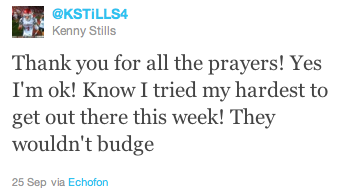 Good in the Classroom but Horrible Officiating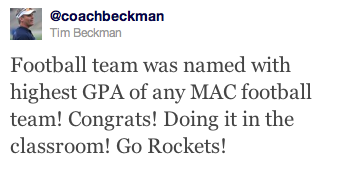 I don't understand how they missed this!
Boomer?

Look at Boomer Sooner! However, they did drop this week!
So True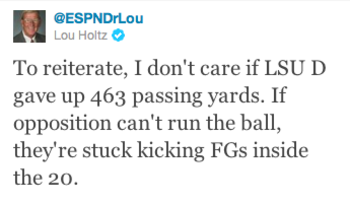 They Have Been Playing Great!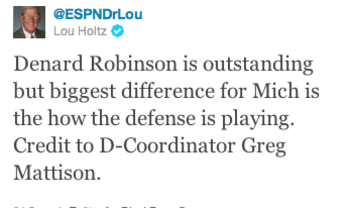 Lil Wayne Is a LSU Fan!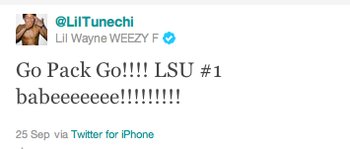 Good To Hear!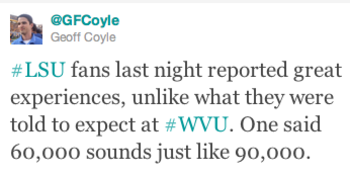 That's a tough place to play!
Agreed!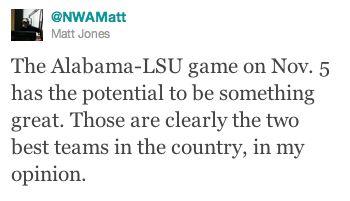 Couldn't Be Said Much Better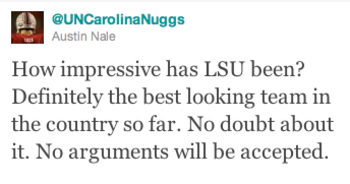 They Are Good!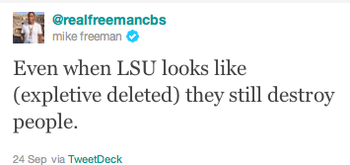 This Is True as Well!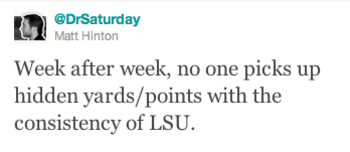 Keep Reading