SEC Power Rankings Week 5: LSU's National Championship to Lose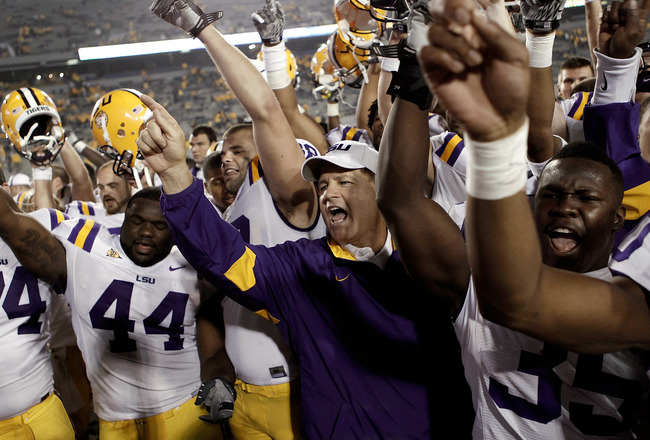 Jared Wickerham/Getty Images
The mighty SEC boasts four different 4-0 football teams, three squads in the AP top 10 and the No. 1 bunch in the nation. The last time a team other than an SEC crew won the FBS national championship, I was using a crayon to write columns.
Oklahoma is still No. 1 in the USA Today Poll. Alabama is No. 2 and LSU No. 3. Where does LSU rank on my list of SEC powers?
12. Ole Miss Rebels: WAC Bound?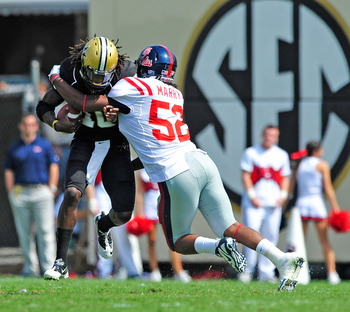 Grant Halverson/Getty Images
The Rebels are the only SEC team under .500 this season. They've lost two home games and suffered a blowout loss at Vanderbilt.
Ole Miss conjures memories of the Old South for some. It'll try to stop its season from heading further south when it travels west to scuffle against a tough Fresno State team.
The Mississippi River divides the country in half. Maybe Ole Miss should join the WAC for the second half of this year going forward.
11. Kentucky Wildcats: Wick, Wick Whack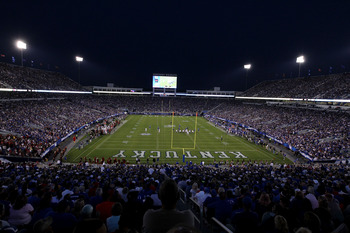 Andy Lyons/Getty Images
The Wildcats football team has been whack over the years and this one is more of the same. The basketball school got schooled in football by rival Louisville.
Maybe the basketball team should join the super ACC, and the football team should join the MEAC.
10. Vanderbilt Commodores: Their Ship Sprung a Leak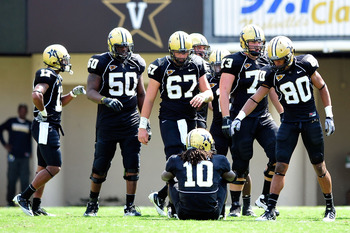 Grant Halverson/Getty Images
Me, act like Vanderbilt is a bona fide FBS football program? Don't hold your breath. They won three games straight before falling to South Carolina, but the Commodores aren't kidding me.
As the Los Angeles Clippers of the SEC, maybe they should drop sports all together.
9. Tennessee Volunteers: Lane Who?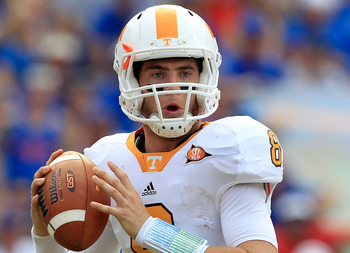 Sam Greenwood/Getty Images
The Volunteers (2-1, 0-1) sport a No. 10 ranking in the FBS for passing yards per game (335). Take that, Lane Kiffin. Coming off a bye week, they'll face Buffalo (1-3) this week before resuming their SEC schedule at home against Georgia.
8. Georgia Bulldogs: Barking Rights Battle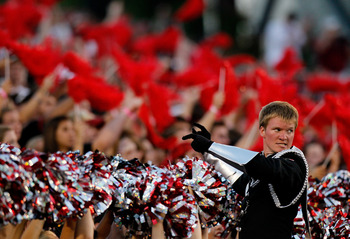 Kevin C. Cox/Getty Images
It'll be Dogs vs. Dogs getting together in Sanford Stadium when Georgia (2-2, 1-1 SEC) travels to battle the Mississippi State Bulldogs on Saturday.
Georgia has won two in a row after getting handled by two outstanding teams: Boise State and South Carolina. UG bears the distinction of confirming Boise as a bona fide football power after a long wait, and it is out for revenge.
I can't wait to see which vengeful SEC Dogs' bite is more powerful than its bark.
7. Auburn Tigers: Don't Disrespect, They Are Still the National Champions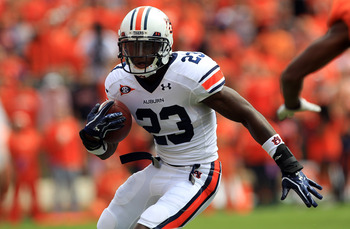 Streeter Lecka/Getty Images
The defending national champions will travel to South Carolina to face the Gamecocks. Looking for an upset, the Tigers will try to represent for the wonderful SEC West against the No. 9 Gamecocks (USA Today).
I can't miss this game because I want to see Steve Spurrier's classic reactions on the sideline.
6. Arkansas Razorbacks: Old Southwest Conference, Classic SEC…Whatever's Clever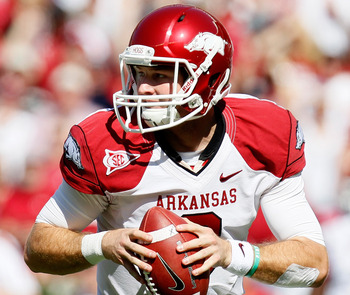 Kevin C. Cox/Getty Images
The Razorbacks are in the FBS top 20 passing yards per game and scoring points for per game this year.
Averaging 38 against the little orphans of the poor—their first three opponents—and 14 against their last opponent, Alabama, Arkansas will get a tough and hungry Texas A&M this week—a future SEC squad.
I'm billing it as Big 12 versus SEC or classic SEC versus new SEC or old Southwest Conference—whichever you prefer.
5. Mississippi State Bulldogs: SEC Top Dogs?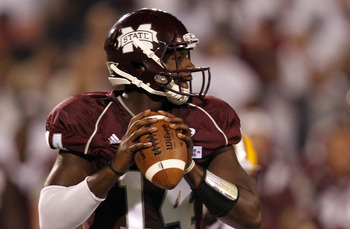 Butch Dill/Getty Images
Will MSU be the preferred top Dogs in the SEC after next weekend? If Georgia has any fight left in it after the Boise State situation, then Mississippi State will have to scratch, claw and bite to the end.
At home, The Bulldogs gave LSU all it could handle two weeks ago. If this is any indication, MSU's bite will outdo Georgia's bark.
4. South Carolina Gamecocks: Chill Out, Ball Coach Steve!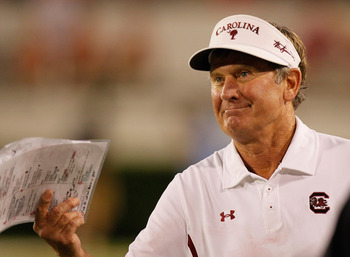 Kevin C. Cox/Getty Images
Coach Steve Spurrier's sideline reactions make for outstanding viewing, but he's liable to suffer a heart attack or a broken set of headphones. Chill out, Steve. Get your head right. It's only football.
3. Florida Gators: Spurrier's Old Squad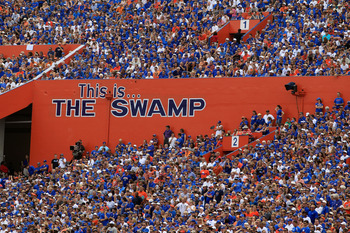 Sam Greenwood/Getty Images
Will Muschamp is the new sheriff in town. The former Texas Longhorns assistant hired a deputy in Charlie Weis to run the offense.
Muschamp was Mack Brown's defensive coordinator and thought to be in line to succeed him once Brown decided to retire.
Florida's early-season success shows that maybe Texas should have retained Will Muschamp.
2. Alabama Crimson Tide: Saban's Squad Doing What They Do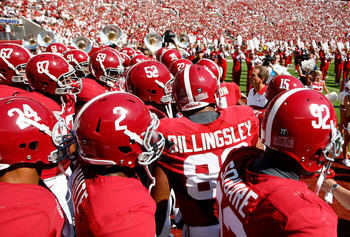 Kevin C. Cox/Getty Images
Alabama hog-tied No. 14 Arkansas last weekend and was voted No. 2 in the nation ahead of No. 3 LSU in the USA Today Poll.
The Crimson Tide, under Nick Saban, doesn't reload. It switches to pre-loaded guns.
1. LSU Tigers: Bengals Look Unbeatable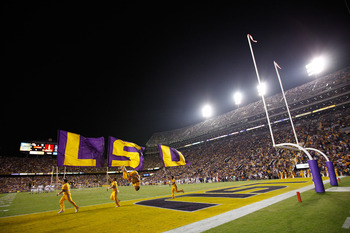 Chris Graythen/Getty Images
LSU overtook the Oklahoma Sooners for the No. 1 national ranking last weekend (AP) and now everyone is gunning for Les Miles' young men.
The Tigers routed West Virginia while the Sooners defeated Missouri. I'm not sure why OU deserved to drop to No. 2 in the AP Poll. I'm glad the AP's monopoly on polls is long gone.
The Bayou Bengals beat a hungover Oregon team to start the season and demolished an overrated West Virginia squad on national television Saturday night at WVU.
I hope you don't think I'm overrated as a chronicler of the SEC. Catch my powerhouse chronicles in a week or two. Don't make me angry and force myself to keep you in suspense for longer than needed because you didn't read it.
Contact Lake Cruise: Lakecruise@att.net.
Keep Reading

LSU Football: Like this team?