Georgia Football 2011: Bulldog Offense Taking Shape as a Unit
September 25, 2011
The Georgia Bulldogs are officially a third of the way through the 2011 campaign, and many of the preseason questions that surrounded the young squad are being answered.
Coming into the season, the only real certainties about this Bulldog offense were that Aaron Murray would be the starting quarterback and he would be throwing a lot of balls to high school teammate Orson Charles.
With Murray at quarterback and Orson at tight-end firmly settled in their starting roles, the real questions for the Georgia Bulldogs offense coming into 2011 were at the wide receiver and running back positions.
As Georgia enters the final two-thirds of the season and gets into the meat of their conference schedule, we are starting to get a real feel for who is ready to step up in these skill positions of the offense and stamp their name on this year's season for the Dawgs.
Wide Receivers
After losing their top two receivers, A.J. Green and Kris Durham, to the NFL, there were some major holes to fill in at wide receiver for the Bulldogs.
A very good No. 3 receiver behind Green and Durham, Tavarres King was anticipated to step up and be Murray's go-to guy at wideout this season. Unfortunately, King has failed to prove that he can be an impact player for Georgia so far this season.
King's numbers on the season are decent, but also a little deceptive. He has compiled 117 receiving yards and three touchdowns. However, more than half his yardage and two of his touchdowns came against Coastal Carolina. Against Boise State, South Carolina and Ole Miss, King was a virtual nonfactor.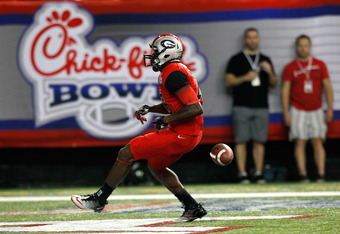 Kevin C. Cox/Getty Images
Marlon Brown was also expected to finally come in, see some playing time and finally prove why he was such a sought-after recruit. Although hampered by nagging injuries, Brown still has not shown that he can live up to his potential on the field.
On the other hand, true freshman Malcolm Mitchell has stepped up and performed nicely for the Dawgs through the first four games. Mitchell is Georgia's leading receiver on the season with over 250 yards and second behind King with two touchdowns.
It has been apparent since the first game against Boise State that Mitchell has a ton of talent and playmaking ability. Mitchell has game-changing speed and is proving himself to be a great route runner as well. Out in space, Mitchell's athleticism is obvious, and it is very tough for a single defender to bring him down.
Georgia's leading receiver in each game so far this season, Mitchell is getting stronger with each game as he becomes more comfortable with the system. This past weekend in Oxford, Mitchell had his best game to date, racking up 93 yards on three receptions.
Georgia fans are also starting to see some flashes from redshirt freshman Michael Bennett. Like Mitchell, Bennett is also a very good route runner for quarterback Aaron Murray and the Bulldogs. Bennett has also displayed very good hands, catching some less than perfect throws from his quarterback in clutch situations. Look for Bennett to see the field more as the season wears on.
Running Backs
The biggest question at running back for the Georgia Bulldogs this year was whether true freshman Isaiah Crowell would live up to the preseason hype. He has and then some.
Crowell looks to be everything advertised so far in the first third of this season. Averaging over 100 yards per game through the first four, Crowell had a breakout performance versus Ole Miss last Saturday. Crowell rushed for 147 yards on 30 touches against the Rebels.
Depth at running back was a concern for the Bulldogs coming into the season, but no more. In fact, now that Carlton Thomas has returned, Georgia is able to rotate in three strong backs, all with different, complementary skill sets.
Crowell is the workhorse who can have 25 to 30 carries a game and really gash opponents' defenses. Richard Samuel is more of a bruising runner and strong pass blocker, but is also very good at getting out of the backfield and catching the ball. Carlton Thomas is more of the speedy big play threat ,and opposing defenses best not relax just because Crowell is not in the game, as Thomas definitely has the ability to make them pay.
Summing Up
Even though the Georgia offense came into the season with some definite question marks on offense, the Bulldogs look stronger and stronger each week as the young talent on the team continues to develop.
Aaron Murray is having a solid year leading the offense and does not seem to be suffering from any sort of sophomore slump. Tight end Orson Charles is also having a very nice season, as expected. Even backup tight end Aron White had a big day against Ole Miss, with over 50 receiving yards.
The biggest factor for Georgia, however, is how quickly their young players are picking up the system and making serious contributions to the Bulldog offensive unit. Putting together sophomore quarterback Aaron Murray with Isaiah Crowell, Malcolm Mitchell and Michael Bennett (all freshmen), the Bulldogs look to continue to improve and have a strong rest of 2011 and beyond.