Shaq Goodwin: Basketball or Football? He Has the Potential to Go Pro in Both
September 25, 2011
Each and every day, children all over the globe are playing sports. Whether it be the neighborhood boys partaking in a heated game of two-hand touch football, where their leafy suburban streets become the most elaborate NFL stadium, or teenage girls playing an intense pick-up basketball game in the heart of one of our nation's biggest cities, where even the most decaying urban courts seem to sparkle like Madison Square Garden.
These kids are playing with a passion like it could very well be their last day on this earth. The reason for this passion stems from a vision. A vision of one day becoming a professional athlete.
With each child, you will find an individual dream. Some youngsters dream of one day playing shortstop for the Yankees, while others imagine themselves starting at wide receiver for the Green Bay Packers. Sadly, by the time most of our youth enters high school, these dreams slowly begin to die.
Most realize that their athleticism is limited, that the potential and promise they showed as children is slowly fading away. However, some children are blessed with a potential that is seemingly limitless. These individuals have hit the "genetic lottery." They have size, speed, and athleticism that is rarely found on this planet. One athlete who may very well be the largest lottery winner when all is said and done, is Georgia prodigy William "Shaq" Goodwin.
Shaq Goodwin stands 6'8" and weighs a muscular 240 pounds. One look at the star athlete from Georgia's Southwest DeKalb High School, and you can make an educated guess that he has the look of a standout basketball player. You would be right. The rising senior has used the past year to launch himself into the national spotlight as a top 20 player in his class. He is a power forward with an endless motor, always looking to destroy rims with his trademark aerial assaults. He also runs the floor like a gazelle, creating mismatch problems with bigger, slower power forwards.
As a junior, he averaged 18 points and 10.1 rebounds per game, toying with opposing teams defenses along the way. He rebounds every basketball that is in his reach, and he blocks seemingly any shot released in the paint. His upcoming senior season looks to be even better for the likely McDonald's All-American.
He is the state's No. 1 basketball prospect, and it is not out of the question for him to end up finishing within the top five prospects in the entire nation at the culmination of his senior year. The scary thing about Shaq's basketball potential is that another love of his takes practice time away from him—football.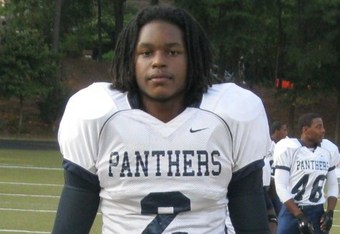 The Panthers of Southwest Dekalb have a privilege that very few football programs across the nation have, and that is a 6'8" wide receiver.
Not only does Goodwin tower over any cornerback who matches up with him, but he also runs a 4.6 in the forty-yard dash. He has tremendous hands, catching any jump ball thrown his way, while also using his speed to outrun even the fastest secondary. He is a rare breed of football player, and he is capable of transcending the position of wide receiver for college and NFL athletes.
This is exactly the reason why so many high profile programs want to have Shaq suit up for them on the gridiron. If groomed properly at the next level, he very well could become a Randy Moss type wideout. Amazingly enough, he could star at different positions as well. He could use his frame to shine at tight end or defensive end at the NCAA level. 
Recently, he has publicly stated that he will be playing both basketball and football in college, thus eliminating any schools that won't let him play both sports. After doing more research on which schools would be willing to have him play both, he released a  final five list of schools: Arizona, Florida, Georgia, Memphis and UCLA. These schools have the chance to land a once-in-a-generation type talent who could potentially become an all-conference player in both sports. Furthermore, professional teams in both the NBA and NFL could look to take a chance on someone who is so athletically gifted.
Landing the Georgia phenom will be the first hurdle for one of the lucky five schools still in the hunt for his services, but whoever does sign him could end up reaping the benefits for years to come. Shaq Goodwin has a chance to lead a college team to a national championship in two sports, something very rare in this day and age. Then again, so are the skills he possesses, the kind only kids can dream of.