AP College Football Poll: 5 Teams Who Should Be In, 5 Teams Who Should Be Out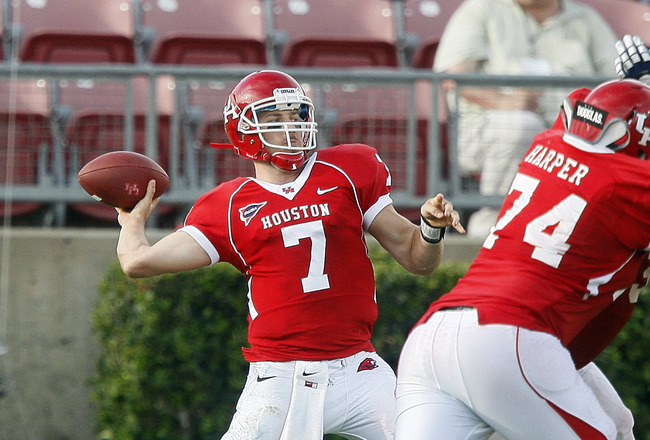 Bob Levey/Getty Images
Today's release of the AP Poll always brings up questions of really which teams that should be in and which teams should be sitting on the outside looking in.
We take a look at five of those such teams on each side.
This is not a case of replacing a certain team with another. It's just five random teams that you can make a case for being ranked and five that you could make a case for not being included.
Let's get right into it.
In: Houston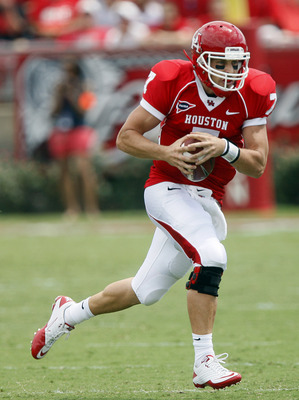 Bob Levey/Getty Images
Case Keenum is back under center in 2011 for the Cougars and people should start taking notice. Houston is off to a 4-0 start and look very impressive in the process.
People may make the case that they don't play anyone, but Houston already has a win over the Pac-12 and UCLA.
Out: Florida State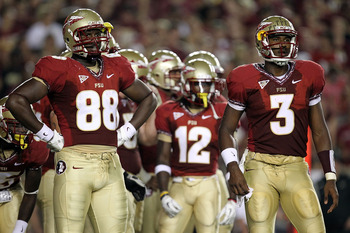 Ronald Martinez/Getty Images
I don't care who they lost to, and they lost to a pair of very good teams in Clemson and Oklahoma, a 2-2 team shouldn't be ranked after four weeks of the season.
Basically Florida State's resume only shows wins over Louisiana-Monroe and Charleston Southern. call me crazy but I'm not impressed by those two wins.
This is the reason why you can make the case that the first poll shouldn't be released until now.
If there weren't a preseason poll, the Seminoles would have no chance at cracking the rankings at the moment.
In: Michigan State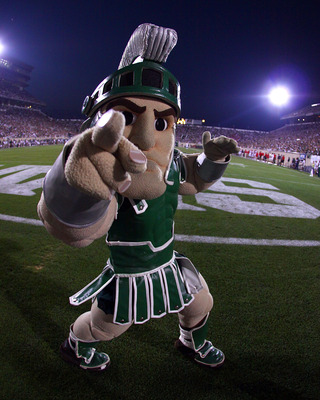 Dave Reginek/Getty Images
Personally I felt that the Spartans were a bit overrated coming into the season, but one loss to Notre Dame really isn't the end of the world.
They deserved to drop out of the rankings after the loss, but they rebounded nicely with a win.
They still haven't beaten anyone so this is a tough case to make, but considering they cracked the Coaches Poll this week, you could make the case they should have cracked both.
Out- West Virginia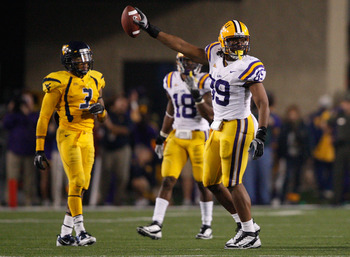 Jared Wickerham/Getty Images
This is a difficult argument to make against West Virginia, because you shouldn't be punished too much for losing to the likes of LSU.
The Mountaineers don't really have a Top 25 worthy resume at the moment.
For one, they got ran out of their own stadium on national television and for another, they really don't have a good win that should keep them in the polls.
Beating Marshall, Norfolk State, and Maryland, who just got blown out by Temple, is just not good enough.
In- Iowa State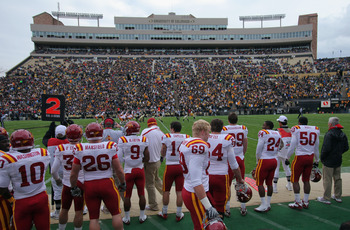 Doug Pensinger/Getty Images
Looking at Iowa State's 3-0 start to the season, the Cyclones already have wins over two BCS Conference opponents in Iowa and Connecticut.
While beating a Big East Conference school may not be something to really brag about, those two wins are still better than some ranked teams currently have on their resumes.
Out- Arkansas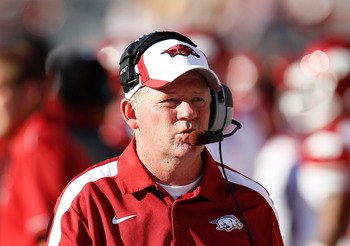 Kevin C. Cox/Getty Images
Similar to West Virginia, it's hard to punish the Razorbacks too much for falling to Alabama, but here is another team without a quality win through three weeks of the season.
The 3-1 record may be nice but the wins came at the hands of Missouri State, New Mexico, and Troy.
I understand you can't play BCS Conference teams every week, especially with the SEC schedule coming up, but after four weeks, Arkansas has accomplished nothing.
That could change with next weeks showdown with Texas A&M.
In- Kansas State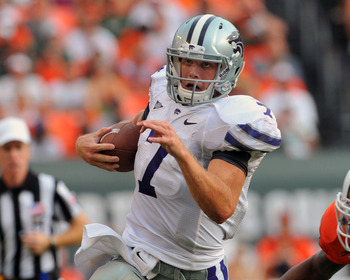 Al Messerschmidt/Getty Images
The Wildcats are fresh off a thrilling victory over Miami and have improved to 3-0 on the season.
The win over the Canes looked good a week after Miami beat Ohio State. If anything, Bill Snyder's team may have opened up some eyes.
Out- Arizona State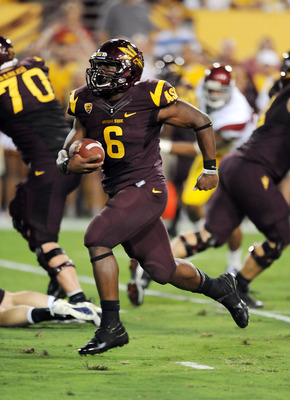 Norm Hall/Getty Images
I can't make that strong of a case against the Sun Devils, especially after Saturday night's win against USC.
They are ranked No. 25 this week, so they are a logical team to include on this list.
In- Auburn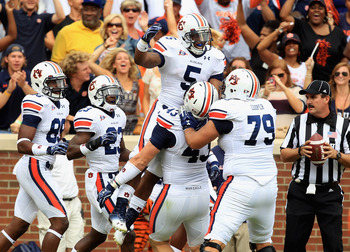 Streeter Lecka/Getty Images
The defending champs are sitting at 3-1 and a loss to Clemson doesn't look so bad now since Clemson has since skyrocketed to No. 13 in the polls.
The do have a win against Mississippi State, who was ranked at the time in their pocket, so Gene Chizik's squad has a bit of an argument.
Out- Illinois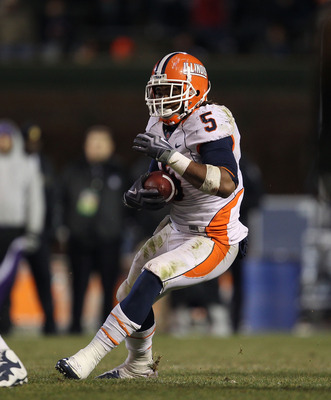 Jonathan Daniel/Getty Images
This is the toughest argument for a team to be out of the polls.
While it's unlikely that Illinois should be, you have to look at how much stock you are putting in their Week 3 win over Arizona State.
If you are convinced that's a big win then fine.
If you still have your doubts, then the wins over Arkansas State, South Dakota State, and Western Michigan aren't that impressive.
Keep Reading