Football Rankings: Are Voters Already Starting to Screw Undefeated Boise?
September 25, 2011
Otto Kitsinger III/Getty Images
Pity poor Boise State. In Week 5 of the Associated Press Rankings, they remain at No. 4, like the redheaded stepchild of college football.
It's tough standing beneath the big boys of the SEC—LSU (No. 1), Alabama (No. 3) and  Oklahoma (No. 2). Granted, Boise has remained a consistent No. 4, up a notch from their preseason ranking. Apart from their opener, they have yet to display amazing performances against top-ranked teams and lack a schedule that is turning many first-place votes their direction.
Yes, this team in blue is the same team in the national championship hunt that played brilliantly in their SEC opener against Georgia, humiliating the South's beloved Bulldogs. Yes, this is the same team with eight returning starters on offense and defense that has socked away its first four opponents like they were high schoolers at homecoming. 
And yes, this is the same Boise team with a quarterback so stunning and accurate that he literally played his opponent out on Saturday after scoring 34 points against Tulsa, defeating them 41-21. 
So what's wrong with this picture, and why will it take officials on the field to measure this Boise team's potential enough to see them rise to the top of the rankings?
Certainly, the Broncos aren't without leadership. Quarterback Kellen Moore has been consistent, throwing four touchdowns in two and a half quarters yesterday. Moore has survived a hostile opener in Atlanta and perfected a rhythm with his teammate, Tyler Shoemaker, and his name is still prominent in talk of the Heisman. 
Perhaps it was their not-so-pretty win against Tulsa yesterday that swayed the opinions of this week's voters. Their play was good enough to win, but anything but sharp, with an average of only 2.9 yards per rushing. On penalties, they had five for 48 yards. There was a turnover and a fumble lost, something rare for the well-coached group of warriors.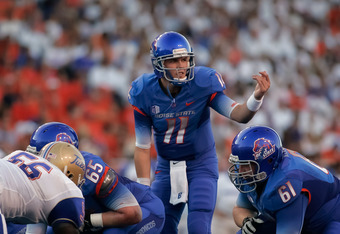 Otto Kitsinger III/Getty Images
Perhaps the best is coming, according to Coach Chris Petersen in his postgame press conference.
"I thought there were some really nice plays made in all three phases, but I thought it was a lot of sloppy football," he said.  "There's no question we have a long way to go. No question. And we better get there in a hurry."
Peterson added some promise to his remarks, "I know we haven't seen it. I don't know if we have it in us.  That's to be determined."
For the pollsters, the boys in blue will face Nevada next Saturday at home. Will a cleaned up version of this week's game bring them past the Tigers, Sooners and Bama, or will they teeter on the edge of national prominence for yet another week?  With clean play lacking the errors of the past, this red-headed step child might just become a favorite.