Wyoming vs. Nebraska: Analysis of the Cornhuskers' Win over the Cowboys
September 25, 2011
Eric Francis/Getty Images
Despite a comfortable 38-14 victory that easily could have been 45-14 if coach Bo Pelini hadn't taken the classy route, the Nebraska Cornhuskers' overall play suggests that next week's game against the Wisconsin Badgers could potentially get really ugly.
The Huskers dominated the Wyoming Cowboys statistically, racking up 490 total yards on 70 plays to Wyoming's 305 on 65.
The running game racked up 333 total yards, averaging 6.8 yards per carry despite Taylor Martinez rushing for a measly 37 yards on 12 carries.
Martinez had a bad stretch in the passing game, but still finished with 157 yards and a touchdown through the air.
The defense forced six punts, picked off a pass and got a sack, holding the Cowboy offense to one touchdown until the game was out of reach.
So why did the win feel so dissatisfying?
Maybe it's because Husker fans' expectations are getting too bloated—but since when have Nebraska fans not had bloated expectations?
There are a number of excuses, perhaps even legitimate ones, that can explain Nebraska's struggles. But the bottom line is, the Huskers will have to start executing if they are to pull off the increasingly improbable win in Madison.
On with the analysis...
Running Game
I have one thing to say about Nebraska's running game: When Rex Burkhead is in the ball game, it works very well.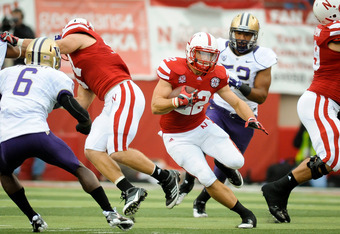 Eric Francis/Getty Images
Quite frankly, Burkhead is Nebraska's best overall player right now. The tough junior has shown skills worthy of the NFL, and his 15 carries for 170 yards and two touchdowns sunk the cause of a Cowboys defense that was otherwise pretty solid.
The offensive line continues to improve and, as young as this unit is, could be special in the near future.
Martinez had a pedestrian day on the ground, but not much was needed out of his legs this night. Although he didn't have his best game overall, he took another step toward becoming T-Manager.
The three true freshmen had nice games as well, although both Ameer Abdullah and Braylon Heard had fumbles.
Abdullah carried the ball three times for 36 yards, Heard had nine carries for 33 yards plus a touchdown and Aaron Green turned three carries into 19 yards. Even Austin Jones got in on the action, cleaning up for 38 yards on four carries.
Despite its early struggles, Nebraska's ground game is looking increasingly impressive.
Passing Game
Nebraska's passing game somehow improved statistically against Wyoming, but overall left a lot to be desired.
Martinez improved by two completions from last week's 10-of-21, but missed several open targets and under-threw Kyler Reed on what would have been a touchdown pass.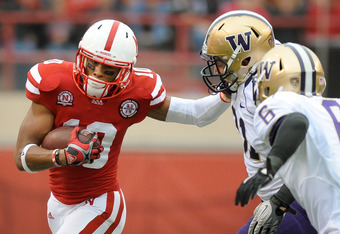 Eric Francis/Getty Images
The Husker receivers had better games, though; I counted only one dropped pass, which was by a player rarely thrown to (Khiry Cooper) on a pass that was, again, off-target.
A good sign was Brandon Kinnie finally getting in on the action, catching three passes for 31 yards and making an impressive effort to get the first down on one of those.
Jamal Turner and Kenny Bell each caught two passes for 23 and 20 yards and a touchdown, respectively.
Reed's catch went for 44 yards, while Quincy Enunwa caught a clutch pass from Martinez for 30 yards, gaining some extra ground by using his trademark stiff-arm.
Even Abdullah and Tyler Legate got in on the action, each catching a pass for 11 yards and two yards, respectively.
The Huskers have shown promise airing it out thus far, but if it is to become a deadly part of their game, Martinez is going to have to be more accurate.
Rush Defense
Nebraska's defensive line played well in the absence of Jared Crick and based on the numbers, did very well against the run.
There was still the occasional gash for 10 or 12 yards, but the Cowboys finished with just 137 yards on 31 carries—an obvious improvement over the first two weeks and a slight improvement from the Washington game.
With that being said, Nebraska has not faced an attack near as powerful as the vaunted Wisconsin ground game. Even if Crick returns, the Huskers will have a very difficult time slowing down  Montee Ball and James White.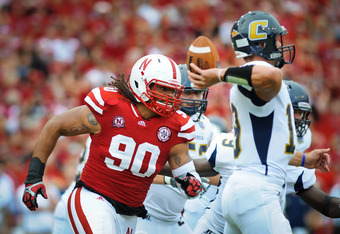 Eric Francis/Getty Images
Pass Defense
It was good to finally see Alfonzo Dennard out on the field, and the preseason All-American's presence was definitely a benefit.
However, the Pelini's tweaked the personnel a little bit for the game, and it backfired on them a couple times.
Wyoming's first touchdown was a long pass, and the burden of blame falls on Corey Cooper, a safety who was playing cornerback much of the night.
The Cowboys' spread passing game isn't like Wisconsin's attack and hopefully Cooper won't have to play the same role against the Badgers, but based on the struggles Nebraska's had overall, Wisconsin quarterback Russell Wilson is drooling at the thought of playing them.
Most think of the Badgers' running game when thinking about their offense, but Wilson threw for 345 yards against South Dakota, and has thrown for 1,136 yards and 11 touchdowns to just one interception in four games.
Dennard will be charged with locking down top Badgers receiver Nick Toon, which he should be able to do. But if the Huskers don't get better play out of Ciante Evans and the safeties, Wilson could have a monster day.
Based on the way the secondary played against Wyoming and their true freshman quarterback, the thought of Wilson's arm is scary.
Special Teams
Special teams were a non-factor for most of the game. Wyoming refused to kick the ball to dangerous freshman Abdullah, and because of the high elevation, kickoffs were being boomed through the end zone nearly every time.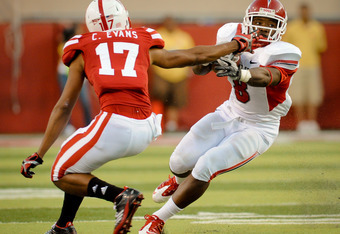 Eric Francis/Getty Images
Brett Maher used the thin air to his advantage throughout the day on both kickoffs and punts. He averaged 53 yards on three punts despite dropping two inside the 20, booming his third for 61 yards.
Not a bad day for Nebraska's kick coverage units, but perhaps that was because there were very few returns.
Overview
Nebraska walked into Laramie with a huge talent advantage, and most expected them to walk all over Wyoming. The scrappy Cowboys showed the promising direction in which their program is going, but the Huskers still won comfortably.
Even so, as Nebraska prepares to take on the strongest opponent on their schedule, the Huskers showed few signs that they'd be able to stop a powerful offense and that the offense is not ready to win a shootout.
A nice win for the Huskers against a team that should challenge for the MWC title, but let's face it—Wyoming is not Wisconsin.