Cal vs. Washington: Recap of Golden Bears' 31-23 Loss
September 29, 2011
Harry How/Getty Images
In easily one of the most entertaining college football games of the season, Cal fell short of Pac-12 opponent Washington in a game that came down to its very last play.
When Washington starting QB Jake Locker left Washington for the NFL last year after the bowl victory against Nebraska, Washington's fans reasonably expected instability at the quarterback position for years to come. Just three games into the season, those fans are just now realizing how wrong they were.  
Keith Price—a 6'1", 195-pound sophomore from Compton, Calif.—has been nothing short of remarkable in his four starts as Washington's starting quarterback.  His mobility in the pocket combined with his vision and throwing accuracy make Price, in my mind, one of the most lethal quarterbacks in the Pac-12 conference.  
Against Cal, Price completed 19 of 25 passes for 292 yards and three TDs with no interceptions.
Let's put this into perspective: Against San Jose State and a defense much worse than Cal's, Stanford QB Andrew Luck—regarded by many as the best college quarterback prospect since Peyton Manning and a consensus first-overall pick in next year's NFL draft—completed 17 of 26 passes for 171 yards and two TDs.  
If Price's success was a one-time deal, I wouldn't make anything out of it.  However, it's clearly not.  Price has performed consistently week in and week out for the Huskies.
Coming into this game, I put together a slideshow of keys to the game for Cal. Cal was successful in containing Chris Polk to fewer than 100 yards (he only ran for 60), somewhat successful in pressuring Price, but not at all successful in shutting down Washington's receivers.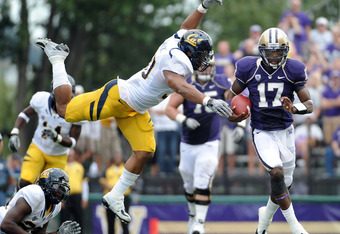 Harry How/Getty Images
Because Price supposedly came into the game with two sore knees, I didn't think he'd be mobile in the pocket.  I was wrong.  Price reminded me of Dennis Dixon in the way that he evaded pass-rushing, stepped up and delivered gems to his receivers.  After Cal QB Zach Maynard completed a touchdown pass to Keenan Allen, who ran 90 yards into the end zone, Price came out in his second offensive series and marched his team 66 yards in three plays, reading and cutting apart Cal's defense.  
Although Price stole most of the spotlight, Maynard also played his best game of the season.  By completing 23 of 43 passes for 349 yards, one TD and no interceptions, Maynard showed Cal fans that he is a very competent quarterback.  Although not the most consistently accurate passer, Maynard has a way of always coming through in the clutch.  For example, during Cal's last offensive drive while down eight points with two minutes left in the game, Maynard faced critical plays on 4th-and-3, 3rd-and-9 and 3rd-and-3.  Not only did he convert those plays, but he drove his team down to Washington's 1-yard line and put the Bears in a position where they could win the game.  
What else could you want from your quarterback?  
Although Maynard had a solid game, he wouldn't have had nearly the production he did if not for running back Isi Sofele's solid effort rushing, Marvin Jones' unbelievable circus catches and Keenan Allen's explosive plays with the football.
Where did Cal go wrong in this game? Mindless penalties, questionable play-calling and unsteady coverage on Washington's wideouts.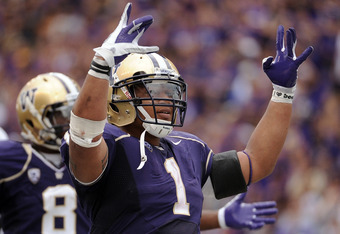 Harry How/Getty Images
Coming into this game, committing brainless penalties was a main area of concern for the Bears.  On a 2nd-and-18 with Washington backed up in its own red zone after Cal forced a rare incomplete pass from Price, DT Aaron Tipoti roughed the passer.  Although it was an extremely questionable call, in situations like these you never put yourself in a position to get called for these types of penalties and hope to win close football games.  
It's been proven since football began.  
On that same drive, Price completed a pass to RB Chris Polk for a 70-yard touchdown.  This was the turning point of the game.  
On the ensuing kickoff, yet another penalty was called against Cal.  As a result, Cal was forced to start inside its own 5-yard line.  During this critical series in which the Bears needed to respond, another penalty lead to a three-and-out for Cal's offense.   
In Washington's next series, the Bears seemingly got bailed out as WR Austin Seferian-Jenkins fumbled the football in an effort to fight for extra yards.  This was Cal's second chance to respond.  On first down, Washington all-out blitzed and sacked Maynard.  On 2nd-and-17, Maynard threw a great ball to Allen, but Allen lost his footing before he could make the catch.  Next play, Maynard threw short of Jones.
Here comes questionable play call No. 1:
On a critical 4th-and-3 in this game, why throw the ball to Sofele, a running back, when you have two of the nation's best wideouts in Marvin Jones and Keenan Allen? (Allen also happens to be Maynard's half-brother—they probably practiced situations like these in the backyard at age five.)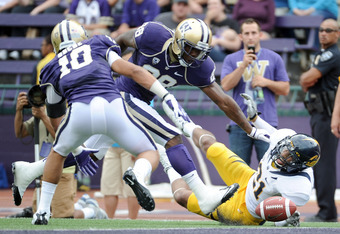 Harry How/Getty Images
It makes no sense.  
After Cal's defense held Washington to a three-and-out, Cal's offense had a third shot to tie this game.  On first down, Maynard threw an uncatchable ball to Jones (who had made unbelievable catches all day).  On second down, yet another penalty was called against Cal. Mitchell Schwartz was called for a false start.  Instead of a very manageable 2nd-and-10, now Cal faced a 2nd-and-15, down by one TD.  
This is where the game got exciting.  
On 2nd-and-15, Maynard completed his pass to Allen for 12 yards.  On 3rd-and-3, Maynard once again targeted his half-brother but the pass fell incomplete. On a game-deciding 4th-and-3, Maynard again connected with Allen for 15 yards. 
Maynard and Allen marched their offense all the way to Washington's 2-yard line.  On 1st-and-goal, Maynard threw the ball away after being heavily pressured.  On 2nd-and-goal, Maynard scrambled to Washington's 1.  On 3rd-and-goal, Tedford and Co. called on 5'7" Sofele (instead of bruising goal-line power-back C.J Anderson) to run the ball.  Sofele was stopped behind the line.  
Here comes questionable play call No. 2:
On 4th-and-goal from the 1 with the game on the line, Jeff Tedford and Co. called on Maynard to throw one of the most difficult passes a quarterback can throw during this critical 4th-and-goal situation in a harsh Husky environment: a fade route to Allen.  
Harry How/Getty Images
What happens as a result? Maynard overthrew Allen and Cal lost the game.  
Here's what I think Tedford and Co. must have been thinking when they called this play: 
1. "Since I saw Maynard and Keenan practicing this play to perfection during practice, this play will give us the best chance to win."
2. "Because Maynard completed a fade route to Allen in order to win last week at Colorado, I think Maynard will complete this pass to win this game as well."
3) "Because our offensive line was just dominated by Washington's defensive line and Sofele was stopped for a loss, it makes no sense to try running the football again with power-back Anderson instead of smaller RB Sofele."
All of the above thoughts are valid, but aren't necessarily practical.  Does Tedford  honestly believe Washington didn't know this play was coming after the game-winning pass against Colorado? I hoped the answer would be no, but unfortunately I was wrong.  
Had I been the one calling the plays, I would've called a play-action pass with TE Anthony Miller running a flat, WRs  Allen and Jones running post routes and RBs Anderson/CoVaughn DeBoskie-Johnson running a route up the middle.  This way, the linebackers might bite, thinking it was a run, therefore leaving a WR/TE/RB open or, worst-case-scenario, they'd allow Maynard the space to run it into the end zone himself.  
Why run a play that's hit-or-miss instead of calling a play that gives your quarterback options and gives your team a chance to win?  
When it was all said and done, I saw a lot of heart and resiliency from a Cal team that found itself having to battle back numerous times.  I look forward to watching this team more in the future.