Army Football: Black Knights Look To Bounce Back After 48-21 Loss at Ball State
September 25, 2011
"We will have some great days but it is going to stay fragile," commented Army head coach Rich Ellerson to WABC's Tony Marino after the Black Knights' 48-21 loss at Ball State (3-1) Saturday on the road in Muncie, Ind.
"We are struggling up front on defense. We are getting pushed around a bit. When we rushed the quarterback, he did not feel it."
About the offense, which ran well but did not compete a single pass play, the disappointed coach said, "Offensively we showed how fragile we are, if we can avoid those drive killing penalties and the turnover, we are going to hang in there in the first half, we are going to stay competitive, we are going to protect our own defense a bit by staying on the field and we are going to be in the end zone another time or two."
After the huge win last week over Northwestern, Army went into Ball State as a slight favorite.  This contest had the potential to be a trap game, a let down for West Point, but few expected a wipe out like the season opener against Northern Illinois. The Black Knights last year with a veteran team were 5-0 on the road at campus sites.  In 2011 playing many younger players, the first two stops in the Mid-American Conference have proved quite challenging with a visit to Miami of Ohio coming up in two weeks.
The offense continued to move the ball well with 402 yards rushing but could not complete even one pass in the game. Raymond Maples had another big game carrying 16 times for 125 yards. Jared Hassin, as we thought he might, had 17 carries and produced 111 yards, his first hundred yard game of the year.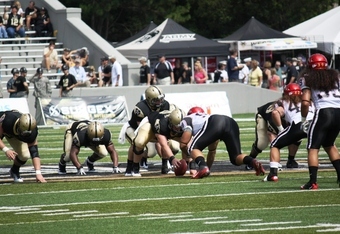 However, then there were five penalties, often at crucial times, including two "chop blocks" called on center Will Wilson. Possibly the officials were calling the rule tighter, about blocking the legs of the opposing defensive lineman. We will have to ask coach Ellerson about this on Tuesday.
Ball State certainly played well under first year coach Pete Lembo, who previously coached at Lehigh and Elon and owns a season opening win over Indiana from the Big Ten. Cardinal quarterback Keith Wenning threw for 383 yards and two touchdown passes. Ball State added 162 yards and four touchdowns on the ground.  
Referring to Ball State's Wenning, coach Ellerson commented, "He is a good player and he had a hot hand, we could not do anything to cool it off. That's always going to be a problem." 
It might have been a bit different if Army had converted its first quarter touchdown to tie the game at 7-7. Ball State went out to a 7-0 lead on a 12 play, 80 yard drive resulting in a three yard scoring run by Jahwan Edwards. The Cardinal freshman would score three times in the game.
Army countered with its own drive down the field with what appeared to be a potentially tying touchdown, but junior center Will Wilson was called for a "chop block." The Black Knights ended up trying a short field goal to put points on the board. A successful field goal would have at least helped get senior kicker Alex Carleton out of his slump.
Carleton missed two field goals against Northwestern and and has missed two point after touchdowns so far this year. Somehow the snap or hold was botched and the kick ended up a line drive which missed. Just down 7-0 the Black Knights seemed to lose their momentum.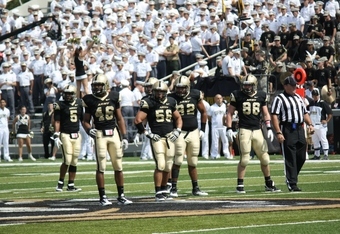 The second quarter belonged to Ball State, who scored 24 unanswered points. Quarterback Keith Wenning led the Cardinals on four scoring drives which included a 12-yard run by Edwards for his second score of the day and touchdown throws to junior Jamill Smith and freshman Willie Snead. A final Cardinal 56-yard drive of the half resulted in a 21-yard field goal by senior Steven Schott.
Injuries mounted in the game with linebacker Justin Trimble going out with an injured foot and then guard Joe Bailey suffering a serious leg injury. After several minutes of attention on the field the senior from Marietta, Georgia left the field on a cart. This left the Black Knights with holes in the middle of the defense and on the offensive line.
Army in the first half was unable to convert its drives on offense and on defense was exploited by both the run and passing games of Ball State. At the half, the Cardinals lead 31-0.
Early in the second half, Ball State took care of the ambition Army had to get back in the game by producing a six-play, 62 yard drive to score capped by a Jahwan Edwards one yard run. 
West Point did get its offense going in the second half with its first score of the game coming on an eight play 77 yard run capped off by a Ray Maples 1-yard run. Later in the fourth quarter, Maples scored his second touchdown of the game converting an 80 yard, 10-play drive with a 19 yard touchdown run.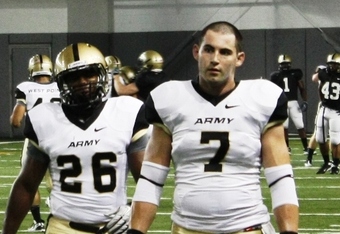 Army freshman Terry Baggett from Chicago was given playing time and demonstrated potential to fill in for the injured Trenton Turrentine by rushing four times for 36 yards and scoring on seven-yard run.
Overall, not a terrible production day for the Army offense with 402 yards rushing although penalties thwarted drives when it might have made a difference in the first half. Jared Hassin and Ray Maples both had over 100 yards, but a difficult day for the defense giving up 545 yards of offense, with 383 of that in the air. 
Last year the Black Knights in mid-season added passes to the backs coming out of the back field, especially targeting Jared Hassin.  Maybe we will see that again to gain productivity from passes in the game plan. 
Describing the state of the team following the game, coach Ellerson said, "Both teams are in the locker room now, the one which laid an egg today and the team which played out of their minds last week, there is an awful lot of energy, and an awful lot of want to."
Ellerson added, "[This game] is a step back, it only becomes a cliff, if we let someone pull us apart. As long as we stay together, and hold on to how we play, we can play better, coming out of our shoes and attacking our opponents, playing on the edge. Those two things together, staying together as a team, holding onto one another and continuing to attacking our opponent, and swarming on defense and be a bit better along the way.
"But those drive stopping penalties and the turnover, you see how fragile it is against a good defensive football team  Even five yards, a silly procedure (penalty) we should be able to finish that up in four down territory, but that is how fragile we are right now"  He added, "The good news is we get to play again next week."
The Black Knights will look to fine tune their offense and reorganize their defense for next Saturday's noon Homecoming game against Tulane. The game becomes a must win to keep Army's postseason bowl game chances a reasonable possibility.
Ken Kraetzer hosts the "West Point Football Report," heard Tuesdays at 5:30 p.m. during the season on WVOX.1460 AM and WVOX.com. Reach him on kgk914@aol.com