San Diego State vs. Michigan: 5 Halftime Adjustments Wolverines Must Make
September 24, 2011
Leon Halip/Getty Images
No. 22 Michigan and San Diego State both entered Saturday's tilt at Michigan Stadium in Ann Arbor with 3-0 records. Brady Hoke's former team has given his new team a run for its money, holding a ball for a majority of the first 30 minutes.
Yes, the Wolverines played well in the first half and avoided major disasters against the Aztecs, but the game is far from decided at this point.
Here are five things Michigan must do to keep control in the second half against San Diego State:
1. Defensive Front Seven Keeps Control of the Line
Ronnie Hillman was averaging 166 yards and 2.7 touchdowns per game so far this season coming into today's matchup. He's already proven to be dangerous on the ground against the Wolverines.
For Michigan to keep control of this game, the Wolverines' front seven must continue to manhandle the Aztecs line and use cornerbacks to contain Hillman and keep him in the middle of the field.
2. Win the Turnover Game
Michigan already forced Ronnie Hillman's first fumble since early in his freshman year, resulting in a 53-yard touchdown run from Denard Robinson.
However, they have to continue to avoid turnovers on the offensive side of the ball, too. Vincent Smith—who lost Michigan's first fumble of the season—and the other skill players need to avoid sloppiness with the ball. Keeping Denard Robinson from third-and-long, obvious passing situations is another key, as he's struggled getting the ball downfield with accuracy. Which leads us to…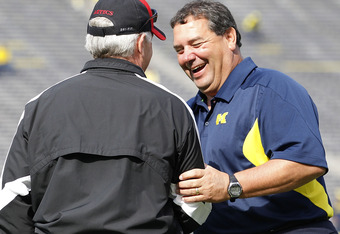 Leon Halip/Getty Images
3. Get Denard Robinson Comfortable Throwing the Ball
Everyone knows that the man known as "Shoelace" is gifted with the ball in his hands. He can make defenders miss or simply run past them, a point hammered home by his 100-plus yards and three scores on the ground already against the Aztecs.
It's hard to imagine Denard running circles around defenders from better Big Ten competition, so it's incumbent on the coaching staff in games like this to get their quarterback comfortable and in a rhythm throwing the ball down the field. The easiest way to do that is to start with quick outs and slants that he should be able to complete with ease. Denard has already shown success on these sorts of routes, and he should be able to grow and improve from there.
4. Put Pressure on San Diego State QB Ryan Lindley
One of the more dangerous passers in the nation, Lindley throws an excellent, professional-level ball when he has the time to do it. Similarly, Michigan's secondary has continued to struggle in pass coverage, so the more pressure the front seven is able to put on Lindley—a la Ryan Van Bergen's knockdown of a Lindley attempt late in the first quarter—the less will be required of the Wolverines' questionable defensive backfield.
5. Avoid Catastrophe on Special Teams
During the Rich Rodriguez era, Michigan was an utter disaster on special teams. On Saturday, San Diego State punted on its first series, a shank off the side of his foot. The ball bounced and hit unaware Wolverines blocker J.T. Floyd, and it became a live ball. Thankfully, return man Jeremy Gallon covered it, but it made Michigan fans around the world gasp with apprehension.
The Wolverines have avoided disaster to this point, but making chip-shot field goals and avoiding other huge mistakes on special teams will be required if they hope to continue their rise up the rankings.