Power Ranking the 2011 ACC Quarterbacks with Big East Additions
Jared Wickerham/Getty Images
Week 4 of college football and already fans can tell which ACC quarterbacks are rising to the occasion, and which are being left in the dust.
With the addition of Pittsburgh and Syracuse, people are starting to wonder where these teams fit in with the Atlantic Coast Conference.
Click "Begin Slideshow" to see the 2011 ACC quarterbacks Power Rankings, complete with the addition of Pittsburgh and Syracuse.
ACC Quarterbacks Rankings 14-11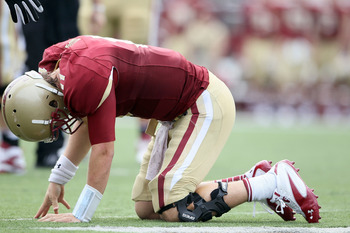 Elsa/Getty Images
14. Chase Rettig Boston is 0-3 this season, and will most likely become 0-4 after this weekend's game against Massachusetts. Rettig mustered only 70 yards in a 30-3 loss against University of Central Florida during Week 2, including a sack that set up a UCF touchdown.
13. Michael Rocco The Virginia quarterback's performance has been weak so far. The sophomore has thrown four interceptions and only one touchdown this season. He ranks last in pass efficiency, and needs to make great strides in order to lead the Cavaliers
12. Sean Renfree Duke's Renfree had a lot of promise going into this season, but his slow start is something of concern. Renfree had a 93 percent efficiency rating against the Navy last year, but has only thrown two touchdowns in three games. Renfree didn't even record a score in the first two games of the season. His stock is plummeting.
11. Danny O'Brien O'Brien was named the ACC Rookie of the Year in 2010, but don't let the title fool you. O'Brien threw three interceptions last week against West Virginia. Total, O'Brien has racked up four interceptions and only two touchdowns. O'Brien's confidence and talent have disappeared since last year, and he is off to a shaky start.
ACC Quarterbacks Rankings 10-7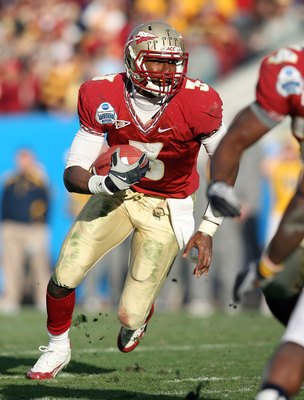 Doug Benc/Getty Images
10. E.J. Manuel Florida State's quarterback will most likely be replaced by freshman Clint Trickett for Week 4, as Manuel suffers from a shoulder injury. Spectators pegged Manuel as the quarterback to watch this season, but Manuel's injury and lackluster performance have been nothing to write home about. Manuel has thrown only six touchdowns and four interceptions so far.
9. Ryan Nassib Syracuse is currently 2-1, coming off a loss to USC last week. Still, Nassib is putting up respectable numbers: 230 passing yards against the Trojans, and 358 yards against Rhode Island the week before. However, Nassib is weak when he's being hurried. This season, he has rushed for -5 yards over the last three games
8. Tino Sunseri Pittsburgh is currently 2-1, losing a heartbreaking 31-27 to Iowa last week. Sunseri has only thrown three touchdowns this year, but has already recorded four interceptions. While Sunseri threw 255 yards against Iowa, his turnover-ratio is something to be concerned about.
7. Jacory Harris had a phenomenal sophomore season, but has only played one game this year due to the Miami scandal suspension. Harris, while his rocket arm is undeniable, has trouble with accuracy. He throws way too many interceptions to remain reliable.
.
ACC Quarterbacks Rankings 6-4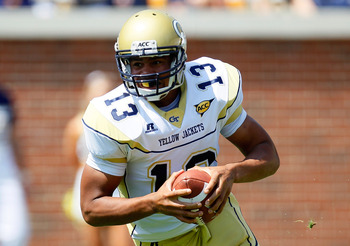 Kevin C. Cox/Getty Images
6. Logan Thomas The Virginia Tech Hokies are 3-0 with Logan Thomas leading the pack. The first-year starter has thrown four touchdowns and three interceptions; however, coaches are confident that Thomas will improve as time goes on.
5. Tanner Price returns this year and is looking much better. He has thrown six touchdowns this year, and has only recorded one interception. The Demon Deacons' only loss was to Syracuse in overtime, but Price has yet to play another formidable opponent. If he continues to improve, be prepared to be impressed.
4. Tevin Washington's stock is quietly rising. Washington has yet to throw an interception this season, and averages 60.7 percent passing efficiency, the highest of the conference. The Georgia Tech Yellow Jackets are currently undefeated, and will face North Carolina at noon Saturday.
ACC Quarterbacks Rankings 3-1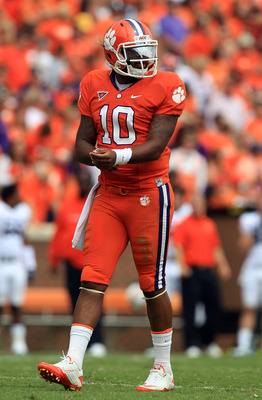 Streeter Lecka/Getty Images
3. Bryn Renner This NC quarterback had a nearly flawless start to the season, completing 22-for-23 passes. However, he was sloppy against Rutgers, throwing three interceptions. If Renner can get back on track and stay consistent, he will certainly rise to the top this season.
2. Mike Glennon NC State's Glennon has improved substantially after the season opener against Liberty. Glennon has thrown ten touchdowns and only four interceptions; four of those touchdowns coming from a nearly flawless game against South Alabama. Glennon is someone you want to keep an eye on. His stock is rising.
1. Tajh Boyd Clemson is currently undefeated, and the Tigers have Boyd to thank for that. Boyd's stock is rising, throwing for ten touchdowns and only one interception. Currently, Boyd is averaging 300 yards-per-game, which is the second in the conference.
Keep Reading