Wisconsin Football: Why We'll All Be Talking About QB Russell Wilson in October
September 24, 2011
Jonathan Daniel/Getty Images
Wisconsin is quietly consolidating their top ten ranking, and enters week four with a No. 6 ranking in B/R's Top 25 poll.
Wisconsin hasn't faced the top competition has FBS has to offer yet—UNLV, Oregon State, and Northern Illinois—and the Badgers host FCS South Dakota today in what is sure to be yet another blowout win for Wisconsin, but Wisconsin's defense has been dominant thus far against the lackluster offenses faced.
As impressive as Wisconsin's defense has been early in this season's campaign, suffocating offenses is nothing new for the Badgers. The real cause for excitement in Madison is the Badger offense.
Wisconsin has never been a pass-first team, but Wisconsin's new quarterback has the uncanny ability to dissect defensive secondaries with such deadly success it adds a second dimension to a team that's very good at running the ball.
Led by senior transfer quarterback Russell Wilson, the offense has put up 135 points in three games (45 ppg). While Wilson hasn't been burning up the stat sheets in terms of yardage—a quietly impressive 263.7 yards per game—he has been completing over 75 percent of passes thrown.
Wilson's touchdown-to-interception ratio (8-to-1) is impressive, if not surprising. It doesn't take a genius to figure out that a quarterback who completed over 75 percent of his passes won't be throwing many interceptions.
That kind of efficiency will serve the Badgers well when the Big Ten season gets underway next week with an epic opener against Nebraska at home.
When Wilson came to Madison, there were plenty of Badgers fans who hoped Wilson would be productive for Wisconsin, but there probably weren't many who envisioned the success that's now considered possible—or even likely—with the Wilson-led passing attack.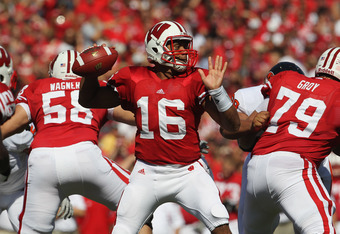 Jonathan Daniel/Getty Images
Wilson has also been contributing to the Wisconsin ground game when necessary. His 110 rushing yards over the past three weeks isn't anything to write home about, but he averages 10.0 yards per rush attempt. When Wilson needs to run, he can.
So how impressive is Wilson? Apparently, he impresses so many people, South Dakota's head coach Ed Meierkort has even admitted he'll be asking for Wilson's autograph during the Coyotes trip to Madison today.
As the season progresses, Wilson's name will increasingly be mentioned in a sentence also containing the word "Heisman." His quiet confidence and accuracy will be talked about by more and more people, except for perhaps Wilson himself.
Wilson's slight (by football standards) 5'11", 210-pound stature and humble, soft-spoken personality belies his killer instinct with the football in his hands. But as far as Heisman talk goes, Wilson has a team-centered perspective on the topic. In a recent interview with B/R, Wilson talked about the Heisman.
"I don't really think about it. I think the main thing, the positive thing about it is that it means we're winning."
"As a quarterback, my ultimate goal is just to win... that's all I really care about."
Winning might be all Wilson cares about, but the bonus of consistent success and continued winning is that which we'll all continue to talk about surrounding him as the season progresses. And that can lead to a trip to New York in December for the Heisman Trophy presentation.
Right now, there's no reason to doubt any of that will happen.