College Football Rankings: How Arizona State Can Rejoin Top 25 vs. USC
September 24, 2011
Christian Petersen/Getty Images
Arizona State (2-1) will be taking on a familiar foe in No. 23 USC (3-0) on Saturday.
After Arizona State captured the No. 22 spot in the AP 25 with a defeat of the then-ranked Missouri Tigers in Week 3, the Sun Devils fell to unranked Illinois in a 17-14 battle that went down to the last minute.
With USC coming to Tempe, the Sun Devils hope to take down another ranked opponent which will hopefully result in the Sun Devils recapturing a spot in the polls.
It will be Arizona State's first Pac-12 conference game, so the season is not in turmoil yet. A win, though, is necessary for the Sun Devils to at least stay relevant in their conference.
So far this season, USC has not really played an opponent who has the potential like Arizona State. So far, they have defeated Minnesota, Utah and Syracuse. All three were home games, so this will be USC's first test on the road. 
The road won't be the only obstacle standing in USC's way. Arizona State could arguably be called their first real challenging opponent. Arizona State is also out for revenge after losing that game to Illinois. Unfortunately for USC, they will be getting the aftermath from that aggravating result.
USC quarterback Matt Barkley is off to a hot start this season, already putting up 892 yards and nine touchdowns over just three games. Arizona State is going to have to play their best defense, because this certainly will be the best offense they have played.
Arizona State's defense has been playing well, led by middle linebacker Vontaze Burfict.
Burfict holds the key to the defense, though. If he keeps his emotions under control, as in the ones that lead to penalties, the Sun Devils defense should hold up strong against Lane Kiffin's offense. The Sun Devils defense needs to keep their composure throughout the entirety of the game.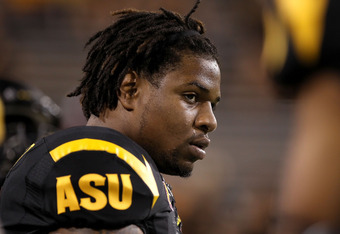 Christian Petersen/Getty Images
That being said, USC will be Arizona State's true test to see if they really were the team that people set them out to be.
It will also be a test for the Sun Devils to see if they can make up on the defensive side of the ball with the loss of sophomore DE Junior Onyeali.
No doubt the loss puts question marks all over the Arizona State defense, but it is what it is. The Devils will just have to show that they are the strong defensive squad they are.
With the questions all over the defense, the Arizona State looks to continue their success on the offensive side of the ball.
Quarterback Brock Osweiler has led the aerial attack with 871 total yards and six touchdowns on the season. Wide receiver Aaron Pflugrad has been leading the receivers, and Sun Devils fans can only hope that he will continue his success.
In their last two games, USC has allowed at least 230 yards in passing to their opponents. Osweiler should be able to expose the USC defense to notch another big game under his belt.
Osweiler knows this is the Sun Devils' make-or-break game, so expect him to bring it all like he has every game so far.
Two things will stand in the way of Arizona State getting this done, and they stood out against Illinois.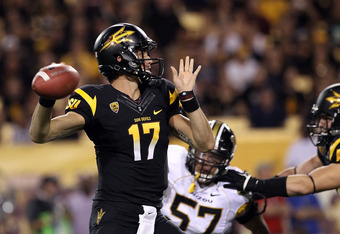 Christian Petersen/Getty Images
One, the ground game needs to get moving.
Yes, Cameron Marshall has been slowed down by injuries, but either he or someone else needs to get the Sun Devils moving on the ground. If they fail to do so, the offense will become too one-dimensional and there likely will be similar results as there were against Illinois.
Marshall is only averaging 3.6 yards a carry. That is not enough for an elite back, so he needs to find a way to get it going. Cameron Marshall is the x-factor this Saturday. This could be Marshall's coming-out party.
The other issue is the offensive line. The Sun Devils need to get a few things done on the line.
One of the glaring holes is pass protection. After they allowed Brock Osweiler to get sacked six times against Illinois, the 6'8" quarterback started to look rushed. They need to give him more time to get the ball off, otherwise the same will carry over from last week.
Along with the lack of protection, the O-line is racking up too many penalty calls. With all the holding and false start calls, the Sun Devils are constantly being pushed back. This loss in yardage causes the Sun Devils to resort to the heavy pass game.
Illinois was ready for the pass, and that is why they had their hands up on the line the entire game. They were deflecting passes from the line off a 6'8" quarterback. That shouldn't happen.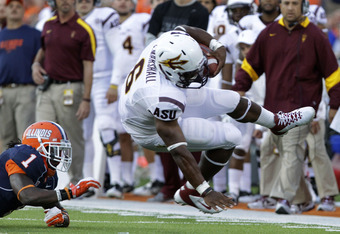 Osweiler is a fairly accurate passer, so mistakes from him are unlikely. Those two interceptions in Week 3 are arguably not his fault. He needs his time, though. With proper time, Osweiler will produce.
USC is a smart team, and they will play on these deficiencies that the Sun Devils have exposed this season. It is not an easy fix for Coach Erickson and crew, but it needs to happen quickly.
There are a lot of returning players on this team, so hopefully they will step up their games as they understand the meaning of these conference contests. Something needs to wake them up because the unnecessary penalties and mistakes have to stop here.
If the Sun Devils want to get back to relevancy, they need to look at these holes and fix them. If Arizona State can get things under control, it is their game to lose and their ranking to gain.