Florida vs. Kentucky: Last Minute Spread Info and Predictions
September 24, 2011
Sam Greenwood/Getty Images
No. 15 ranked Florida Gators look to stay relevant in the college football world with another big win, but they are going to have quite the task heading up to play the Kentucky Wildcats.
It may seem like a foregone conclusion that Florida will dominate this game being that they've won the past 24 matchups between the two schools, but I wouldn't count Kentucky out just yet.
The Wildcats are trying to get their running game back in motion after gaining 323 yards in the first two games. A loss last week against Louisville cut them down to 2-1 and completely stifled their running hopes.
Kentucky is going to be looking to bounce back, while Florida needs to prove that they can still be dominant.
Current Betting Line: (Bodog.com) Florida -20
What's at Stake:
Every win is important for Florida to remain a powerhouse in the BCS. This is one of the easier games on their schedule, so they need to take care of business and not slip up.
Kentucky on the other hand, will lose yet another game to Florida if they can't come up big. They can ruin the Gators' season and protect their pride in arguably one of the biggest potential upsets of the year.
Last-Second Injury News:
Florida: Defensive back Jeremy Brown out indefinitely (knee), tight end Jordan Reed questionable (hamstring).
Kentucky: Offensive lineman Joe Murphy probable (knee), running back Raymond Sanders expected to miss 2-3 weeks (knee), offensive lineman Larry Warford probable (ankle), defensive lineman Collins Ukwu questionable (knee), linebacker Danny Trevathan probable (knee).
Key Matchup:
Watch how the Florida defense attacks the Wildcats offense. The Gators are averaging 8.7 points per game defensively. They are already an extremely powerful offensive team, so if the defense gets involved in the scoring it will be a very long night for Kentucky. 
Sleepers to Watch: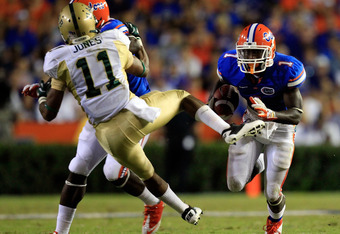 Sam Greenwood/Getty Images
Freshman running back Josh Clemons is going to be carrying the majority of the load for the Wildcats. If he can get off to a good start early, Kentucky may have a shot to control the clock and the tempo of the game.
Senior receiver Deonte Thompson is somewhat of the second option in the receiving corp. I expect he's going to get a lot of good open looks though with the Wildcats focusing on stopping Chris Rainey.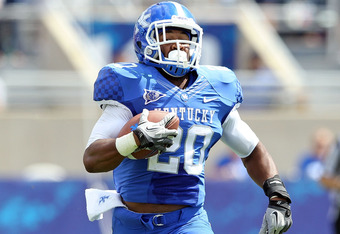 Andy Lyons/Getty Images
Prediction:
It would be an upset of tremendous proportions of Kentucky could seize home field advantage and take down the Gators. Unfortunately, I don't see that happening.

Florida 45, Kentucky 16