Michigan State Football: The Spartans O-Line Is a Nightmare Without a Kick
September 23, 2011
Al Messerschmidt/Getty Images
When I was in the fourth grade trying out for little league football, I wanted so badly to be a quarterback. I would throw the ball to myself in the backyard simulating crowd noise with that throaty exhale dreamers do. When we played Nerf football in the neighborhood, I was Zerf the quarterback. Even though I was the biggest/fattest kid in town, I was still taking the snaps. Guess I was the Daunte Culpepper of my era.
It wasn't the size of the boy but the passion in his heart.
I would call huddles and draw routes with my finger on my palm for "my receivers" to run. When I'd throw a bomb, I would run down the field with my arms up in the air simulating Brett Favre, although since I actually hated Brett Favre back then (let alone the fact that he wasn't playing in the NFL yet), I would pretend I was Bob "the Goose" Gagliano (bonus points if you know who that is), who didn't have quite the same pizzazz.
Then there was a crushing blow to my dream. The pee wee football league had a rule to prevent fat kids from being a "talent position," citing safety for the twiggy kids or something like that. Nobody over 80 pounds was allowed to be a quarterback, running back, tight end, etc... The weigh-in was the next morning, and according to my scale, I was a healthy 84 pounds. I was devastated yet excited that I could eat as many Ball Park franks as I wanted for dinner that night. I guess my priorities have always been slightly catawampus.
I'll never forget the conversation I had with my father, soon to be Head Coach Zerfas, when he told me not to worry about not being a quarterback (and most likely also to stop crying), "The game is won in the trenches…lineman play the most important position…you will be the one to win or lose games, son."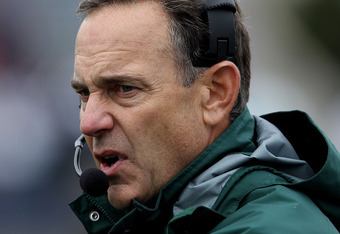 Jonathan Daniel/Getty Images
So I came to practice with my head held high…I was a lineman.
My football career lasted exactly one year. Regardless of position, I refused to wear any number other than No. 21 after my idol at the time, Spartan (basketball player) Steve Smith. I played like a lineman wearing No. 21 would, or kind of like if you asked the actual Steve Smith to block Jerry Ball on Thanksgiving Day. Six turkey legs, John Madden and hungry eyes on the prize I couldn't defend. It wasn't pretty. I've always been kind of a wuss.
It did, however, change the way I watched football. From then on, I've always looked at the war in the trenches, enthralled with how men do that play-in and play-out. It doesn't seem human to me. And if you really think about the size, athletic ability and sheer force, it's not human. Those guys are genetically-engineered dinosaurs spinning the earth with superior footwork and steadfast blocking measures! Man's game, Smitty.
That leads us to today. I can't pretend I know every X and O, blocking scheme or blitz package, but I can tell you who is winning and losing in the trenches and why that has everything to do with who wins the game. I want to believe Mark Dantonio when he talks about losing the battle up front to Notre Dame being a product of the entire team, citing blocking schemes with the line, tight ends, full backs, play-calling, etc...
I think he's covering up, much like how he protected his kicker by calling a fake field goal against Notre Dame last year. He's a thoughtful man, and I love him as a coach, but I'm calling shenanigans on the smoke and mirrors.
There is a great deal of trouble on the waterfront, Spartan fans. From here on out (Big Ten season), we will be backpedaling at the game's most important position. The offensive line is in flashing red lights, siren sounding and people running around frantically waving their arms…trouble.  
Coming into the season, the offensive line was without a doubt the most questionable entity. Spartan fans knew it was a position of youth and depth but lacking in star power and immediate excellence. Many of the players were highly-touted recruits with a great deal of potential, but the most important thing on an offensive line is cohesion and the time it takes to find it.
The worst thing for cohesion is injuries. The Spartans now have them in spades. Starting tackle Skyler Burkland is now lost for the season from a bone break in his lower leg. He may have been the guy I was most excited about developing, which will now have to wait until next year. Center Blake Treadwell and tackle Jared McGaha have MCL injuries that will prolong their development until most likely the Michigan game.
That is the important designation here. It's pretty simple. If an offensive line cannot play together, they cannot grow together and the results will be unanimously felt across the board—plain to see for all.
The best hope the Spartans had this year was this bunch of talented youngsters (more potential than last year's ho-hum bunch) solidifying as a group and growing as an exponentially talented, well-oiled machine, leaving only rust and blood in their path. Injuries are part of the game and I'm surprised it doesn't happen more often, but what's happening here is boarding on catastrophic, yet it leaves that omnipresent opportunity to overcome adversity.  
The other piece of good news revolves around the excellence of the Notre Dame defensive front. The Spartans may not face a better defensive line and front seven all season, depending on the bowl game opponent. Irish defensive lineman Aaron Lynch is a beast and undoubtedly will be playing on Sundays and was a big reason for Michigan State guard Joel Foreman, the beacon of dependability on the Spartan O-line, committing two holding penalties in five plays on the final drive last Saturday.
Makes a little bit of sense now but was excruciating to digest last Saturday.  
Everything else right now is a nightmare without a kick. I think of that scene in Inception when everyone is in the van that has just backed off a bridge and is heading towards ice-cold water. The Spartan line is in that van right now, and it's about to hit the water. Spartan Nation can only hope they wake up and accept the challenge to overcome adversity, because Big Ten play isn't going to sit around and wait for the Spartans to heal their wounds and develop the desired line density and intensity.
This unit had six holding penalties against Notre Dame, including three on the final drive—half of the total penalties for the team in the game. The depth is now to the point that finds Dantonio reaching into the cupboard and converting defensive lineman Micajah Reynolds back into an offensive lineman. Micajah's done it before, but one has to believe any more injuries to the unit will result in someone on the line wearing No. 21 (I actually don't think that's allowed).
Dantonio's most recent press conference makes Clint Eastwood look like Jim Carrey. He remained stoic and steadfast about the main mission of Spartan football, "Pound. Green. Pound. We need to run this football."
He even broke down the last 16 games into two categories: 13 wins when they could run and three losses when they couldn't.
Central Michigan beat Michigan State two years ago. They come to Spartan Stadium with a friendly face from the past head coach, Spartan quarterback and Dantonio staff member Dan Enos. It should be noted Dantonio hired Enos at Cincinnati before even coming to Michigan State.
Coming off an earth-rattling loss to Notre Dame, I look for the offensive line to shine over the Red Cedar like a copacetic sun. This isn't a tough task against a relatively below-average Central Michigan team, but if you can't get angry and fight with a vim under these circumstances, you best believe the quarter will continue to spin on that table.
A nightmare within a nightmare is not something I want to fathom rolling into Columbus and beyond.