Nebraska Football: Into Thin Air; the Effects of Playing the Cowboys in Laramie
September 23, 2011
Eric Francis/Getty Images
Can the Big Red cruise at 7,215 feet or will they crash and burn?
Jonah Field at War Memorial Stadium, the home of the Wyoming Cowboys, can lay claim to the highest elevation in the FBS nation, roughly 600 feet more than Falcon Stadium, the facility that the Air Force Falcons call home.
By way of comparison, Colorado's Folsom Field, a place that Nebraska used to visit every other year, sits at 5,360 feet and, coincidentally, is the third highest stadium in the FBS.
The question on the minds of many Husker fans is: How much will that extra 1,855 feet affect the Huskers as they face the Cowboys this Saturday?
The short answer is that it depends on who is answering the question.
The first attempt at cutting through the bull and finding the answer, by writing this article, began to sound more like a textbook and less like a football preview, so it quickly found its way to the virtual trash bin.
It soon became apparent that this writer's 20 years of experience in the aviation industry took over and terms and phenomena like cabin altitude, rapid decompression and hypoxia found their way into the work, which is fine for a science lecture, but quickly makes for a boring football article.
Besides, it probably would have made several of you swear off commercial flying and that's bad for business.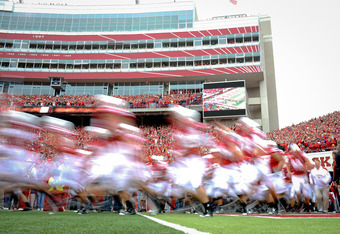 Eric Francis/Getty Images
So, let's stick with the basics, shall we?
The first myth I'd like to dispel is that the air is somehow thinner in Laramie than in Lincoln.
Not true.
Air, at any level contains 20.93% oxygen. The problem is that the atmospheric pressure (or more importantly in this case, oxygen partial pressure, decreases) making it harder to force enough oxygen into your lungs and then from your lungs into your blood.
It doesn't take a scientist to figure out that less oxygen will then be supplied to your organs (like your heart and brain) and your body tissues (like muscles).
So enough with the lecture. What does this mean for Nebraska on Saturday?
Nothing that can't be handled.
The Nebraska athletes will experience an increased breathing rate, an increased heart rate, an increase in the production of lactic acid and dehydration.
Let's quickly break down the symptoms mentioned above and discuss simple ways to combat them: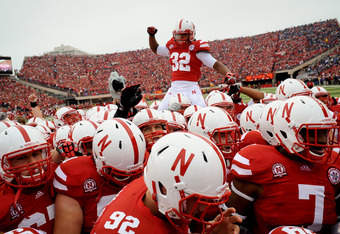 Eric Francis/Getty Images
Increased breathing and heart rate: The Huskers will need to sub fresh players into the game as often as possible and hopefully dictate the tempo of the game to keep the defense fresh. Other theories state that intense workouts at "normal" elevations improve the short-term, high-altitude conditioning of the visiting team. Advantage: Nebraska
Increased lactic acid production: While this is usually not an issue until after an intense workout period, proper stretching and hydration is the key. It's safe to say that the training staff has been busy stressing nutrition, that they'll be busy on game day taking care of players and, after the game, they'll be working out that excess lactic acid.
Dehydration: Proper nutrition before the game and water or Gatorade during the game are the obvious answers.
So, if Nebraska can focus on these issues, their superior talent (even if temporarily below full strength) should carry the day.
Husker redshirt freshman WR Kenny Bell agrees, "If you play the right way, it's not a big deal," said the Boulder native. "Hydration is going to be a big thing, but our strength and conditioning staff is going to have us ready to go. The altitude and elevation won't play a factor," he was quoted as saying by USAToday.
Playing the right way. That will be Nebraska's biggest challenge. Playing fundamentally sound, error-free football.
That and not looking ahead, past Wyoming's hideous uniforms, to their date with Wisconsin.