Wisconsin Football: Russell Wilson Talks Heisman, Drew Brees and the Midwest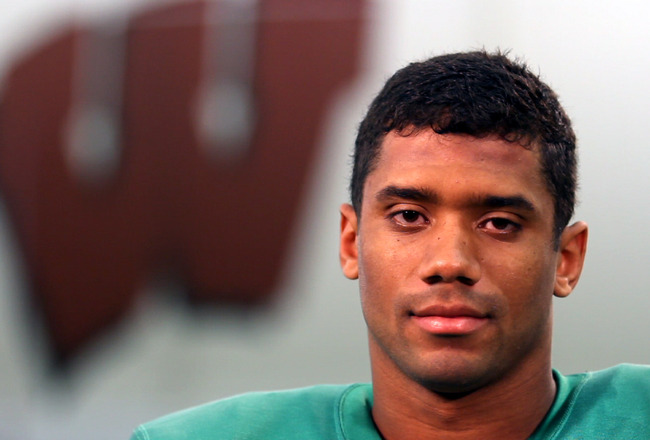 Humble, soft spoken, and just 5'11", Wisconsin quarterback Russell Wilson is an unassuming figure playing a sport and a position often reserved for big time personalities and even bigger egos.
Wilson might be light on arrogance and swagger, but he is loaded with talent.
The first-year transfer from N.C. State has gotten off to a white-hot start, completing 76 percent of his passes for almost 800 yards, eight touchdowns and just one interception in his first three games, and his performance thus far has folks nationwide talking Heisman.
I recently got a chance to sit down with Russell to discuss a number of topics, and you can see video from our chat here.
For excerpts from my interview, click through the slideshow.
The Playbook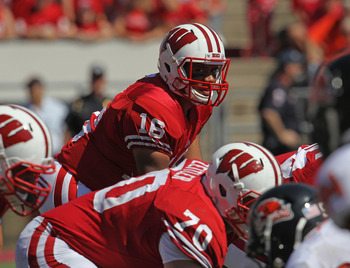 Jonathan Daniel/Getty Images
I asked Russell what sort of lee-way the coaching staff has given him with the playbook just three weeks into his tenure as Wisconsin quarterback.
"I'm able to change plays at the line, whether it's a run to a pass, a pass to a run, or a run to a different type of run."
"In terms of our offense, we're expanding every week and getting better every week, so I think that our ability to do a lot of different things is a positive."
Supporting Cast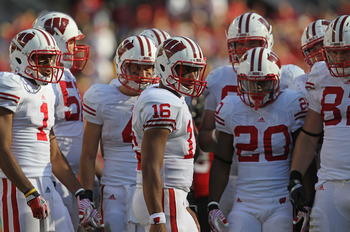 Jonathan Daniel/Getty Images
I asked Russell how having arguably the best rushing attack in the nation and a great supporting cast at receiver and on the offensive line has changed his game.
"Having the running backs and the offensive line, with their ability to run-block extremely well and pass-block is something that is an added bonus and something that we can get better at and keep working at every single day."
"The offensive line, the running backs, the tight ends and the receivers...their ability has truly helped me in terms of making plays. Their ability to get open and their ability to make a big play here and there is definitely something tremendous, and when you're playing quarterback you just want to facilitate the ball to the right guy."
Drew Brees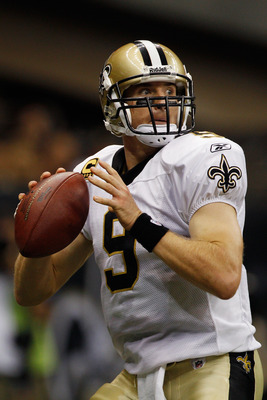 Chris Graythen/Getty Images
I asked Russell what quarterbacks he looks up to at the pro level.
"The guy I watch the most is definitely Drew Brees. His style of play, his size, his faith."
"I've read his book several times, I really, truly look up to him...he's pretty impressive."
The Heisman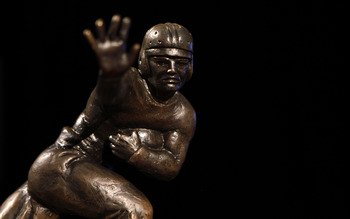 Jeff Zelevansky/Getty Images
I asked Russell if he thinks about the Heisman.
"I don't really think about it. I think the main thing, the positive thing about it, is that it means we're winning."
"As a quarterback, my ultimate goal is just to win...do the right thing, throw the ball to the right guy, hand the ball off to the right guy, and make sure that we're executing our offense. That's all I really care about."
Big Ten vs. ACC

I asked Russell what he thinks the biggest difference is between the Big Ten and the ACC.
"I haven't really noticed yet, but the tradition here in the Big Ten is spectacular. The fans are awesome, and that's what I love about the Big Ten."
Coming to the Midwest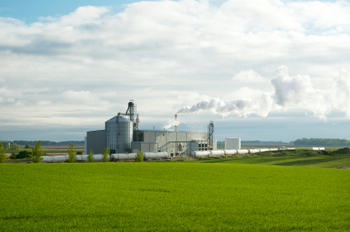 After growing up in Virginia and playing at N.C. State, I asked Russell what it's been like coming to the Midwest.
"Coming out of high school, I never thought I'd be here in the Midwest."
"To be honest with you, it's pretty nice being up here. The people are awesome, the fans here at Wisconsin are great, and it's great football...it's big time football."
Keep Reading

Wisconsin Badgers Football: Like this team?