Army Football: Can Black Knights Improve to 2-2 Versus Ball State?
September 23, 2011
 The Army Black Knights (1-2) make their first trip ever to Scheumann Stadium at Ball State in Muncie, Indiana on Saturday to take on the Cardinals (2-1) in search of a win to bring their season back to .500.
This one has the potential of being a flat performance for Army after the extraordinary 21-14 win against Northwestern last week.  The Black Knights used their strong running game to gain 381 yards on the ground, score three touchdowns and control time of possession 40:19 to 19:41 against the Wildcats. 
The West Point defense has been getting better with each week of the season after a disappointing opening night versus Northern Illinois.  They held their own against San Diego State and Northwestern despite falling to the Aztecs 23-20 in a thriller.
Senior linebacker Steve Erzinger has 34 tackles on the season, including four and a half tackles for loses and two sacks while demonstrating leadership in the middle of a young unit that lists six starters who are sophomores or plebes in 2011.  Junior Nate Combs and senior co-captain Andrew Rodriquez have been sharing the "WHIP" linebacker position which tends to cover the middle of the defense.
At the weekly Army press call, I asked Coach Ellerson about the mix of players in the linebacker corps: 
"Obviously, both Nate Combs and Andrew Rodriguez are playing the whip linebacker position; they are both veteran football players at that position.  Steven Erzinger and Justin Trimble have been productive in their own right.  That's just our second row.  Those are some veteran guys who are surrounded by young guys.  We have three veteran football players who are being productive for us.  We really needed some veteran guys to step up and settle some of the young guys down," Ellerson said.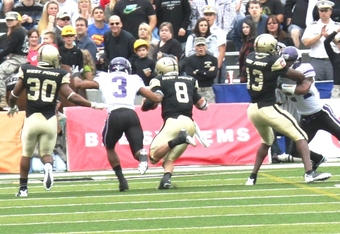 The young safeties have been productive with sophomore Tyler Dixon having 17 tackles and freshman Hayden Pierce with 15 in three games.  On the front line, credit the play of tackles sophomore Holt Zalneraitis and junior A.J. Mackey.  These two are holding their own and stuffing the run against the 300-pound offensive linemen they are facing each week.
"We're feeling good, but we can't let it get to our head," Mackey said after Saturday's game.
"We have to focus on our next opponent.  We have a new opponent and we have to take it to them and work on getting better each and every practice this week, preparing for the Cardinals this weekend."
Coach Ellerson was pleased, if also slightly disappointed, that no takeaways
were created last week.
"We played across the line of scrimmage a little bit, and that's something that correlates with takeaways, but to no avail this past week.  But, that's a step in the right direction."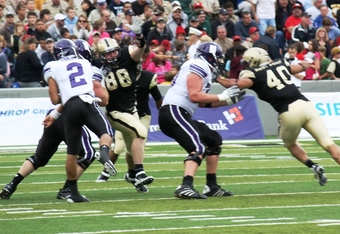 Certainly the offense has been productive and consistent.
Last week, junior quarterback Trent Steelman carried the ball himself for 108 yards and three touchdowns behind a maturing offensive line. Often, Steelman carried the ball himself on short yardage situations. In the opening drive against Northwestern, for instance, Steelman ran for six first downs in the 18 play 81-yard drive.
Some Army fans may be worried about the number of hits the Black Knights QB is being subjected to in 2011, but coach Ellerson says Steelman still has untapped potential.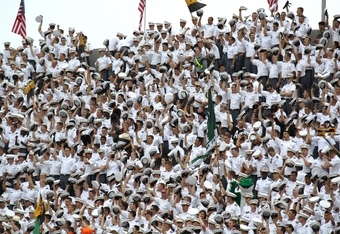 "He's a physically tough guy, and he has to be playing quarterback in this offense," Ellerson said. "The ball's always going through his hands. We're a triple option team and he's one of the options. If he doesn't have the ball in his hands, he decided it was going to somebody else because they were taking him, usually aggressively." 
So far slot backs sophomore Malcom Brown and sophomore Raymond Maples have been productive running to the outside often on pitch-outs from Steelman.  Brown has 248 yards gained on the ground averaging nearly ten yards a carry.  Maples, meanwhile, has 157 yards averaging 4.9 yards per carry this year. 
"Ray's running much more aggressively. If there's nothing there, he's going to try to make something there. He has that ability. He's a good blocker without the football.  I think that's the biggest growth he's made. He's not looking for a place to run; he's making a place to run," Ellerson said.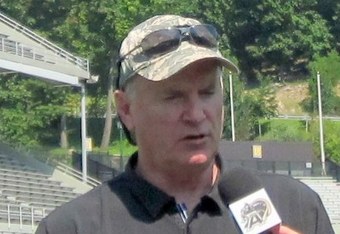 So far, junior fullback Jared Hassin has performed more of a blocking role. Hassin carrying just 31 times for 115 yards through three games and is way behind is 1,000 yard pace of 2010.
I asked the coach about his interest in getting Hassin more of a workload carrying the football.
  
"The ball's going to go through the quarterback's hands," Ellerson said. "Our opponent will determine, in many instances, who's going to get it. That's our offense." 
Certainly a veteran coach like Rich Ellerson is not going to tip his plans, but watch for the Black Knights to try to utilize Hassin more to reduce the number of hits on the quarterback.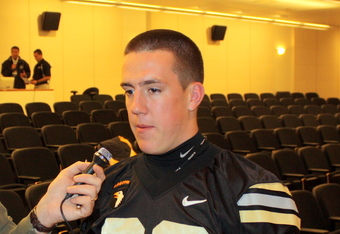 The Black Knights were 5-0 last year on the road playing at campus sights before the loss at Northern Illinois to start the season. This will be a test of being able to demonstrate their mission focus on the road. 
Coach Ellerson will face off against Ball State's new head coach Pete Lembo, who came to the Cardinals after previous stints at Lehigh and Elon. The Cardinals are 2-1 on the year, owning an opening game win over Indiana from the Big Ten.
 "This week is Ball State, and they're off to a great start," Ellerson said. "They opened up against Indiana and beat those guys. They had a come-from-behind victory against Buffalo this last Saturday.  They have a super efficient quarterback, Keith Wenning. They have a young freshman running back, (Jahwan) Edwards, who I thought really flashed. Defensively, they're very, very active. Probably the most pressure-oriented outfit we've seen this season.."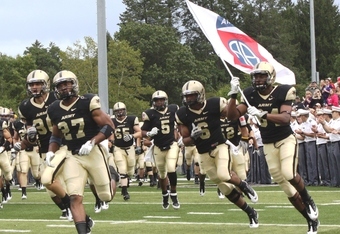 Coach Ellerson also addressed the play of senior kicker Alex Carlton who booted 11 consecutive field goals to finish 2010, but has missed two extra point kicks and both field goal chances against Northwestern.
 "Alex (Carlton), that first long kick we had—the 47-yarder—was really well-struck. It was coming in and it looked like it was going to be super and then it cleared the East grandstands and a little gust of wind caught it and carried it out. You need to stop thinking a little bit and leave some of that intellect on the side and just keep playing. The next one was not Alex.  He'll be just fine."
The Black Knights were probably pleased to escape their three game start to the season against 2010 bowl game participants with one win.  As it turned out, they beat Northwestern and came close to beating San Diego State.
Now begins a stretch of five games which will determine if they have the potential to repeat the success of last season with a 2011 post season bowl game. They will probably need to win at least three of five of games after Ball State which includes next week's home game against Tulane, then two more tough road trips to Miami of Ohio and Vanderbilt before the last home game of the season against Fordham. 
The Commander-In-Chief section of the schedule begins November 5th at Air Force, followed by the Yankee Stadium date with Rutgers on Nov. 12 and a visit to the Link Philadelphia to play Temple on Nov. 19th.  The ultimate rivalry game with Navy is Dec. 10th at FedEx Field in DC.
Army has the challenge of playing precision, no mistake football every week in order to be a consistent and confident winning team.
Expect Ball State to come up with a great effort and probably lead in the first half, but the Black Knights will prevail.  Watch for Coach Ellerson to try and give kicker Alex Carleton a few chances to kick his way out of the slump he is.
Final: Army defeats Ball State 27-17
Ken Kraetzer hosts the West Point Football Report every Tuesday night at 5:30 p.m. heard on WVOX 1460 in New Rochelle, NY and nationally on WVOX.com. Reach him at kgk914@aol.com.