BYU Football: UCF in Provo and the Quest to Avoid Loss No.3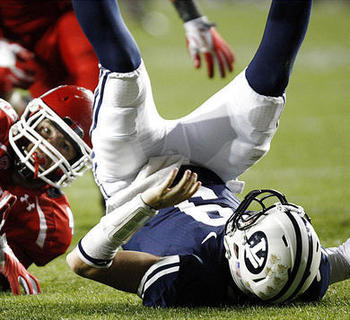 About the possibility of losing two weeks in a row at home, Cornerback Corby Eason said, "If we play BYU football we will be fine."
And what, Corby, is BYU football to you?
2011 BYU football has been inconsistent, stalled, misdirected and poorly coached.
Bronco, I did not need your admission of blame for last week's national embarrassment to point my finger in your direction.
I like you, Coach. I respect you. But after you hyped this team to the press during the preseason and insist that poor execution is impeding the team to perform at its high-talent level, this Friday night, BYU football had better not resemble the black day in history that was Sept. 17.
If it does, you lose most of your credibility in my eyes—and yes, I have considered all four 10-win seasons under your leadership.
It's all riding on this game. That is the consequence you pay for coughing the ball up seven times and losing by 44 points at home against an in-state rival.
Central Florida is a talented bunch. 1-3 is a very real possibility.
Here is what BYU must change to inch its way up to win No. 2 and send the UCF Knights back to Orlando with their tails between their legs.
Brandon Doman, Play-Calling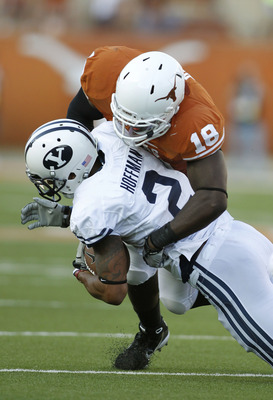 Erich Schlegel/Getty Images
BYU Coaches think that with excellent execution, their lousy play-calling is going to catch on fire.
Wrong.
Attempting to open up the field with 20 yards rushing a game just ain't gonna happen.
The linebackers of the opponents are able to quickly learn BYU's offensive short-passing scheme and by the beginning of the second half, they are sneaking in to anticipate every play.
Ho, hum. BYU's offense looks real dumb.
You want us to believe the players are truly high-caliber on offense this season? You want us to believe that Heaps' bigmouth talking about the explosiveness of a unit that has only three touchdowns is more than the ranting of a green 20-year-old?
Okay, we will believe you. And, Coach Doman, for every loss received at the hands of your sputtering offense, the blame will fall entirely on you and your uninspired play-calling.
Fix it now to avoid loss No. 3 against a defense that is ranked No.2 in all the land in total defense.
Simple attention to execution won't cut it. Drastic changes are required.
Bronco Mendenhall, Halftime Adjustments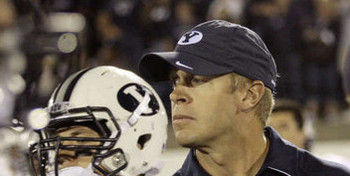 Against Texas, BYU had 168 yards of total offense in the first half compared to 67 yards in half No. 2.
Against Utah, BYU had over 200 yards of total offense in the first half, didn't score in the second half and finished the game with only 352 total yards.
What is the lesson to be learned?
Opposing coaches are making second-half adjustments, Bronco, to shut you down.
Prepare ahead for the same to happen against UCF. The only way to win this game is to mix up the look in the third quarter.
Miscues Lose Momentum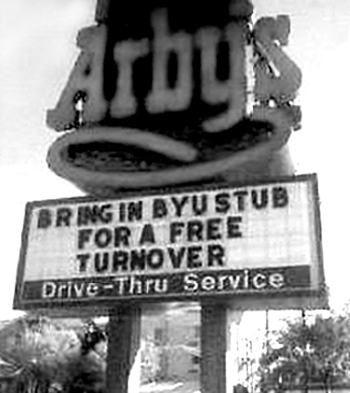 "If you were to say any one thing in our last game that determined the outcome, it was the seven turnovers," Bronco Mendenhall said.
Turnovers can cause the worst kind of momentum shift in a game. Handing over seven turnovers to your hated rival in your own home, well, that is just nonsense.
Kickoff returns are another major momentum mover that BYU is losing soundly. Nothing sticks it to the opposing team like a 40-yard return with the crowd going crazy.
Momentum has shifted away from BYU on special teams in all three games of the season now.
Minus the turnovers, BYU outplayed Utah in the first half. However, momentum had gone the way of the Utes after a sustained Utah touchdown drive going into the locker room at half.
In Austin, Brigham Young was driving to extend its lead right before halftime. Eight yards out of field-goal range, confusion and poor time management stalled the drive. Momentum shifted to the Longhorns going into the break.
In the first quarter, stalled drives against Texas also allowed momentum to stay with the home team. BYU drove to the 13-yard line, stalled and settled for a field goal. On its next offensive drive, BYU drove to the 16-yard line, stalled and settled for a field goal.
Stalling in the red zone is yet another way the Cougars have found to give momentum to the opponent.
Against Ole Miss, BYU led the game statistically in every category but the score. Somehow, momentum stayed with the home team until the end of the fourth quarter when the Cougars came from behind to steal the game.
Look for the Cougars to gain momentum early and keep it strong throughout the game if they're going to beat UCF and get to 2-2.
Running Game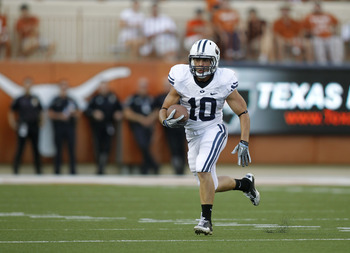 Erich Schlegel/Getty Images
11 yards on 22 attempts. Are you trying to lose on purpose, Brigham Young?
"I think the design [of the run game] has to be looked at, first and foremost," Mendenhall said. "What runs are we doing? The second thing is: with whom are we doing it with? And in what situations? "
Maybe this means the Di Luigi down-the-middle play will be taken out of the playbook. One can only hope.
Not surprisingly, Jake Heaps also had much to say about the running game. "We have to have a great running game, at least well enough that we can take the pressure off the pass game so they can't drop eight guys and they have to respect the run."
Di Luigi has dropped the ball consistently throughout his career, literally. He fumbles a lot.
He will look good against bad defenses later on in the season and will likely finish the year with impressive yardage.
Unfortunately, UCF's defense is very good. Di Luigi has yet to look impressive against a good defense.
Josh Quezada, where are you?
After an impressive freshman campaign, it seemed only natural that as a sophomore Quezada would impress this year.
Nope.
BYU's defense, while good, cannot win games on its own. The offense will not improve without a foundation of a running game. Di Luigi is giving about all that can be expected of him (fumbles not included).
If Quezada can improve his output, BYU's offense could get the jump it needs to finally get over the blahs. If not, don't expect a win this week
Heaps of Trouble for Brown, Apo, Hoffman, etc.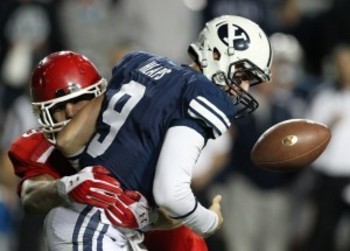 Yes, there are even more symptoms to BYU's ailing offense.
First, Terrence Brown. The bad snap over Heap's head on the first drive set the tone for the whole game against Utah. Fumble. Touchdown Utes.
Thank you, Terrence. After 3 weeks of incompetence at snapping the football, you are the weakest link on offense.
Next, the receivers aren't open often enough. I place this blame more on Doman than on the receivers. His predictable offensive scheme is allowing defenses to predict what each play will be and Heaps has nobody to throw to.
Finally, Jake Heaps. The quarterback's accuracy in the short-passing game leaves much to be desired. Passes are hitting the knees of open receivers. Passes are flying over the heads of open receivers. If anything, Heaps has shown signs of regression from last year.
If bad snaps and inaccurate passes into good coverage continue against UCF, expect to see a 1-3 BYU team come Saturday morning.
Keep Reading

BYU Football: Like this team?