College Football: 10 Best Games This Week, Will Alabama and LSU Stay Undefeated?
September 22, 2011
Ronald Martinez/Getty Images
This week may be the first elimination week of the college football season. 
A bad loss by Arkansas and West Virginia likely ends their BCS Championship dreams; there will be too few games and too many teams to pass to get into the title game.
The loser of Oklahoma State and Texas A&M may still have time to rebound, but they will need some luck to get back into the final game.
The loser of the Florida State and Clemson game will not be so lucky. Two losses for the Seminoles will end their championship dreams and the Tigers will have little hope of getting into the ACC Championship Game if they fall behind the Seminoles in the loss column.
Most eyes this week will be on Alabama and LSU to see if either team will allow Boise State, Wisconsin or Stanford an opportunity to take over the driver's seat.
So here they are, the 10 best games of Week 4:
San Diego State (3-0) vs. No. 22 Michigan (3-0)
Last year, Brady Hoke was looking forward to making a statement in this game. Now, after switching sidelines, he is hoping that his Michigan Wolverines won't be upset by his former San Diego State Aztecs. 
The Aztecs will be a formidable opponent, given their 42-24 victory over Washington State. There may be some extra motivation coming from certain Aztecs in light of the fact that Hoke said his goodbye via text as opposed to in a full team meeting.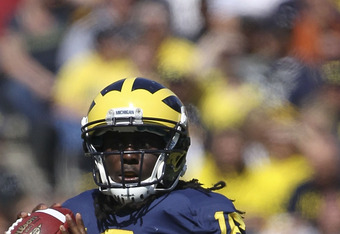 Leon Halip/Getty Images
The Achilles heel of Michigan is their run defense and the Aztecs run the ball extremely well. The problem for the Aztecs is that Michigan's quarterback, Denard Robinson, always seems to have a little extra magic when playing in Ann Arbor.
Pick: Michigan will struggle in the first half, but ultimately the Wolverines will find a way in the end.
North Carolina (3-0) vs. No. 25 Georgia Tech (3-0)
This is a classic game of strength versus strength.
North Carolina's rushing defense is ranked No. 16 in the country, holding opponents to 77 yards per game. Last week, excluding sacks, the Tar Heels held Rutgers to just 18 rushing yards on 21 attempts.  
Georgia Tech's running game is bordering on the sublime, averaging 428 yards. Last week, the Yellow Jackets rushed for 604 rushing yards and set a new NCAA record of 12.1 yards per carry in their blowout win over Kansas, 66-24.
Pick: Georgia Tech makes one too many big plays for North Carolina, who have had a rough week after announcing they are going to pay a fine of $50,000 and also vacate all of their wins from 2008 and 2009.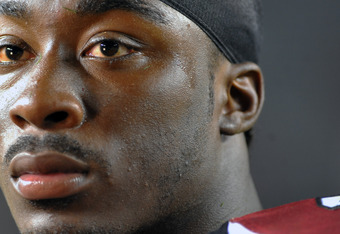 Al Messerschmidt/Getty Images
No. 23 USC (3-0) vs. Arizona State (2-1)
The winner of this game is in the driver's seat to win the Pac-12 South division title.
While USC is not eligible for postseason play, the Trojans would like to make a statement that the road to the Pac-12 Championship goes through Los Angeles. USC quarterback Matt Barkley is heating up; he threw five touchdowns last week against Syracuse. 
The Sun Devils have lost 11 straight games to Southern Cal and if they intend to make this a rivalry game, they need to start defending their home turf. Arizona State quarterback Brock Osweiler struggled against Illinois last week, but he has passed for six touchdowns and 871 yards on the season.
Pick: The Sun Devils get their second big home win of the season in another nail-biter.
Vanderbilt (3-0) vs. No. 12 South Carolina (3-0)
The Commodores defense is aggressive and leads the SEC in turnovers, with 12. South Carolina coach Steve Spurrier is likely already shaking his head at the thought of Stephen Garcia throwing an ill-advised pass.
Fortunately, Spurrier has sophomore running back Marcus Lattimore to carry his team. Lattimore is emerging as a legitimate Heisman Trophy candidate, with 534 yards on 87 attempts and seven touchdowns on the season. Last week's game against Navy was a breakout game for Lattimore; he had 246 yards on 37 rushes and three touchdowns.
Pick: South Carolina runs Vanderbilt into submission behind Lattimore.
No. 9 Nebraska (3-0) vs. Wyoming (3-0)
This is the classic trap game for Nebraska.
This week, the Cornhuskers travel away from home to play "lowly" Wyoming in a game they could easily overlook as they cast their gaze instead towards next week's game against No. 6 Wisconsin in the unofficial Big Ten Game of the Year. 
Nebraska's run defense has looked suspect the past two weeks; the Cornhuskers have allowed back-to-back 100-yard rushers for the first time since 2007.
Pick: If Wyoming had a little more firepower, things could get interesting. However, in the end, Nebraska will win, setting the stage for the showdown with the Badgers.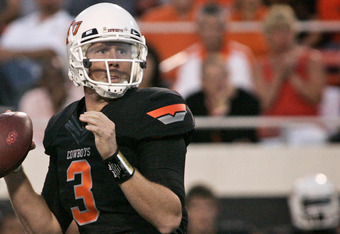 Brett Deering/Getty Images
Missouri (2-1) v. No. 1 Oklahoma (3-0)
Last year, Missouri's upset over No. 1 Oklahoma was one of the best games of the year in college football. 
One year later, the Sooners are once again No. 1 in the polls and the Tigers are hoping that it will be déjà vu all over again. Oklahoma has likely had this game circled on their calendars since the end of last year.
While the Tigers are talented, they don't have the veteran leadership of Blaine Gabbert to help save the day. Oklahoma wideout and kick returner Trey Franks was suspended this week for unspecified violation of team rules.
Pick: Oklahoma players may show no mercy to exact some measure of revenge for last year.
No. 7 Oklahoma State (3-0) vs. No. 8 Texas A&M (3-0)
This may be the best game of the weekend between two talented and evenly matched opponents. 
The Cowboys are led by All-American candidates quarterback Brandon Weeden and wide receiver Justin Blackmon. 
The Aggies are seeking to make life difficult for Weeden in finding Blackmon; the Aggies already have 11 sacks on the season and there is no reason to believe they won't blitz early and often against the Cowboys.  
Upset Pick: The Cowboys will have the ball last and win in the final minute.
No. 11 Florida State (2-1) vs. No. 21 Clemson (3-0)
Clemson might be this year's Auburn Tigers. They play enough ranked teams that they could end up in the BCS Championship Game after starting the season as a team that wasn't even in the conversation.
The winner of this game becomes the likely winner of the Atlantic Division. 
The Seminoles have struggled in Death Valley and if quarterback E.J. Manuel is not able to play, they could be in for a long day.
Pick: The Clemson bandwagon begins in earnest with a win over Florida State.
No. 2 LSU (3-0) vs. No 16 West Virginia (3-0)
Geno Smith is emerging as one of the best young quarterbacks in college football. He has already thrown for more than 1,000 yards and tossed seven touchdown passes. Here, Smith will face his most difficult test of the year. 
LSU stifled No. 25 Mississippi State last week, limiting them to just two field goals and a hard-earned 193 yards. The Mountaineers defense will likely have to improve upon their 18-points-per-game average as two touchdowns may be hard to come by against the Tigers.
Pick: LSU proves the adage, "You can't lose if they don't score any points against you."
No. 14 Arkansas (3-0) vs. No. 3 Alabama (3-0)
The Crimson Tide made short work of North Texas last week in storming out to a 41-0 win. Alabama's defense may be the best defensive unit in the country. Arkansas finished Troy off last week, 38-28, but only after squandering a 24-0 lead. 
Coach Petrino hopes the poor play against Troy in the second half does not happen again this week—especially in light of last year's game against the Tide. The Razorbacks had Alabama down 20-7 in the second half, only to ultimately lose, 24-20, behind the Tide's smash-mouth running game.
Pick: Alabama's defense stakes their claim as the best defensive unit in the land in stifling the Razorbacks.