The Alabama Defense: Is Kirby Really That Smart?
September 22, 2011
Greg McWilliams/Getty Images
Kirby Smart is currently in his fifth year at the University of Alabama. He is the highest paid assistant football coach there and has set the bar for other young coaching assistants across the landscape of college football. At better than $750,000 per year, Kirby has got it goin' on!
Raised in Bainbridge, Georgia, the son of a football coach, Smart was a high achiever and leader on his high school football team and matriculated to the University of Georgia on full scholarship. During his recruitment, Smart struck up a friendship with a UGA upperclassman by the name of Will Muschamp. This relationship would strengthen over the years.
As a player for Jim Donnan, Smart began his college career as a kick return specialist, returning 15 kicks for 332 yards as a freshman, averaging of 22.1 yards per return.
At the defensive back position, he completed his exceptional career at UGA with 13 interceptions, leading all defensive backs as a junior with six and as a senior had five interceptions on the year. He had one interception as a freshman and one as a sophomore. As a senior, Smart was honored as a first team All-SEC player. 
In addition to lettering each year as a player, amongst other awards and accolades, he was named to the SEC Academic Honor Roll all four years during his undergraduate education. In 1998, Smart received a degree in finance and stayed at the university as an administrative assistant for coach Donnan during the 1999 season.
Smart then moved on to Valdosta State to serve as defensive backs coach following receipt of a phone call from another exceptional former Georgia player, Muschamp. Smart was quickly promoted to defensive coordinator at the D-II school after Muschamp accepted a position to become defensive coordinator at LSU.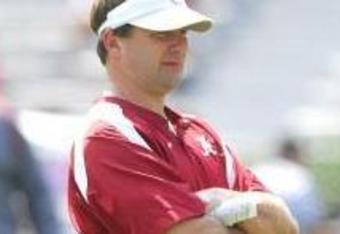 In 2002, Smart moved on to Florida State University to work with head coach Bobby Bowden and defensive coordinator Mickey Andrews. Smart enrolled as a graduate student and received his master's degree while in Tallahassee. Smart was an exceptional learner on and off the field.
Following receipt of that degree, he accepted an offer from Nick Saban to work once again with Muschamp at LSU as a defensive assistant, during the 2004 season. After just one year at LSU, Smart returned to his Georgia home to serve as running backs coach under Mark Richt.
Smart enjoyed his time as an offensive coach, but defense was his passion. So when the opportunity to coach defensive backs for the NFL Miami Dolphins was offered to him by Saban, Smart loaded up the truck and moved to Miami and once again teamed with then-defensive coordinator Muschamp to coach up the defensive backs.
There has fortunately only been one move for Smart and his family since 2006, and that move was to Tuscaloosa, Alabama in 2007, when the head coach and young defensive assistant felt the urge to return to the college game and rebuild a once prideful program that was on the precipice of mediocrity under the guidance of Mike Shula.
While Shula had the program far ahead of the position it was in when he assumed leadership, Saban and his entourage quickly took the program to the next level. Smart was offered the opportunity to serve as an assistant to defensive coordinator Kevin Steele and did not hesitate to stick with Saban.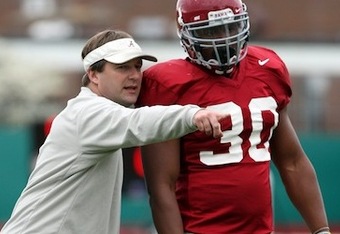 After two years at the Capstone, Steele returned to his home in South Carolina to become defensive coordinator at Clemson University. Smart was named defensive coordinator by head coach Saban without hesitation.
One year later, following a national championship season, UGA came calling once again. This time, Smart consulted with his wife and decided that it was time to stay in the position they were instead of bolting for the opportunity offered by their alma mater. It was clearly a very "Smart" decision. When the family is dysfunctional and "mama calls," it's better to have distance as a buffer.
During his first year as defensive coordinator, Smart was the recipient of the Frank Broyles Award, an honor bestowed on the top assistant coach in college football. In just five years at Alabama, Smart has coached more All-Americans and All-SEC players than most programs develop in 20 years.
In 2007, Simeon Castille and Rashad Johnson earned All-SEC honors, and teammate Kareem Jackson was named as The Sporting News Second Team Freshman All-American.
In 2008, Johnson was once again bestowed the honor of becoming a first team All-SEC, All-American award recipient. The Alabama defense recorded 15 interceptions and finished the season ranked third in total defense, seventh in scoring defense.
The 2009 defense, Smart's first year as coordinator, remarkably showed improvement. The Alabama defense was regarded as one of the top units in the country, leading the SEC and ranking second nationally in scoring defense, pass efficiency defense, rush defense and total defense holding teams on average to 244.1 yards per game. In the BCS National Championship Game against Texas, the Tide recorded four interceptions and scored a defensive touchdown.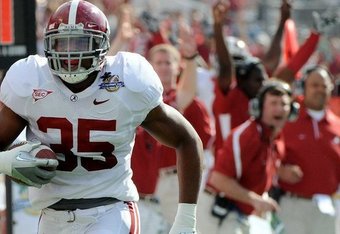 All-American accolades were bestowed on Rolando McClain (first team), Javier Arenas (first team), Terrance Cody (first team) and Mark Barron (third team). McClain received the esteemed Butkus Award, and others on the defense were finalists for several national awards.
2010 is considered by many a "down year" for the Alabama defense. While replacing nine starters, Alabama once again led the SEC in scoring defense (13.5 ppg) and ranked fifth nationally in total defense (286.4 ypg) and led the SEC in pass efficiency defense (sixth nationally).
Safety Mark Barron was recognized as second team All-American and Marcel Dareus named as third team at the defensive tackle position. Dareus and Barron were also recognized as first team All-SEC while Dont'a Hightower, Robert Lester and Dre Kirkpatrick were second team All-SEC selections. CJ Moseley (LB) and Dee Milliner (CB) were selected to the freshman All-SEC team in their respective positions.
So is Kirby really that smart? The answer should be readily apparent, but in college football, the education is continuous and testing never ceases. And tests are taken on the national stage. He'll be taking the equivalent of a mid-term this weekend, administered by one of the best offensive minds in the country.
When 50-year-old Bobby Petrino hauls his passing attack into the confines of Bryant-Denny this Saturday, he will try to take the 35-year-old defensive coordinator to task. Make no mistake in assumptions, 50 is truly the new 40 for a coach like Petrino. He is just settling into his position at Arkansas, and he's on a roll after his journeyman flight through college football arenas and his one season stint with the Atlanta Falcons.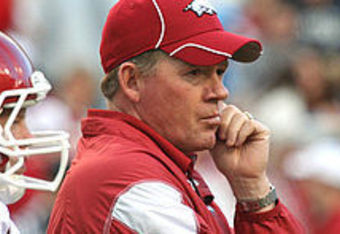 He has resigned to the life of a college head coach and is comfortable with his lifestyle in the Ozark Mountain's hideaway of Fayetteville, AR. His wife is settled and his children are ready to make their own choices in life.
And after his failed attempt to enter the SEC head coaching ranks at Auburn during the "jet-gate" incident, he is more than satisfied with the reception he has received by the Arkansas fanbase. Arkansans love this guy and are so fortunate to have his staff follow up on the tenure of the Houston Nutt regime.
Bobby Petrino walked into a deplorable situation and immediately established stability. And after five years, he has his own peeps and his own players ready for action. Lining up opposite his players are equally well prepared, high performance athletes trained by one of the best defensive-minded head coaches in the country and one edgy, but focused defensive coordinator. Alabama knows defense and is prepared to teach a lesson of their own.
And this is where the the lines are drawn. Sure, the Alabama offense can make a difference if they bring their "A" game and so can the Arkansas defense. But the marquis matchup is the Petrino offense versus the Smart-Saban defense.
I'm too stupid to make predictions about football—my specialty is radiology—but everyone knows that defense wins championships. The question is: "Is the Smart defense good enough on this Saturday to get Alabama on the road for a championship run?" As a student, I always hated finals. But as a spectator, I sure love watching them.
And I don't bet, but I attend games. See you there!