50 Best College Football Tweets From Week 3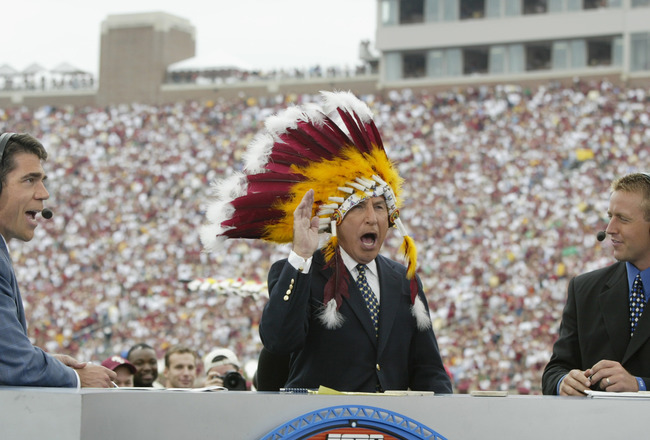 Craig Jones/Getty Images
College football is full of realignment talk this weekend which has really flooded the airwaves with things that ultimately the fans have no control over, but are very intrigued about and rightfully so.
Although there is a lot going on in regards to where everyone will be playing next season, there is still plenty of action on the field right now.
Here are the 50 best college football tweets from Week 3.
Issues with the Conference Struggle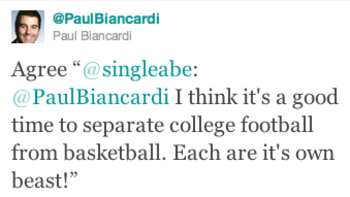 Paul Biancardi think that they should separate conference for each sport. As an avid follower of both, this is a great move.
News out of VT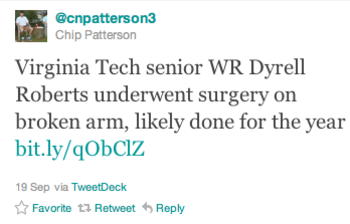 Some tough news for Virginia Tech.
NFL Lacking?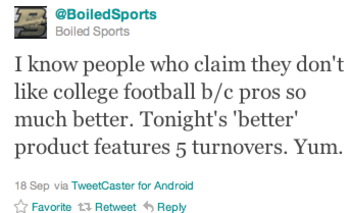 Everyone knows CFB is better than the NFL.
College Football 94?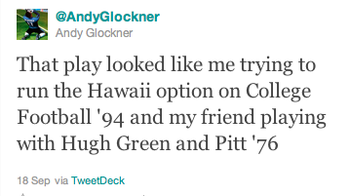 Not sure which game he is referring to, but this is classic!
Rece Is a Smart Man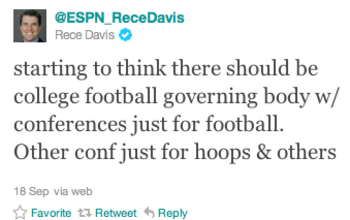 #Truth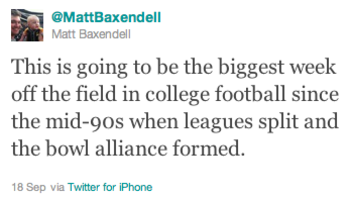 This week has been crazy already with conference alliances and it's only getting better!
Noles Fans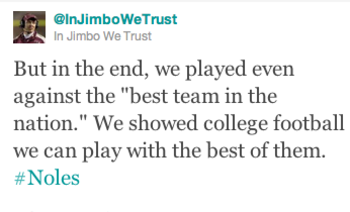 FSU gave it quite the run against OU.
Eat More Chicken!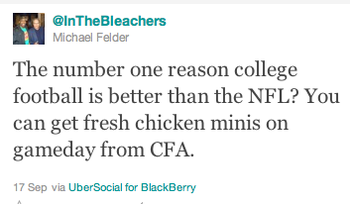 This guy must really love his chicken Chick-Fil-A.
Someone Must Not Like Musberger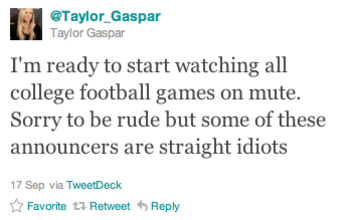 True Story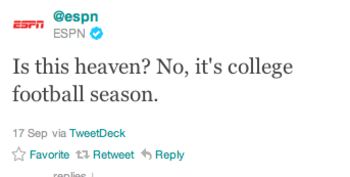 There has to be college football in heaven right?
Revamp Reviewing?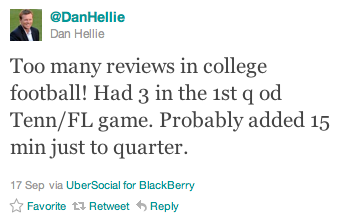 This really does put a bad spot in the game I think. Let's just move to the NFL system.
Why Not?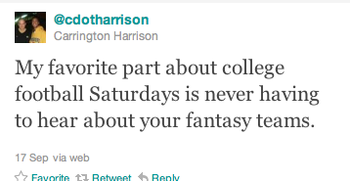 How about a college football fantasy team?
Apology Accepted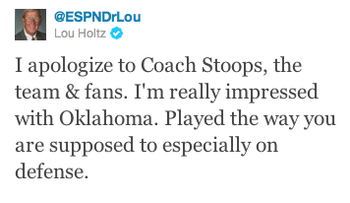 Looks like Lou backed down quick after OU beat FSU on their own turf.
False!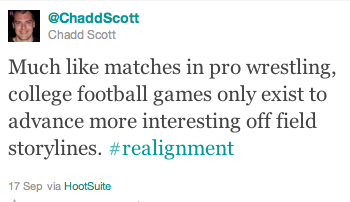 Chad got a lot of attention with this tweet. Sure the mainstream media is making this news into a big deal, but it's still all about the action on the field!
LOL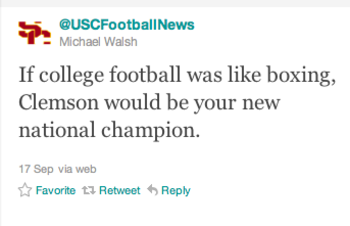 So True!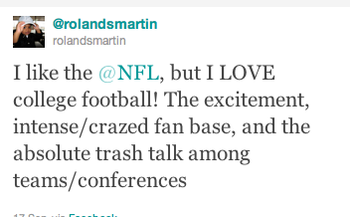 SO much pride in college football!
The 7th Day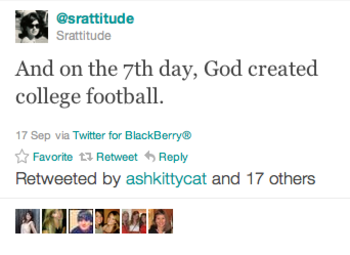 Who Doesn't?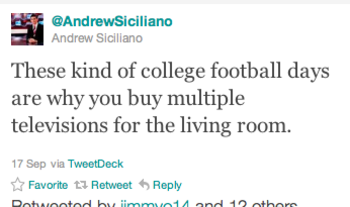 I mean who doesn't have multiple games going?
Lots of Football to Be Played!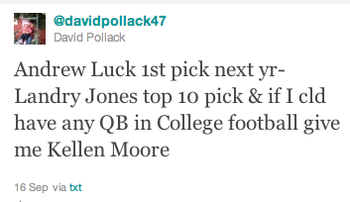 This is a popular prediction right now.
Doubtful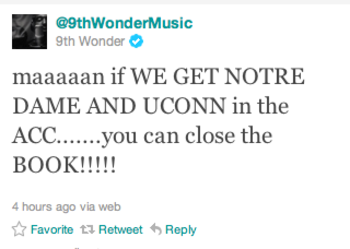 Another tweet about the new Big East the ACC.
Two Results!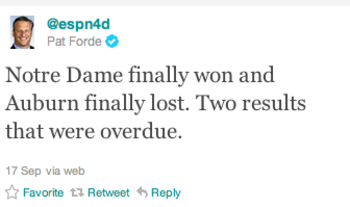 Forde definitely got this one right.
CK with a Shot!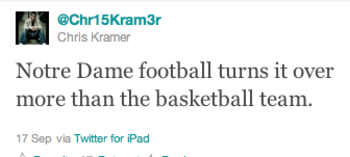 Former Purdue Basketball standout Chris Kramer has a shot at the Irish.
Lou's Advice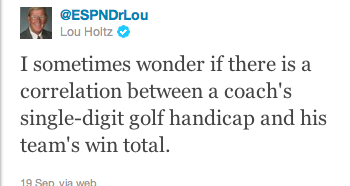 I think Lou is implying the lack of a golf game during football season.
Stills!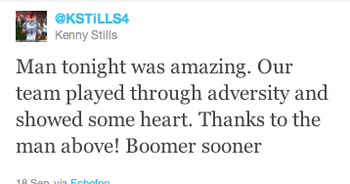 One of the nation's premier receivers after a big win!
Fighting Words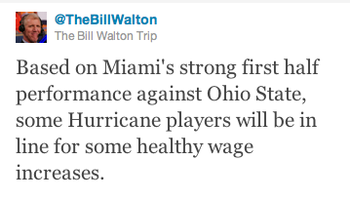 IF he said this in the wrong place, he would likely be knocked out.
Purdue Shuts out Opponent?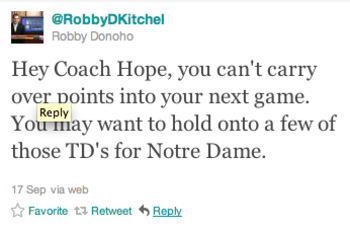 Purdue shut out SEMO, but they have to face ND next, a lot tougher task!
Great Point!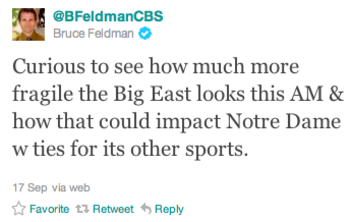 With the dismantling of the Big East, who knows what could happen to ND's allegiance to the conference.
Good to Know!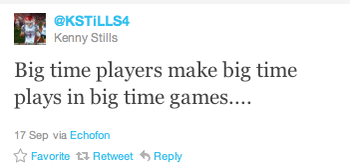 He definitely is a big time player!
Francis After a Tough Loss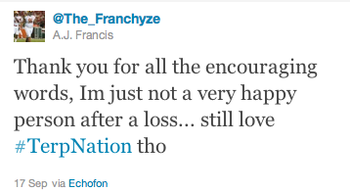 I guess A.J. wasn't too happy about this loss to WVU.
Harsh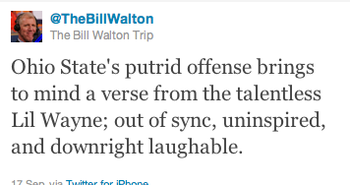 The fake Bill Walton went hard on two fan bases here.
Feldman on the One Dimensional Offense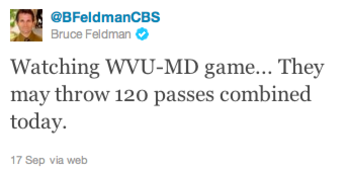 Glowing Green Jacket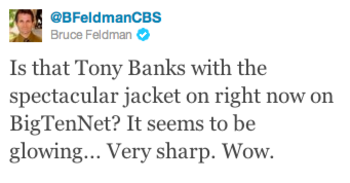 He is always up to no good.
Lou Know's Best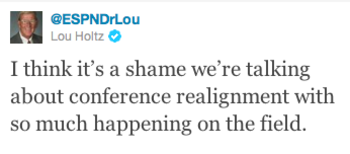 Lou tends to know best of all things football and he is definitely right on this front.
That's Pretty Bad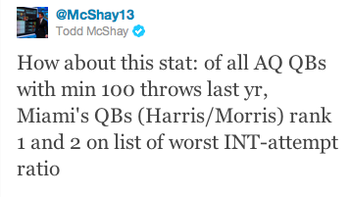 This is a pretty bad stat for the Canes.
Shoelace Needs to Tighten Up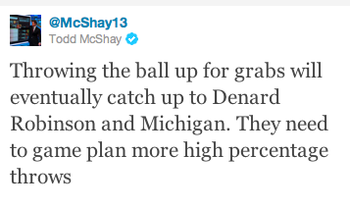 He is right, just wait until Big Ten season.
Pillow Fight?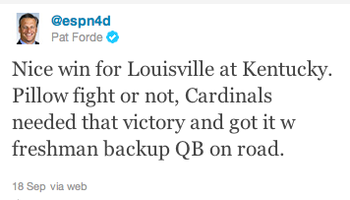 Haha, neither of these teams are very good but it's okay Kentucky fans, basketball season is coming.
Boise Did Just Fine!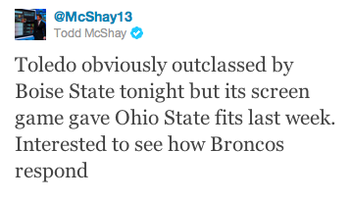 Looks to me like they adjusted well!
Erin Always Emotional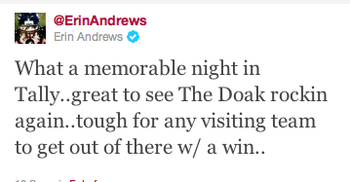 Looks to me like it was a heck of a game!
A Win!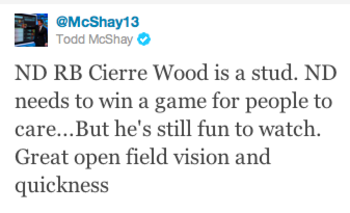 They finally got that win!
Penn State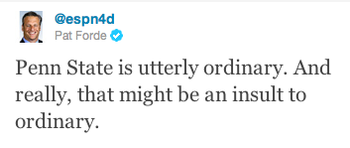 #Winning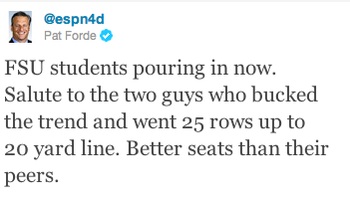 It's true, you won't get on TV, but you will be able to see more.
ND Finally Wins

They took one of their three opportunities.
Harsh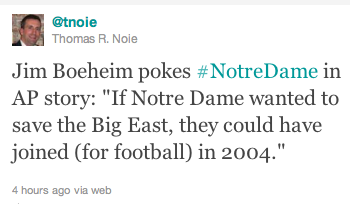 Great Comeback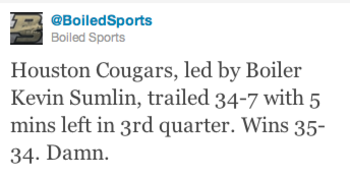 The Cougars had one heck of a comeback in this game!
An Assumption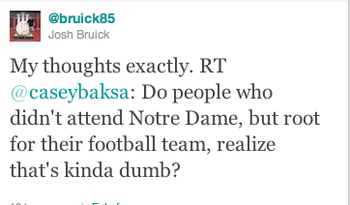 There are a lot of ND fans.
OU Huge Win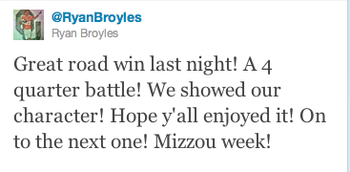 This really was a great victory by far the best team in football.
Africa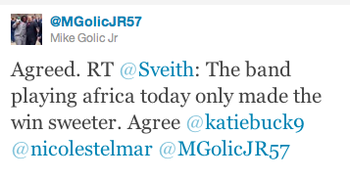 ND band plays good music i guess.
Como Say What?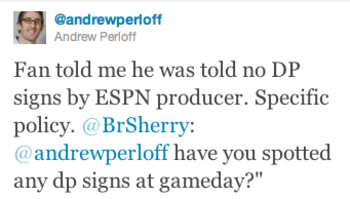 McLovin of the Dp show was disappointed by the lack of DP signs.
Independence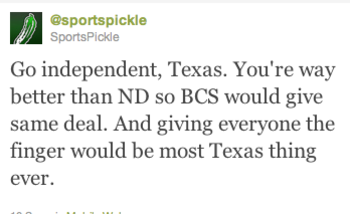 The sports pickle is full of insight!
SEMO of This!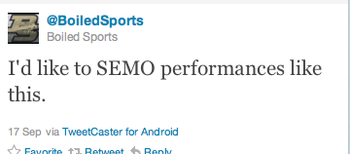 Turn on college football and See More performances like this every week!
James Evens serves as a National Featured Columnist for college football and basketball, as well as the FC for the Purdue Boilermakers. Follow him on Twitter or like him on Facebook.
Keep Reading