Georgia Football: Previewing the Ole Miss Game
September 21, 2011
Al Messerschmidt/Getty Images
The Georgia Bulldogs and Ole Miss Running Rebels square off this Saturday in what could be dubbed the "Head Coach Hot Seat Bowl."
Ole Miss head coach Houston Nutt started his tenure in Oxford with two nine-win seasons but posted just four wins last year and has started 2011 1-2 and 0-1 in the SEC after losing to Vanderbilt last week.
Following Georgia's first losing season since 1995 and a 0-2 start to the 2011 campaign, Mark Richt's position as head coach of the Bulldogs appears to be in jeopardy for the first time in his tenure in Athens.
This week, however, Richt should enjoy a respite from the media as the coach across the sidelines may be in even worse shape than he is. After a 30-7 dismantling by SEC cellar-dweller Vanderbilt last week, Houston Nutt is really starting to feel the heat in Oxford.
This is a must-win for Mark Richt and the Georgia Bulldogs. First of all, they need this game stay in the SEC East race. But perhaps more than that, a loss to what appears to be a very bad Ole Miss team would stir up some familiar questions for the Bulldogs and their coaching staff such as:
Has Mark Richt lost the ability to motivate and prepare his team for victory? Is Mike Bobo an effective, or even competent, offensive coordinator? Will Todd Grantham's 3-4 defense ever be effective for the Bulldogs?
All that being said, in all likelihood, these questions will not have to be addressed, at least not this week.
Here is what to look for in Oxford on Saturday…
Georgia's Defense Is Going to Look Fantastic
After a confidence-building shutout against Coastal Carolina last week, the Georgia defense will look to pin its ears back and have another big day against a struggling Ole Miss offense.
The Rebels' offensive line was horrible versus Vanderbilt. The Commodore defense only sacked Ole Miss quarterback Zach Stoudt once, but put on enough pressure on him to where he completed exactly half of his pass attempts and threw five interceptions.
Look for Georgia to key in on the Rebel's offensive line and give Stoudt another long afternoon in Oxford. The Bulldog's defense continues to improve, and don't expect that trend to stop this weekend.
Although the Bulldogs will still be without their two starting inside linebackers, Christian Robinson and Alec Ogletree, their backups, Michael Gilliard, Jeremy Sulek and Amarlo Herrera have performed well and should continue to improve this week.
Truth be told, Ole Miss was essentially shut out by Vanderbilt's defense last week, only scoring one meaningless touchdown very late in the fourth quarter. Expect the Georgia defense to follow the road map Vanderbilt defense laid out last week and hone in on the Ole Miss's offensive line.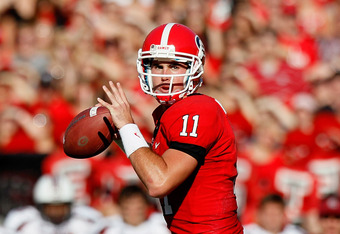 Kevin C. Cox/Getty Images
Georgia's Offense Will Have a Second Straight Big Game
The Bulldogs offense has scored 101 points in their last two games, 42 coming against No. 12 South Carolina. Look for Mike Bobo and the Georgia offense to keep their foot on the gas and put up some big numbers against Ole Miss.
Aaron Murray has done a good job of spreading the ball around so far in the young 2011 season. This game may go a long way to determine the pecking order of the Bulldog receivers as none have as yet stood out above the crowd.
Veteran Tavarres King had less-than-stellar performances against Boise State and South Carolina, but came on strong last week against Coastal Carolina with six catches for 65 yards and two touchdowns.
True freshman Malcolm Mitchell, Georgia's leading receiver on the season, had another solid game last week, also with six catches, going for 43 yards and a touchdown.
This week, look for some other Bulldog receivers to have a big game against the Rebel defense. Red-shirt freshman Michael Bennett may be the most talented receiver for the Bulldogs, and don't be surprised if he has a breakout game this weekend against the rebels.
As far as Georgia's running game, emerging star Isaiah Crowell will get the start but may see limited action this weekend as he is still nursing rib injuries suffered during the South Carolina game and exacerbated last week after he declined to use the extra chest protection laid out for him before the game.
This week, look for Carlton Thomas and Richard Samuel to split time and get the a lot of the carries against Ole Miss, although Crowell should be a factor if needed.
Final Analysis
Despite identical overall and conference records, Georgia has played much tougher opponents this season and should have a comfortable win over Ole Miss on Saturday.
Georgia's two losses came at the hand of two top 15 teams. Their only game against an unranked opponent resulted in a 59-0 route at the expense of Coastal Carolina.
On the other hand, Ole Miss has not yet faced a ranked opponent and have lost games against BYU and Vanderbilt.
The Georgia Bulldogs should have no problem handling Ole Miss this weekend in the Rebels' backyard, but this is the SEC and anything could happen.
Should Georgia find a way to lose this game, the hot seat will get even hotter under Mark Richt.
Likewise, if Georgia wins, as they should, Houston Nutt may have dug himself a hole too deep to climb out of this season.
Either way, the "Head Coach Hot Seat Bowl" should be a fun and interesting game for SEC fans. Enjoy.