Ohio State's Luke Fickell Should Learn More in Second Life from Urban Meyer
December 1, 2011
Kirk Irwin/Getty Images
Jim Tressel spoke to the team prior to the Michigan game...yes, that Jim Tressel. The one that put the university in the situation where the NCAA still is deciding its fate. Just another bad decision from a coach struggling to find his own identity.
On the local radio station in Columbus, Ohio, Luke Fickell's Buckeye buddies permeate the radio telling all who will listen how he was owed a chance and what a great job he had done given the circumstances.
Let me first say that Fickell is a quality person, good father, friend and husband, but that does not make him a good head coach. Radio host in Columbus like Demetrius Stanley (an ex-teammate of Fickell's) wants Fickell to be given a chance to bring in his own coaches and run the program his way.
The problem is that the Ohio State coaching job is not an entry level position. Ohio State's alumni, boosters and fans will not put up with a second season like the one it just had.
Fickell was given something that many people never get a chance to have...his "dream job.  This local boy has a chance to be the head coach of the team he grew up loving and playing for.
The circumstances were not ideal to inherit this team, to be fair. He was missing his No. 1 receiver, left tackle, starting quarterback and halfback. That is a daunting mountain to climb, but upon closer inspection the Buckeyes were still in a position to have a much better season than they did.
Decisions made by Fickell and his assistants haunted the Buckeyes all season starting with who would start at quarterback. Here is a hint for when Fickell gets a chance to be a head coach again: If you have a freshman quarterback and a fifth-year senior competing for a starting job, and it's close...choose the freshman. 
If a quarterback has been in the system for five years and an 18-year-old is competing with him close than either the fifth-year senior is not that good, or the freshman is exceptional. He had five years to prove himself and could not do it.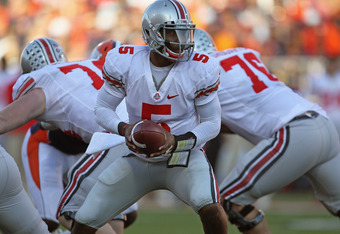 Jonathan Daniel/Getty Images
Had Braxton Miller been given all the snaps he may have been able to hit at least one of those three touchdown passes he missed in the Michigan game. That is no guarantee that the Buckeyes would have won those games they lost this year, but repetitions are priceless to quarterbacks. All the snaps given to Joe Bauserman were wasted reps. 
A head coach does not have the luxury of concentrating on one side of the ball, like Fickell claimed to do. When asked about the tragic offense this season, Fickell would not throw offensive coordinator Jim Bollman under the bus, but also admitted to not knowing much about what was going on with that side of the ball.
If this is your dream job, are you going to walk around not knowing what is going on with all aspects of the team? To compound matters, the side of the ball on which he was an expert was becoming as bad as the offense.
The Miami Hurricane loss was understandable, given the circumstances. The Nebraska game was within their grasp before the defense allowed an improbable comeback. The Michigan State game was hard-fought, but again poor offensive game-planning led to an anemic effort.
Fickell is as unfinished a product as a coach as Braxton Miller is a quarterback, but both have potential to be great. The best possible scenario has happened and new coach Urban Meyer is retaining Fickell as an assistant. That is just what Ohio State and Fickell need to complete his training to be a future head coach.
Unlike Tressel, Meyer will gladly train Fickell to inherit the program he loves so much. As evident by the record Tressel was a micro manager. Meyer  will teach Fickell how to be the overall head coach instead of a glorified defensive coordinator with final decision power. 
Meyer will not be a lifer at Ohio State like Fickell wants to be, and hopefully this time under Meyer, Fickell will be able to complete the missing courses in his coaching degree.
The Buckeye football program is on the upswing and in the hands of a proven leader in Meyer. If Fickell can learn to be an overall head coach, he may get another shot at his dream job.