College Football's Playoff System Emerging in Megaconferences
September 20, 2011
Stephen Dunn/Getty Images
Any fan of ending the Bowl Championship Series system welcomed news from Oklahoma that the renewed powerhouse would be joining Oklahoma State in applying for membership to the Pacific-12, a move that will likely precipitate an end to the Big 12 and help form college football's latest megaconference. 
Pacific-12 Commissioner Larry Scott has repeatedly told media and fans that the conference is not interested in new suitors but, with a new television network getting ready to launch, the allure of Oklahoma, Oklahoma State as well as possibly Texas and Texas Tech may prove too much to turn down.
And while the SEC, Big 12 and Pacific 12 gear up to tackle the various financial and legal impacts of big moves, fans are getting a first look at the conference arrangements that are about to become college football's special spin on a playoff system.
Envision this scenario: under a Pacific-16 (or even under a Pac-14), the conference is likely to split into a four-division format. Oklahoma and Oklahoma State, Texas and Texas Tech, Oregon and Oregon State and Arizona and Arizona State become the anchors, with USC, Stanford, Utah and Colorado providing the appearance of challenge to the big-school powers.
The Pac-12 Championship Game becomes the Pac-14/16 Championship Tournament, where a first round determines regional winners between South-West and North-East and a second round crowns a champion from the remaining two.  Judging by the excitement that conference tournaments generate at the NCAA Men's Basketball level, the system could turn into a cash cow for Pac-whatever officials. 
Even if the NCAA powers find a way to keep college football conference tournaments from happening, megaconferences set perennial Top 10 teams against each other every season.
What if Oregon faced Texas every year? Or Stanford faced Oklahoma? Suddenly, the keys to a national championship bid run through divisional play—and, much to the jubilee of schools like Boise State, not a computer.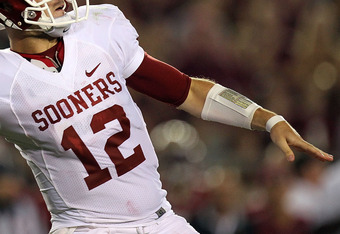 Ronald Martinez/Getty Images
The puzzle for BCS proponents gets even more complex if the SEC pulls in teams from the fading Big 12 and the ACC continues to wither away Big East membership, sucking the major talent into two large pies and providing a greater incentive for the megaconferences to compete against each other directly.
Every team will keep their share of walkover games on the schedule, but it becomes both a financial and a prestige benefit for power and non-power schools alike to battle, certainly overriding the smaller (though, albeit, still substantial) benefit of shooting for whatever bowl they can find.
Of course, a new BCS system could find a way to leverage its financial might for fewer, larger conferences. If the Big 12 dissolves, the Fiesta and Sugar Bowls might become games against divisional champions from different conferences —but with the history that surrounds the games, NCAA officials might not be able to sneak that play past die-hard fans.
In the end, with conferences taking on their own personalities with regional networks and revenue sharing, individual teams are relying less and less on the BCS to provide their school, their players and their fans with an end-of-season boost. 
It may be unlikely that we would see anything given the official moniker of "playoff" in college football but, if Pacific and Southeastern megaconferences come together, the results might be everything but the name.