Nebraska Football: Has Bo Pelini Changed Husker Football Recruiting?
September 20, 2011
Eric Francis/Getty Images
Immediately following the Huskers' 65-51 loss to Colorado in 2007, Interim Nebraska Athletic Director and Husker coaching legend, Tom Osborne, answered the prayers of Husker Nation and fired the much-despised Bill Callahan.
Nine Days later, Bo Pelini was named Nebraska's new Head Coach.
Virtually every Husker fan was excited by the change: It was a simultaneous step forward and yet a return to the philosophies of the great Husker teams of the past.
It appeared that the no-nonsense, hard-nosed Pelini would be a perfect fit for a Nebraska team seeking a tougher, more physical image.
However, the task for Pelini would not be easy, even with an entire state behind him. Not only would Pelini have to overhaul the program, but he would have to salvage a recruiting class that had been primarily scouted by his predecessor.
A graduate of Cardinal Mooney High in Youngstown, Ohio, and a former free safety for the Buckeyes, Pelini would have to do his best with a recruiting class that was not completely of his choosing. 
And though severely hamstrung in his recruiting efforts, would his connections in Ohio fit into his plan?
While trying to keep the recruiting ship afloat, Pelini first needed to salvage what he could and prove to his players, both present and future, that order would be restored. One of his actions to illustrate that point was to restore the importance of the walk-on program, greatly diminished in just four short years.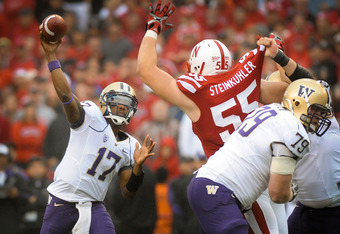 Eric Francis/Getty Images
With Osborne helping stem the tide of transfers, the Huskers managed to sign a respectable 2008 class.
The state of Texas produced the most signed players with ten, followed by Nebraska (five) and California (three). Key players included Alfonzo Dennard, Will Compton, Kyler Reed and Lincoln's own, Baker Steinkuhler, the only player from the most highly recruited states.
That first year, only two players from traditional Big Ten battleground states signed letters of intent with Nebraska.
In 2009, Texas topped the list again, as Nebraska was still battling Big 12 Texas schools, with eight players signed, followed by California with five and Nebraska with two.
That season, the key players included Rex Burkhead, a star from Plano, TX, and Taylor Martinez, an intriguing athlete from Corona, CA.
No players from traditional Big Ten states made the list.
There was only a subtle shift in Nebraska's recruiting focus in 2010. Texas had the most players (six), followed by three from Nebraska and two each from California, Colorado, Kansas and Louisiana. Three players came from Big Ten states.
The top names included Brion Carnes, hailing from the Sunshine State, a hard-hitting JUCO transfer from Kansas, Lavonte David, and Braylon Heard, like Pelini, a Cardinal-Mooney product.
Heard's academic problems kept him off of the field for a year, but Pelini stood by him. Not to be cynical, but Heard's and Pelini's hometown connection probably didn't hurt matters.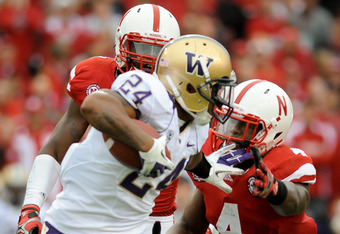 Eric Francis/Getty Images
However, if one were to look at the situation objectively, it would appear that Pelini was strengthening his ties to a region in which Ohio State gets 63 percent of their players; since 2002, 123 players from Ohio have found their way onto the Buckeyes' roster.
In fact, during that same time span, eight of the 12 Big Ten schools have recruited 25 percent or more of their players from Ohio; the four schools who have recruited less than 25 percent of their players from the Ohio pipeline since 2002 are Iowa (23), Northwestern (21), Nebraska (18) and Purdue (16).
To say that Ohio is a pipeline for Big Ten talent is a serious understatement. To present the above information a different way: Big Ten schools (including Nebraska) have signed 765 Ohio players to their rosters since 2002.
This comes as no surprise to Big Ten coaches:
In the past decade, 414 Big Ten scholarship players have hailed from Ohio.
Five of the top 20 metro areas in the United States, as measured by the amount of FBS recruits, are in Ohio. The only other cold-weather city to make the list is Pittsburgh.
In a 2009 report published by the Tulsa World, Ohio had 741 players on FBS rosters, trailing only Texas, California and Florida. 
This football hotbed, dominated by a 1,300 square mile triangle from Canton to Cleveland to Youngstown, has produced 182 Big Ten scholarship players in the past decade alone.
Nebraska's switch to the Big Ten didn't dramatically alter the number of scholarship players from Big Ten states in 2011 (again, three were included in the recruiting class) and Texas again topped the list with five, followed by Nebraska with four and three other states with two apiece, including Ohio.
Key players included Ameer Abdullah from Homewood, AL, a pair of Texas players, Aaron Green and Jamal Turner, and the first true freshman offensive lineman to start a season opener for Nebraska, Clearwater, Florida's Tyler Moore.
However, for 2012, the Huskers already have received two verbal commitments from seven recruits hailing from Big Ten states (three, if Nebraska is included).
So, while recruiting season is far from over, Nebraska recruiting experts show an marked increase in the programs' interest in prospects from Big Ten states. (One source documents the Huskers' pursuit of eight players from the state of Ohio alone.)
Has there been a seismic shift in Nebraska's recruiting following the Huskers' move to the Big Ten?
No.
Should there be one?
No. That would be an unwise and myopic philosophy.
Pelini must still take advantage of the inroads developed in states like Texas and California and pursue the best available talent wherever available.
But, as the newest member of the Big Ten, with hometown roots in the high school football hotbed that is Ohio, he must use any and all advantages at his disposal.
After all, Rome wasn't built in a day.
Even the great Dr. Tom Osborne, who after years of dominating the Big Eight along with Barry Switzer, had to learn the hard way that he needed to recruit speed from states like Florida and Texas before he started to win his much-deserved National Championships.