Arkansas Football: Previewing the Alabama Game
September 20, 2011
Wesley Hitt/Getty Images
For Arkansas fans, this football season has been a lesson in patience. The dog days of summer finally passed, the weather cooled and football arrived, only to endure less than inspiring match-ups against three inferior opponents. 
With this weekend's tilt against the third ranked Crimson Tide of Alabama, the wait is over for Hog fans. 
In August, I discussed the five things that the Razorbacks needed to accomplish in the first three games of the season in order to be up to the task. Now it's time to look at those keys and determine if the Razorbacks are ready.
Run Defense
The run defense has been fairly impressive this season for the Razorbacks. They have held opponents to an average of 87.6 yards per game, which is 10 less than last year during the non-conference schedule.  While Arkansas fans are busy freaking out this week over a pass defense that surrendered 373 yards to Troy, it is actually the run defense that will determine whether they can be successful against the Tide. It will be a cold day in Key West before a Nick Saban team throws the ball 63 times as Troy did. 
Alabama's mode of operation is to run the ball, pass occasionally to keep the defense honest and play stout defense until you crumble under the pressure and beat yourself. Run defense is the first key to staying in the game against 'Bama. So far this season, Arkansas looks up to the task in this facet of the game.
Rushing Offense
To be one dimensional against a Nick Saban defense is death, which is why establishing a running game is so important for the Razorbacks. The Hogs have the No. 7 passing attack in the nation, but it will be up to Ronnie Wingo Jr. and the Arkansas running backs to keep the Crimson Tide defense honest. Arkansas is averaging 170 rushing yards per game, which is 51st in the nation. That isn't awful, but the question remains if the Hogs can run when the game is on the line. 
One thing the Hogs have experimented with this season is putting Joe Adams in the backfield, where he has averaged 10.2 yards per carry. So far, Arkansas has not shown that they'll be able to run the ball on the Crimson Tide defense, which is the No. 2 scoring defense in the nation.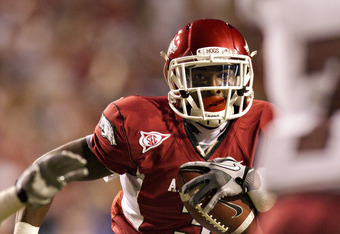 Wesley Hitt/Getty Images
Offensive Line Continuity
Arkansas seems to have settled on an offensive line of Smothers, Cook, Swanson, Baily and Freeman, which offers some measure of consistency, but their performance could hardly be considered impressive up to this point in the season. Tyler Wilson has been sacked 2.3 times per game, and at other times, running for his life against pretty average defenses. One shutters to think how this young line will do at protecting Wilson against the looks they'll get from the Alabama defense. 
Look for Arkansas to continue to utilize a short passing game to help the line protect Wilson. On a more positive note, the run blocking has improved as the season has progressed. Up to the this point, this young Arkansas line has not shown they are ready for the likes of Alabama.
Tyler Wilson Efficiency
In my preview to the season, I said that Arkansas quarterback Tyler Wilson needed to complete close to 70 percent of his passes and have a 4:1 Touchdown/interception ratio against those first three opponents to show he is ready for the Tide. 
Wilson has a 68.6 percent completion percentage and and 5:2 touchdown/interception ratio, with one of those interceptions being returned for a touchdown. These stats probably would be good enough if the Razorbacks had the running game they had a year ago, but they don't, which means more of the pressure falls on the shoulders of Wilson. Wilson is a good quarterback, and there is reason to believe that he may save his best for the big moments (see Auburn and Ole Miss from a year ago), but up to this point, there are concerns as to whether he is ready for what Alabama is going to bring. 
When quarterbacks get hurried and knocked around, they end up doing something out of character in the fourth quarter. For proof of that, look no further than Ryan Mallett against this Alabama team in 2010.  The Razorbacks are not quite ready in this respect.
Injuries
Arkansas has had some injuries to important players, but none that seem to be an issue this weekend in Tuscaloosa.  Tyler Wilson, Jake Bequette and Jarius Wright have all missed playing time because of injuries, but all are expected to be at or close to full speed against Alabama.  The Razorbacks have done a good job of getting through the first three games healthy. 
The X Factor
Based on analysis of these five factors, the situation seems to favor Alabama, but you never know what can happen on any given Saturday, and there are some X-factors on the Arkansas side that could tip the scales and make it a great day to be a Razorback. 
First of all, Joe Adams will be the baddest man on the field. He has the moves of Reggie Bush and the attitude of Bill Romanowski. If Arkansas can get the ball in his hands 15 times, whether it be punt returns, hand offs or receptions, he will make good things happen. 
Secondly, Greg Childs is not going to go through the whole season without making a serious impact at some point. He has always been a gamer, and if he chooses this week to remind the SEC of how good he can be, Alabama will have a hard time containing him. 
Finally, Bobby Petrino is a freak for details, and as hard as it may be to find a weakness in Nick Saban's defense, Petrino has found something in the last 364 days. Will it be enough? Who knows, but be assured he has a plan.
This is a game that is fast becoming one of the premiere match-ups in the SEC and nation.  While Alabama is favored at home, the Razorbacks will show up, and this game should be a classic.