Ohio State vs. Miami (FL): The Game That Should Never Have Happened
September 19, 2011
Joel Auerbach/Getty Images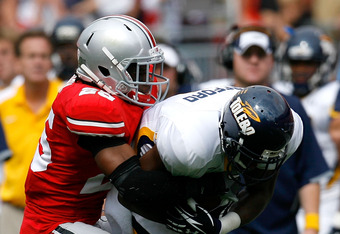 Kirk Irwin/Getty Images
I feel like Haley Joel Osment in The Sixth Sense; I must be seeing dead people. Who knew that Sun Life Stadium in Miami was haunted? That is the only logical explanation as to why there were players on the field this Saturday when Ohio State played Miami, FL.
If you think I am just picking on those two schools, think again. That statement holds true for Auburn, LSU, North Carolina, Oregon, USC and a host of other schools.
If you think I am an Ohio State and Miami hater, wrong again. I am an Ohio State alum. I bleed scarlet and my hair is slowly turning gray from watching my alma mater disgrace themselves on the national stage.
What, you still want to question my Buckeyes fandom?
I went to the most meaningful game ever played between Ohio State and Miami—the 2003 Fiesta Bowl that decided the National Championship for that year. As a poor college student, four friends and I packed into a Pontiac Grand Am and made the 30-hour drive out to Arizona.
I had football season tickets three of my years there—the missing year involves some nonsense with people I am no longer friends with.
Most importantly I was born and raised in Toledo, OH. Buckeyes fans from the rest of the state are not on the same level as Toledo Buckeyes fans.
I would hear people from Cincinnati, Cleveland and Columbus talk about their hatred for Michigan. When pressed for a reason why, they simply stated, "Come on, it is Michigan! They are our biggest rival. Everyone in the country knows how big the rivalry is. I hate those guys."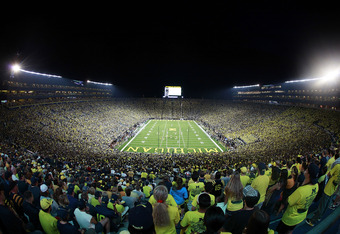 Leon Halip/Getty Images
I always followed that up with this question, "How many Michigan fans did you grow up around?" The answer was almost always none or a small handful at most. Their hatred was blind. It was brainwashed into them. I viewed them as mindless sheep.
Things are different in Toledo. The states of Ohio and Michigan once fought a war over Toledo. Literally—look it up. As part of the settlement, Ohio was given Toledo and Michigan was given the Upper Peninsula. To this day there are more Wolverines traitors living in Toledo per capita than any other major city in Ohio, and it is not even close.
There are abominations called Buckeye-Wolverine shops. The store literally has a line down the middle with half the store filled with Ohio State gear and the other half filled with Michigan gear. Our hatred for Michigan and their fans is not blind. It stems from having to deal with them all the time. We truly understand what it is all about because we are in the front lines fighting in the trenches.
What I am about to say shows the difference between being a diehard and a homer. A diehard loves their team with all their heart, but is willing to call them out when they do something wrong. A homer turns a blind eye to the misdeeds of their favorite team.
I dislike homers almost as much as I dislike Michigan fans. Why? Because they make me look bad by association. I am a rational person to a fault. I believe in standing up for what is right at all times. Principle is everything. Ohio State and the Big Ten always talked about what separated themselves from the likes of the SEC is that they valued academics and avoided scandal at all costs.
Well, at least the academics thing is true.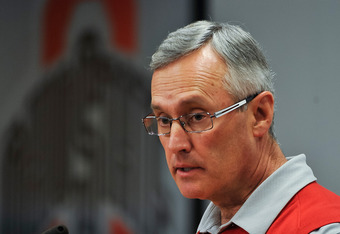 Jamie Sabau/Getty Images
Ohio State sold its soul when they hired Jim Tressel. Anyone willing to look past the sweater vest act saw him for what he was: a rat in sheep's clothing (aka a wool sweater vest).
He was from Youngstown, OH. For those of you unfamiliar with Youngstown, it is knee deep with the mafia. Everyone I have ever known from Youngstown either knows someone who had ties to the mafia or knew someone who knew someone. It is a perverse version of Six Degrees of Kevin Bacon.
Tressel's hands were dirty before he ever came to Columbus. He was busted at Youngstown State for violations, and yet Ohio State looked past it when making their hire after John Cooper was fired. I knew it was a mistake from the start. I am great at reading people, and I always saw right through Tressel's fake act that he put on for the public.
I will always appreciate the National Championship that Tressel brought to Buckeyes fans, but I feel like we sold our soul to get it. Tressel's involvement in the tattoo and memorabilia scandal was about as dirty as it gets for a coach.
I already know the responses I will get.
"The rule those players broke was stupid!"
"Everyone else is cheating too!"
"The players deserve to be paid!"
Baaaa….Baaaa…Baaaa. You pathetic mindless sheep.
The rule the players broke is not stupid. Those rules are in place to attempt to create a level playing field amongst programs across the country. Without those rules, dirty under-the-table deals would be happening left and right to land recruits, get kids to transfer and potentially directly affect the integrity of the game being played on the field.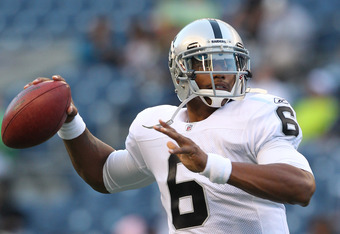 Otto Greule Jr/Getty Images
That sort of anarchy and corruption needs to be avoided at all costs.
I obviously am not going to deny that the vast majority of programs are cheating as well. However, anyone with even a shred of maturity knows that two wrongs do not make a right. Ohio State fans should want to stand for more—not contribute to the corruption.
The players do not deserve to be paid. They already receive more than adequate compensation. How many college students graduate with tens of thousands of dollars in student loan debt? A lot. How many scholarship football players leave with even one cent of debt after getting free tuition, books, room and board? None. Tell me again why we should feel sorry for these players. They get to start out their young adulthood debt-free with a college diploma in hand.
The notion that players would not take money from boosters if they were being paid a stipend by their respective school is poppycock. Politicians make tons of money and yet get bribed all the time by lobbyists. That athlete is going to take handouts even if he is getting a stipend from the school, unless the penalty is harsh enough to deter him from doing so.
Here is the simple solution. If you take any extra benefit that would make you ineligible, then you become permanently ineligible. After a few of those punishments are doled out, you should see the vast majority of athletes refrain from breaking the rules.
There should be a similar penalty for the schools as well. Any major violation by a coach/administrator/etc. should result in the Death Penalty for a minimum of one year. Three minor violations by anyone coach or player within a three year window should also result in the Death Penalty for a minimum of one year.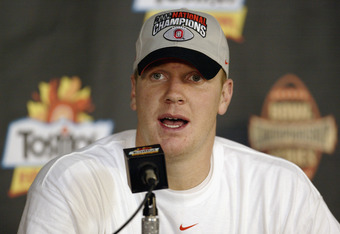 Brian Bahr/Getty Images
I realize there needs to be some cleaning up of the NCAA rule books before any of this can be enacted. There are some arcane out-of-touch rules involving communication with recruits in particular that are absurd. However, the rules involving receiving benefits should be pretty cut and dry.
Players and coaches are constantly breaking the rules because they do not fear the repercussions. After a few Death Penalties are handed out, things will inevitably change for the better. Circle of life concept here.
These players are not the poor college students they are being made out to be. They are getting cash to pay for things like nice cars, tattoos and bling. They are not using the money to stock up on Ramen Noodles on sale.
If incoming recruits do not want to follow these rules, then they do not have to step foot on to a college campus. I prefer my QBs to strive for molecular genetics degrees and win national championships like Craig Krenzel. College is supposed to be a place for higher learning. Players like Krenzel, Greg McElroy and Myron Rolle may be extreme examples of intellectual and athletic success, but they should be more representative than what we have today.
Far too many college athletes are bums and have no business on a college campus. Admissions standards are lowered because the guy is 6'3", 250 lbs and runs the 40 yard dash in 4.5 seconds. A staggering number of professional athletes are broke within a few years of finishing their athletic careers. Look no further than Chris McAlister for recent proof. A fool and his money are soon parted.
I do not want to deny exceptional athletes the chance the play football/basketball/etc. I simply think that admissions standards should not be lowered and that NCAA rules should result in harsher penalties to actually make people detract from breaking the rules.
I have a simple solution for players that do not want to follow NCAA rules or that cannot cut it in the classroom. They should go directly from high school to either the UFL or NBDL. They could then get paid as they hone their skills. The influx of talent to both leagues should allow them to prosper. Many more people would want to watch games for both leagues so they should be able to land relevant television contracts.
Think of the national signing day implications. Not only would multiple schools be an option, but so could the option of turning pro. Think of the intrigue. These players get contracts earlier and are eligible for endorsements as well. Everyone wins in this scenario.
I love Ohio State and college football. I still think they should get the Death Penalty when the NCAA makes their final ruling. Call it tough love. Jim Tressel blatantly covered up and then lied about NCAA violations. It rightfully cost him his job and Ohio State should have to pay the piper as well. Ohio State should receive a one-year Death Penalty.
As for The U? Your violations would have made me blush a shade of scarlet unknown to man. Over 70 players were involved and it did not just involve improper benefits. It involved things that are actually illegal in the real world like drugs and prostitutes. That should result in at least a four-year Death Penalty.
It is time to clean up college athletics. Let's get the process started with some warning shots that no one will ever forget.