College Football TV Schedule Week 4: Complete TV Listings and Live Stream Info
September 19, 2011
Ronald Martinez/Getty Images
Welcome back to the Ultimate Television Viewing Guide for the fourth week of the College Football season. You could have clicked anywhere else to get your information of what teams are playing on which channels, but instead, you chose this piece. 
Before we can go forward to the next week, we must look back and see what we learned from the previous week of college football. 
Last week, we had the "Zip It Up's" for certain players, teams and fan bases. The base of this was thanks in part to 790 The Ticket's co-host of the "Dan Lebatard Show" Stugotz. Find him on Twitter @Stugotz790.
This week, there was a popular hash tag on Twitter that was trending. WWE Superstar Zack Ryder (@ZackRyder) had the hash tag #areyouseriousbro. The hash tag fits perfectly into the things that we learned from last week. 
These moments had us yelling at our televisions, laptops, iPads and phones, "Are you serious bro?"
#Areyouseriousbro: Pittsburgh Panthers blowing a 17-point, fourth-quarter lead. Up 24-10 on the road at Iowa heading into the fourth quarter, the Panthers somehow forgot to defend the pass resulting in a final score of Iowa- 31 Pittsburgh-27. 
#Areyouseriousbro: South Carolina surviving against Navy 24-21. They needed a 246 yard rushing game by Marcus Lattimore to hold off Navy. If South Carolina wants to take a run not only at the SEC East Division, but also the BCS National Championship game, they will have to have a better showing this week against Vanderbilt.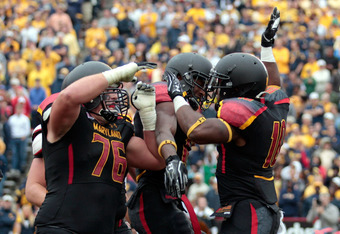 Rob Carr/Getty Images
#Areyouseriousbro: Maryland and your uniforms. Strike two on these new Under Armor designed uniforms. Let's see what you can come up with this week. 
And finally. 
#Areyouseriousbro: Penn State and your horrible, horrible offense. They only scored 14 points against Temple; with the game winning touchdown coming with only four minuets remaining in the game. They have one more week before they open up the Big Ten schedule against Iowa. 
Now, with that out of the way we can move forward to the new week of football. You can see below your schedule of games for the week of September 22nd through the 24th. Remember all times are Eastern Standard, and check your local listings for games on ABC, ESPN, or ESPN-2. 
And finally, with all of those Twitter names listed above, you can always find me on Twitter @tjmcaloon.
Thursday, Sept 8

8:00 PM

North Carolina State at Cincinnati 

ESPN

A battle between two teams that are 2-1 on the season. 

 

 

 

 

 

 

Friday, Sept 23

8:00 PM

UCF at BYU

ESPN

Both UCF and BYU come into this game after losses last week. 

 

 

12:00 PM

North Carolina at Georgia Tech (25)

ESPN

North Carolina is ranked in the USA Today Poll but not the Associated Press. A win against Georgia Tech and it'll be ranked in both. 

Central Michigan at Michigan State

ESPN U

Michigan State was embarrassed at Notre Dame last week, so let's see how they respond this week. 

Toledo at Syracuse

ESPN 3

Is this the week that Toledo overcomes a BCS school?

Eastern Michigan at Penn State

ESPN 2

Penn State needs to find an offense and quickly. Eastern Michigan only scored three points against Michigan last week, so that should help PSU. 

Notre Dame at Pittsburgh

ABC

If Pitt's quarterback Tino Sunseri is the starting quarterback, it will be worth of the hash tag #areyouseriousbro? 

12:21 PM

Georgia at Ole Miss

ESPN 3

This game is between two coaches that may not be with their schools after this season.

12:30 PM

Temple at Maryland

ESP 3

Let's see what color scheme Maryland throws against the wall this week. 

1:00 PM

UMASS at Boston College

ESPN 3

BC opened its ACC schedule last week against Duke. It thought it was going to be an easy way to start its ACC schedule—it was wrong. 

Bowling Green at Miami (OH)

ESPN 3

Bowling Green is 10th overall in passing average this year. 

2:00 PM

Ohio at Rutgers

ESPN 3

One of these teams are 3-0 on the season. And no it isn't the Big East school Rutgers.

Army at Ball State

ESPN 3

Ball State is a surprising 2-1 this year after only winning 2 games last year.

3:30 PM

Arkansas (14) at Alabama (3)

CBS

Last year, these two teams put on a great offensive show in Arkansas. This year, it's more about the defense than the offense. 

Oklahoma State (7) at Texas A&M (8)

ABC

Texas A&M has its first big game of the season. Will TAMU quarterback Ryan Tannenhill be able to dissect the OSU defense? 

Florida State (11) at Clemson (21)

ESPN

Clemson cracks the Top 25 for the first time this year. FSU is coming off of a tough loss to OU last week. Let's see which team's momentum from last week carries with them. 

Tulane at Duke

ESPN 3

The DOOKIES are 1-0 in the ACC this year! DOOOOOOOOOKIESSSSSS!!!!!!!

Colorado at Ohio State

ESPN 2

Ohio State needs a big performance this week against Colorado to quiet the critics. 

Southern Miss at Virginia

ESPN 3

Both of these teams are 2-1 heading into this game. 

Kansas State at Miami (FL)

ESPN U

The U looked great last week against Ohio State. However, it still has Jacory Harris as its  quarterback, who always looks bad.

4:00 PM

New Mexico State at San Jose State

ESPN 3

Combined, these two teams are 1-5 on the season. Get ready for some awful football between these two teams.

4:30 PM

Middle Tenn at Troy

ESPN 3

In the ESPN College Football Podcast, the host Ivan Maisel thought Troy was getting 63 points against Arkansas. He was wrong, but Troy still lost the game—covered.

6:00 PM

UCONN at Buffalo

ESPN 3

Buffalo seems to have scheduled the Big East as its non-conference schedule. Two weeks ago, it played Pitt, now Uconn. 

Louisiana-Lafayette at FIU

ESPN 3

FIU had the biggest win in its school's history, according to FIU head coach Mario Cristabol when interviewed on ESPN 790 The Ticket's Dan Lebatard show.

7:00 PM

Vanderbilt at South Carolina (12)

ESPN 2

Vanderbilt is 3-0 on the season and 1-0 in the SEC. South Carolina hasn't put away to many teams this year. Do I smell an upset this week?

Florida (15) at Kentucky

ESPN

The Florida program looks to be back in its dominate ways under coach Will Muschamp.

UTEP at South Florida (18)

ESPN 3

This is the highest South Florida has ever been ranked in the polls.

Florida Atlantic at Auburn

ESPN 3

Auburn's defense is horrible this year. It may keep this game close against FAU, however. 

North Dakota S at Minnesota

Big-Ten Network

Minnesota is a bad team with an amazing stadium. On the pro side, the Vikings are a bad team with a horrible stadium.

Indiana at North Texas

ESPN 3

Indiana finally got its first win last week. Can they make it two in a row? 

Louisiana Tech at Miss St

ESPN U

Mississippi State gets to take its frustrations from two tough losses to LSU and Auburn out on Louisiana Tech this week. 

7:30 PM

Nebraska (9) at Wyoming

Versus

Toss Up! Will Nebraska's quarterback Taylor Martinez have more passing or rushing yards this week? Choose wisely. 

8:00 PM

Missouri at Oklahoma (1)

FX

At one time, this was a game between two ranked teams. Missouri has failed this year, while OU has flourished. 

LSU (2) at West Virginia (16)

ABC

This is the game of the week. If WVU is somehow able to pull off the upset, how many couches will be burned in Morgantown? 

Colorado State at Utah State

ESPN 3

Since the close loss to Auburn, Utah State blew out its next opponent, 54-17. 

Central Arkansas at Ark State

ESPN 3

The battle of Arkansas!

10:15 PM

Oregon (10) at Arizona

ESPN 2

Oregon should, and will, put up 60 points on Arizona this week. 

Sunday, Sept. 25

12:00 AM

UC Davis at Hawaii

ESPN 3

And for you die-hard gamblers, this game starts at midnight on the east coast.