Big East Gone, Pitt and Syracuse to ACC, UConn and Rutgers Gone Too?
September 18, 2011
A week ago this past Friday I noticed that TCU AD Chris Del Conte was over concerned about the pending dissolution of the Big 12.  I wrote then that I thought perhaps underlying his comments on the issues was the latent reality that his future conference, the Big East, was about to change.  So one week later, this past Friday, when the NY Times reported — (despite ACC denial)  — that Syracuse and Pittsburgh were talking to the ACC, I was not surprised.  The story quickly evolved from talks...  to applications...  to full acceptance, by the wee hours of this morning.  Evidently, the ACC officials had voted Saturday morning, to make Syracuse and Pittsburgh their 13th and 14th members.
Now, this afternoon, it is reported that Connecticut is "aggressively pursuing membership" in the ACC.  Verified by this report, as I suspected last week, Connecticut has, in fact, been involved over recent weeks in preliminary discussions with the ACC about possible membership.
The Big East Conference has (had?) an inherent instability.  The secular and Catholic institutions that make (made?) up the Big East find themselves at odds, not because of divergent philosophical approaches to the Universe but, because of a co-incident dichotomy—the secular half plays football and the Catholic half does not.
When 16 universities join together to maximize their athletic revenue streams and find themselves constantly at odds over the issues of what best serves the football interest and what best serves the basketball interest, there is not common junction, but critical juncture.
Because the Big East is unarguably the best basketball conference in the country— (sorry ACC fans but it is (was) true) — the two halves have chosen to exist together in a union of public civility, for the sake of their basketball profit, rather than divorce and go their separate ways.  Now, with the landscape of college athletics about to be unearthed this week, this seems to have changed.
The future of all athletic departments to forge larger and larger costs is to forge greater and greater streams of revenue.  To do this, the horses pulling the wagon need to be pulling in unison, not at different gaits.
In the end, it can be said, that the discord of financial interests that dissociated the old Big East this weekend, is not any different than inequitable revenue-sharing disharmony that will lead to the Big 12 final dissolution, tomorrow.
Comments, in the aftermath of this weekend's development, have been boldly made.  As would be expected,  University of Connecticut president, Susan Herbst, responding as any protective mother would to her school's current exclusion from the realignment process, said this morning  that UConn is "actively involved in discussions with our counterparts from around the country to ensure the successful long-term future of our university's athletic program." 
A cigar-less ACC commissioner, John Swofford, gave his proud papa assessment of his conference's achievement.  He said, "We're very comfortable with this 14.  The only thing I would add to that is we are not philosophically opposed to 16. But for now we're very pleased with this 14. We think it's an excellent group."  TCU, athletic director, Chris Del Conte, whose school is (was?) to join the Big East conference in July of 2012, lamented Saturday that, "It's crazy.  It's nerve wracking for everyone in college athletics. There are earthquakes going on all around us. And we don't know when they'll settle."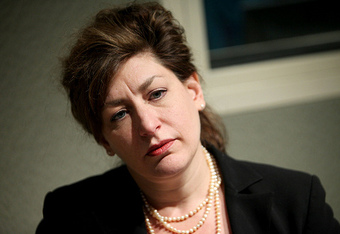 Meanwhile, there is an odd silence emanating from the Raritan Valley in New Jersey.
There has been an immediate response by Connecticut president Herbst over the possibility of her school being left in a gelded conference.  Where are Rutgers' concerns over the same issue?  It has been shown in studies conducted by more than one intercollegiate athletics management consulting firm that a configuration of a Connecticut and a Rutgers would provide strong market penetration in the Northeast for either the Big Ten or the ACC.
Commissioner Swofford must know this.  Why did he stop at 14 (with Pittsburgh and Syracuse) when presumably he could have gone to 16 (with Connecticut and Rutgers)?  Why create a northern division of four northeast schools (BC, Pitt, Syracuse and Maryland) and three southern schools, when you could have done so much more?
In the first part of these chronicles, I cited WAC commissioner Karl Benson's advice for would-be super conference leadership, "I think 16 teams can work easily if there is geography and there is this homogeneous group of schools."
The ACC could have recreated an improved facsimile of the original Big East (BC, Pitt, Rutgers, UConn, Syracuse, Va. Tech, Miami and Maryland) as a northern division, and, at the same time, segregated their old ACC (FSU, GT, Clemson, the four Tobacco Road schools and UVA) schools into a southern division. 
This configuration would satisfy both the geographic and homogeneity aspects of Benson's benchmarks for super-conference construction.  I'm sure the ACC saw this opportunity.  So why wasn't it done?  UConn certainly was onboard with it.  Why would Rutgers have balked at such a chance?  They wouldn't have unless they had good cause.
Tomorrow the Big 12 will learn its fate.  It now appears, as I prophetically stated two weeks ago, that the PAC 12 will soon be the PAC 16, adding Texas, Oklahoma, Texas Tech and Oklahoma State.  According to an ESPN source, "It appears that [PAC 12 commissioner Larry] Scott is going to be able to work some magic and help Texas keep the Longhorn Network and their revenue stream."  If true, this would sound the final death knell of the Big 12.
But more questions remain.  Along with the overwhelming silence hanging over central New Jersey due to the ACC's attenuated expansion, there is a strange tranquility oozing from central Missouri over what now appears to be the Big 12's final day of existence.
Could Rutgers and Missouri be the Big Ten's 13th and 14th members?
With the Big East decimated, is Notre Dame far behind?  Are they finally willing to admit that the Flames of Hell will not rise up from the foundation of the Hesburgh Library, engulf Touchdown Jesus and destroy the campus, should they join a conference?
If both these oracles come to pass it would be good news for University of Kansas athletics (as the Big Ten's potential 16th member).  But whichever way one chooses to view college football's post-realignment world... "We're not in Kansas anymore, Toto!"