Al Golden's leading his team into a new season 1-1
Joel Auerbach/Getty Images
September 18, 2011
Sunday's Top 25 Associated Press polls were sunny and clear of a tropical storm. 
Specifically, missing from the nation's top-team radar, were the Miami Hurricanes.
Dominating the Buckeyes—bruised from scandal— the Canes were equipped with their own set of woes.  But in the spirit of forging onward, they solidly defeated No. 17 Ohio State 24-6, sending them tumbling from the rankings for the first time since November 2004.
Was Miami's absence in this week's AP poll an indication that voters aren't taking play on the field seriously in light of recent NCAA investigations?  Could the tremors of two college football powerhouse teams battling it out in sunny Florida calm the storms of sanctions and send them out to sea?  Not so, according to this week's rankings.
The Canes' 2011 chapter began earlier this year when Yahoo! Sports broke a scandalous story from a former booster filled with the makings of NCAA nightmares for the program.  Spilling a decade's worth of stories of impermissible benefits and improprieties, the NCAA suspended eight players for their opening game against Maryland, which they lost as a result.  Last night, Miami turned the corner.
With coaches Luke Fickell (Ohio State) and Miami's head coach Al Golden taking over a set of programs clouded with controversy,  Saturday's showdown  at Sun Life Stadium sent Golden walking off into the sunset the victor on paper.  His team's penalties were cut from 10 last week against Maryland to five this week with all areas, including special teams, showing improvement.  
On the field, Miami flooded the stats with explosive plays led by sophomore running back Lamar Miller.  Miller rushed 26 times for 184 yards and brought fans to their feet within the first 10 minutes of the game on a 54-yard dash that broke a school record for a first quarter play.  His performance earned him the College Football Performance Awards National Running Back of the Week.  Miller's rushing yards per game (151.5) rank him fourth nationally behind Marcus Lattimore of South Carolina, and others.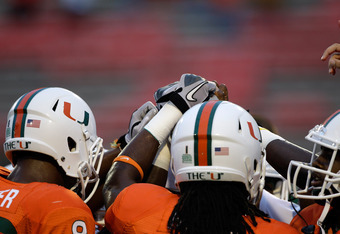 Rob Carr/Getty Images
Although yesterday's performance brought the Canes back into the light, it just wasn't  bright enough for a place in the rankings.  The win does make for some interesting statistics. 
Golden's first home win marks the first time an unranked Miami team defeated a nationally ranked opponent since the Canes beat No. 18 Florida State in 2009.  With the win, the Hurricanes avoided starting their season 0-2 for the first time since 1978.
How bad was it for Ohio State?  The Buckeyes mistakes started early in the first quarter and things went downhill after that and soon their team—plagued with injuries and suspensions—fell pray to the powerful Golden defense that kept their passing yards to a mere 35.  The dominance of the Canes' defense sent the Buckeyes into the locker room with three timeouts remaining (unused). 
What will it take for Miami to re-enter the Top 25 of college football?  Will Miami conquer the mask of sanctions that shrouded this new coach's first days?
If you ask Al Golden, he'll probably tell you that right now he's worried about next week's opponent, Kansas State, and never mind this week's snub by the Associated Press.  That problem will take care of itself.
Like the new article format? Send us feedback!