College Football Rankings: 10 Teams Who Got Screwed in AP, Coaches' Polls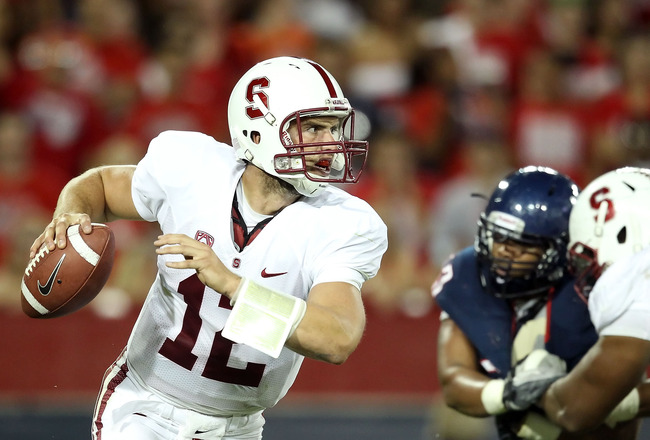 Christian Petersen/Getty Images
There are some new faces in the top 10 in the new AP Poll. Florida State lost in a heartbreaker to Oklahoma and have dropped out of the top 10, as did South Carolina, who barely beat Navy.
Michigan State, Arizona State, Mississippi State and Ohio State all dropped out of the top 25, as did Auburn.
Some of the shake-ups in the rankings are questionable, and some of the teams in the top 25 probably shouldn't be in there.
Here are 10 teams that got screwed by the polls.
10. South Carolina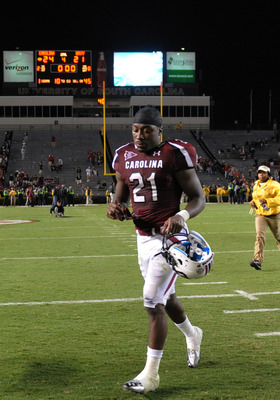 Al Messerschmidt/Getty Images
Last week South Carolina was ranked 10th in the AP Poll, and now they're down to 12 because of a close win against Navy?
Nebraska's win over Washington wasn't that impressive. Oregon beating Missouri State shouldn't vault them over South Carolina, especially since they have one loss. Florida State lost to Oklahoma, which shouldn't have dropped them that far, but if South Carolina is still undefeated, than they should be ranked ahead of Florida State.
South Carolina should still be in the top 10, and they have been screwed by the polls.
9. Michigan State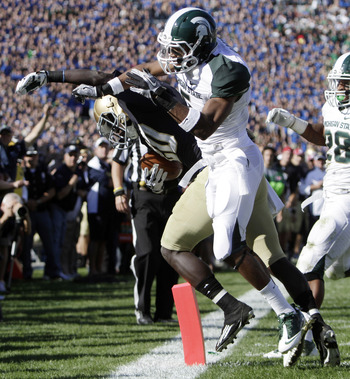 John Gress/Getty Images
Michigan State was ranked 15th last week and a loss to Notre Dame dropped them completely out of the rankings, but that doesn't seem fair.
They should've handled Notre Dame, but the turnovers killed them. Kirk Cousins still played well, but it wasn't enough for a win. Still that shouldn't keep them out of the ranks, it was just their first loss.
It almost seems laughable to think that Illinois is a better team than Michigan State, and there's no way they should be ranked ahead of them.
8. Wisconsin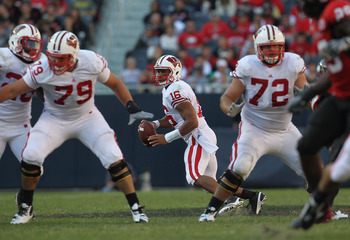 Jonathan Daniel/Getty Images
All Wisconsin has done is blown teams out. They've given up a whopping 24 points in three games compared to the 135 points they've put on the boards.
Russell Wilson is a legitimate Heisman candidate, and if Wisconsin continues to dominate, he may just win the award.
Wisconsin is ranked sixth, which isn't a bad position, but they can argue that they are better than both Stanford and Boise State.
Wisconsin still has their Big Ten schedule to play and that's going to provide some challenges, but eventually they need to be given more consideration, and that consideration should've started this week.
7. Florida State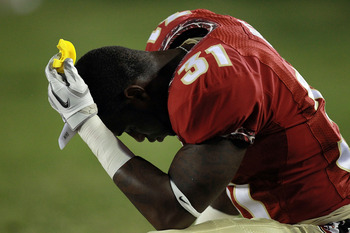 Ronald Martinez/Getty Images
Talk about a huge letdown. Florida State had Oklahoma in their grasp, and then an injury to Kenny Shaw and E.J. Manuel disrupted their plans.
The fifth ranked Seminoles lost to the top ranked Sooners by 10 points, and the game was so much closer than that. Does that mean Florida State should drop to 11th? Possibly, but the way they played against Oklahoma gives them justification that they are better than Nebraska, Texas A&M and Oklahoma State.
Florida State was tied with the top ranked team in the country with just nine minutes left with their back-up quarterback, a depleted receiving core and some terrible officiating. Imagine what could have happened if those players were healthy.
6. Florida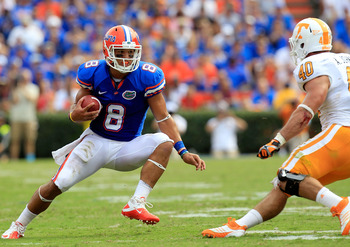 Sam Greenwood/Getty Images
Florida played against an undefeated Tennessee team and handled them for the majority of the game, and that doesn't move them up from 15? They get to stay in the same spot? How do they not jump Arkansas, Virginia Tech or South Carolina?
Florida has one of the most explosive offenses in the country as well as one of the most disruptive defenses, and they look to have something to prove this season.
If Florida continues winning, it's no stretch of the imagination to see them compete for another SEC title.
5. Utah
Harry How/Getty Images
Utah has a record of 2-1 after embarrassing BYU last night, 54-10. They lost to USC last week in a close game, and while they are a one loss team, is Georgia Tech and Illinois really better than them?
BYU barely lost to 19th ranked Texas, and then Utah completely destroys them by 44 points. Utah is a very good team that has a chance to be ranked in the top 15 at the end of the year, and they deserve to be ranked in the top 25 right now. By all accounts, they are a better team than TCU, Georgia Tech, Illinois and Michigan.
Utah definitely got screwed by the Polls.
4. Miami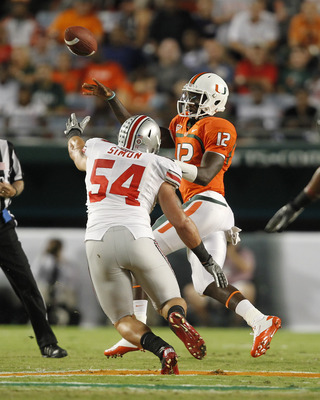 Joel Auerbach/Getty Images
Miami has a claim to being ranked for the simple reason that they looked very good against Ohio State, completely shutting their offense down and putting up some points on offense. They would have done the same thing against Maryland.
Not taking anything away from Maryland, but Jacory Harris would have been better than Stephan Morris, obviously. Harris played great against Ohio State, and this team may be playing with a giant chip on their shoulders the rest of the season.
Don't be surprised to see them have a very successful season.
3. Clemson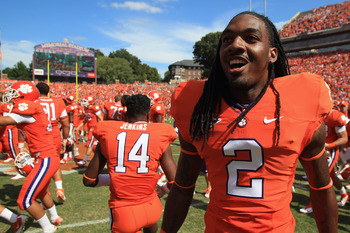 Streeter Lecka/Getty Images
If you want to see must watch TV, check out Tajh Boyd and Sammy Watkins. Watkins, a true freshman, has all the makings of being one of the best players in the country. He was a highly touted recruit and has proved exactly why.
Clemson beat Auburn decisively and showed a high powered offense and a tough defense. They broke into the top 25 ranked 21st, but honestly, they should be sitting at 18 or 19.
Clemson plays Florida State at home this week, and if they can win that game, they could be looking at a very successful season and a possible top 10 ranking.
2. North Carolina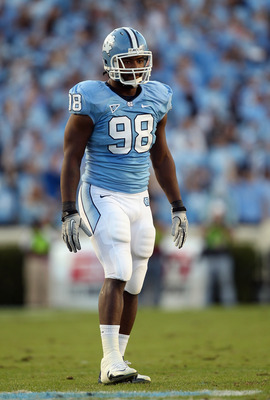 Streeter Lecka/Getty Images
North Carolina is sitting at 3-0. They are ranked 25th in the USA Today Poll, but they are still unranked in the AP Poll. They haven't had the most impressive wins, but are they a better team than Georgia Tech or Illinois?
North Carolina has a good defense and a very impressive front four. They could be a threat to make some noise in the ACC.
The big challenge will be this week against 25th ranked Georgia Tech. If they win, there should be no question, but as it stands right now, they should be in the top 25 with an undefeated record.
1. Stanford
Christian Petersen/Getty Images
If Oklahoma and Alabama go undefeated, there's no question they should be in the BCS Championship. If for some reason one of those teams loses and Stanford and Boise State both go undefeated, should Boise State really go to the BCS Championship in place of Stanford?
Absolutely not. There's no way that should happen. Stanford is a much better team than Boise State. Both quarterbacks are outstanding and Andrew Luck probably has a slight nod over Kellen Moore, but the rest of the teams from top to bottom are different.
Stanford should be ranked fourth right behind Oklahoma, LSU and Alabama. They are a very good team and should be recognized for that.
Keep Reading