Eddie Lacy breaking off another touchdown run in the Tide's 41-0 win.
Butch Dill/Getty Images
September 18, 2011
Fair warning: there will be plenty of good and not so much of bad here. If you remember my Penn State edition of the Good and the Bad series, I nitpicked and found two Bads in that performance. I may not be as lucky for this 41-0 win. However, you can sit back and enjoy the numerous Goods in this game.
The Good - The Running Game: Alabama began to look like its old self in this game. Sure, there were some busted plays that championship teams will learn to execute as the season goes on. But, there were so many big plays out of the run game that it's hard to complain. Trent Richardson averaged over 15 yards a carry in this game and scored three times, making himself the NCAA's leading scorer so far. Eddie Lacy also had over 150 yards. Solid showing there.
Cyrus Kouandjio: I knew that he was the real deal when he arrived on campus, but I don't think it was fair to expect this out of the kid. He has done some remarkable things at the LT spot this year. Even better, I think he makes the offensive line better because his presence at LT lets Barrett Jones move to LG, where he is probably more comfortable.
Run Defense: North Texas running back Lance Dunbar, often seen as the best RB in the Sun Belt, had 17 carries for 16 yards. The Mean Green had zero chance of getting anything going on the ground, and if Alabama can do that throughout the SEC schedule, Tide fans need to look for hotel rooms in Atlanta. The D-Line played a lot better this week than in the previous two and that's a great sign, because so much of the outcome of the game is influenced by the battle in the trenches, which the Tide won convincingly.
The Fourth Quarter Goal Line Stand: The crowd in Bryant-Denny Stadium (the 30-40,000 that remained of it, anyway) went absolutely ballistic when the shutout was preserved by the backups. It's very promising when the freshmen and the sophomores can go out there and hold it down like that. Great tackles and deflections were made throughout the stand and Tide fans should feel very safe about the future of the defense.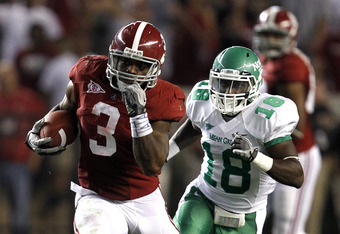 Richardson leaving another Mean Green defender behind him on his way to one of his three touchdowns against North Texas.
Butch Dill/Getty Images
Kick Coverage and Returning: This unit has really improved with the addition of LB coach Sal Sunseri's son, Vinnie. The true freshman has made some downright beautiful crack-back blocks and gives it all every second he is on the field. Hasean Clinton-Dix and Trey Depriest see time in these units, too, and their impact can be measured in the holes that are created for Marquis Maze or the lack of holes for the other team's return specialist.
The Bad - Placekicking: Jeremy Shelley had an off game this week, going 2-for-4. But, looking at it in a different perspective, when placekicking is the only Bad your team has, it's safe to say that you're rooting for a pretty good football team.
Overall Grade: A. Very few things keeping this one from an A+. There was a small lapse in focus defensively in the middle of the third quarter and near the end of the game, when the goal line stand happened. Offensively, there were probably two to five balls that I would've liked to have seen caught. But this is going into nitpicking mode again. Playing this well against Arkansas will be a W, no doubt about it.
---------------------------------------------------------------------------------------------------------------------
For more in-depth Alabama sports coverage from Brett, look at his BR profile.
Twitter: @Brett_Hudson, @BrettAtBama
Online: brettatbama.wordpress.com and cw.ua.edu
Like the new article format? Send us feedback!