Oklahoma Sooners Play Like Champions in Win over Florida State
September 18, 2011
Ronald Martinez/Getty Images
With 9:32 left in the fourth quarter of Oklahoma's Top Five matchup with Florida State, the Sooners faced what was supposed to be a daunting task. The Seminoles had just tied the game on backup quarterback Clint Trickett's 56-yard touchdown pass to Rashad Greene on third-and-28.
Doak Campbell Stadium was fired up. It was a scene fans in Tallahassee hadn't seen in over a decade. Florida State had the nation's top ranked team on the ropes and their fans were smelling blood. Nobody had seen a tomahawk chop that loud or intimidating since the 1995 World Series in Atlanta.
This was supposed to be the Sooners' cue to fall apart. Quarterback Landry Jones was supposed to lose his composure and the defense was due for a mental collapse.
This type of moment is what Florida State coach Jimbo Fisher was banking on. The entire college football world thought this type of pressure could be the undoing of the top-ranked Sooners.
There's only one problem: this is a different Oklahoma team.
These Sooners appear to be immune to the road woes that plagued the Oklahoma teams of the past decade.
There was no mental collapse. Oklahoma coach Bob Stoops didn't have to watch this team fall apart under pressure, and Jones was able to keep his composure. In fact, the Heisman Trophy candidate stepped up his game when his team needed him most.
Trickett's huge touchdown pass was followed by a 37-yard TD pass from Jones to WR Kenny Stills to put the Sooners back on top.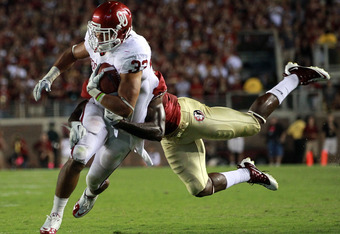 Ronald Martinez/Getty Images
A Javon Harris interception and a Jimmy Stevens field goal later and the Sooners had exorcised those road-game demons and marked the return of "Big Game Bob."
This Sooners team seems to have something to prove. The defense looks inspired and gained some unexpected strength with the return of their senior leader, Travis Lewis. It's probably the most physical and athletic defense since Mike Stoops left for Arizona.
While the offensive numbers weren't as impressive as last year's meeting, this Oklahoma offense has more balance and was able to prove that walk-on RB Dominique Whaley is the real deal.
Whaley shared carries with Brennan Clay, but still finished with 71 yards. Most importantly, he was able to help Oklahoma put an end to Florida State's national title talk by running for 36 yards on 7 carries on the Sooners final drive of the game.
It was a dominating stretch of runs that ended with a 31-yard field goal, which put the game out of reach of the Seminoles.
There's something that is quite different about this Oklahoma team. It's possible Stoops has his most championship-ready team since his arrival in 1999.
With the defensive performance displayed on Saturday night and the return of the Sooners' best defender, it looks as if this team is without a weakness.