Ohio State Football: Buckeyes Can't Hide Their Problems from the Hurricanes
September 18, 2011
Joel Auerbach/Getty Images
The days of Joe Bauserman as the starting quarterback for the Ohio State Buckeyes should be over.
Ohio State's offense sputtered from the beginning, gaining only 201 yards all game. It was clear that while the Buckeyes were able to run the ball early, they were not going to be able to continue to do the same thing all game and find success.
Bauserman completed a whopping two of his 13 attempted passes, although it wasn't completely his fault. The Buckeye receivers did not look very sharp, as decently thrown balls were bouncing off both hands of open targets. However, to be fair, there were far more passes that were thrown into the stands than those intended for receivers in play.
While Jordan Hall provided a spark for Ohio State in the second quarter, the Buckeyes had trouble finding the end zone once they got inside the 20-yard line. The predictable rushing attack, due to Bauserman's inability to hit his receivers, was snuffed out by the Miami defense twice, holding Ohio State to a total of six points on two drives in which they reached the red zone.
The Hurricanes took advantage early of an Ohio State defense that just didn't look ready. Miami's first play from scrimmage was a 54-yard run by Lamar Miller that set the Hurricanes up for an easy 3-yard touchdown pass by Jacory Harris.
After forcing the Buckeyes into a second consecutive three-and-out, Miami drove down the field again and capped off the drive with another short touchdown pass by Jacory Harris.
Ohio State's defense settled down after the first two drives but, unfortunately, the offense never really got anything going. The defense picked off Harris twice, and gave the Buckeye offense countless attempts to move down the field, but Bauserman could not seem to find open receivers down field.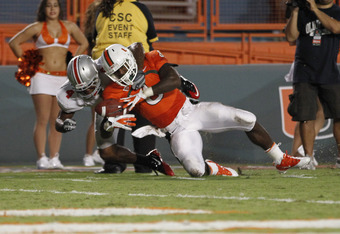 Joel Auerbach/Getty Images
Some Buckeyes fans will look back on this game and wonder why coach Luke Fickell decided to stay with Bauserman so long, instead of opting to go with true freshman Braxton Miller when very little was being accomplished on offense.
One possible reason is that the coaching staff reasoned that they still had a shot to pull closer and possibly get back into the game with the fifth-year quarterback. Another is that Fickell may be looking for job security, and taking your lumps with a first-year quarterback isn't always the best way to impress those who are writing your paycheck.
Either way, in hindsight it would have been better for Miller to take over the reins to start the second half, regardless of the end result.
Ohio State fans would have been wise to take away very little from the Akron game and to be somewhat worried after the Toledo game. Had they done that, the 24-6 loss to Miami would not have been a complete shock.
Miami is not a terrific team. In fact, they may not be any better than Toledo. Ohio State came out cold, and their inability to make opposing defenses respect their passing game finally caught up with them. Had they started similarly against Toledo, Ohio State fans may have been scratching their heads a week ago.
This was bound to happen eventually. This isn't the Ohio State team that fans in Columbus have come to know and love for the past six years. They will take their lumps, and it's probably better to find out who they are, earlier rather than later.