Tennessee vs. Florida: 6 Things We Learned from Saturday's Final Score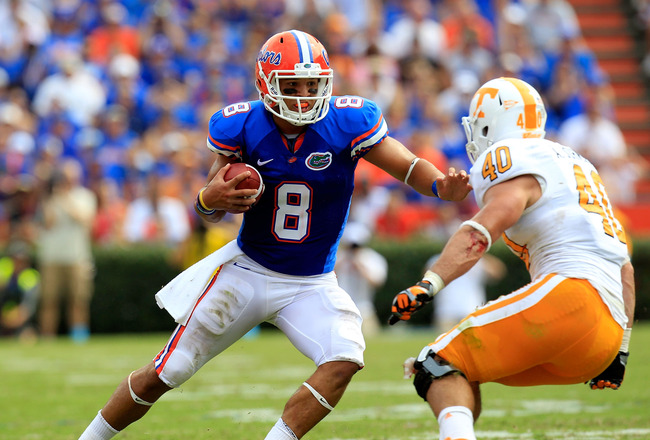 Sam Greenwood/Getty Images
There were a lot of questions heading into the third Saturday of September surrounding both Tennessee and Florida as they headed to their annual SEC showdown.
Are either team for real?
Is Tyler Bray a Heisman Trophy-type quarterback?
How will Will Muschamp fare in his first real test as Florida coach?
There was that and so much other intrigue that was mostly answered by the Gators as they improved to 3-0 on the season with a 33-23 win.
Let's take a look at what we learned after this SEC clash.
The Vols Aren't Ready for the Big Stage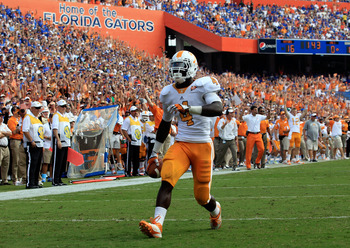 Sam Greenwood/Getty Images
Having Tennessee as a factor in the SEC is a good thing not only for the conference, but for college football in general.
That time may come again soon, but this isn't likely the year.
Everyone got excited a week after the Vols pounded Cincinnati, but this week, it was reality check time for Tennessee.
Now, they shouldn't be written off after the loss. Florida is a good team, and The Swamp is a difficult place to play, but the Vols may still be a year or so away from contending in the SEC.
Scratch Tyler Bray off Your Heisman List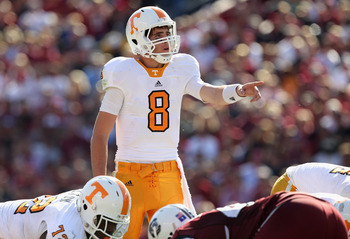 Streeter Lecka/Getty Images
Many people were clamoring for Bray to be included in the Heisman Trophy talk, and his performance today showed that he likely should not be there just yet.
Bray didn't finish with bad numbers, around 300 yards passing and three touchdowns, but it took him a while to really get comfortable in this one.
He didn't handle the pressure early on and continued to force throws into coverage all game long.
Not all of it was his fault though. I don't know too many quarterbacks that would have had great games with the amount of heat he had in his face all game.
He needed a great performance on a national stage to vault him into the Heisman race. That didn't happen.
Bray still remains one of the better young quarterbacks in the game, but we can cool the Heisman chatter for now.
Florida Commits Way Too Many Penalties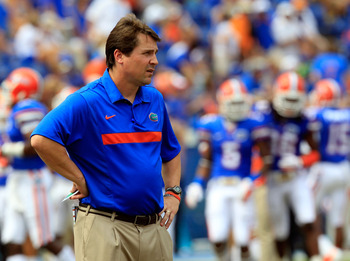 Sam Greenwood/Getty Images
Will Muschamp can't be happy.
Even in a Gators win, the amount of flags on the field would drive any coach nuts.
On the day, Florida was flagged 16 times which resulted in 156 yards of penalties. That also resulted in eight first downs for the Vols.
Even more disturbing for Muschamp had to be watching his young defensive backs get flagged eight times for pass interference.
Florida has great young talent, maybe more quality young players than any other team in the nation, but if they continue to get flags thrown at this rate, they will lose more SEC games than they will win.
Chris Rainey's Stock Is Going Up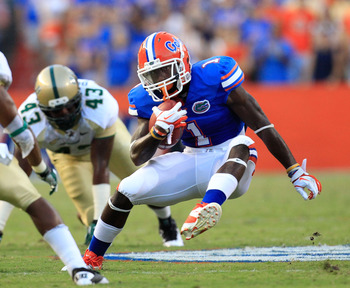 Sam Greenwood/Getty Images
Rainey is a special player that has so many talents, and it's time for the nation to really start paying more attention.
Yes, he's small in stature, but the numbers he puts up are big. Even more important is the impact he makes on the game. He makes big plays in big moments.
His 83-yard touchdown catch stuck the fork in the Vols on Saturday.
Once he's in the open field, no one is going to catch him.
His stat line on the day is also attention grabbing. Not only did he clear the 100-yard mark in both rushing and receiving, but showed off his versatility by blocking a punt.
He's a guy who should slowly start creeping up the Heisman list.
Charlie Weis Has Meant the World to John Brantley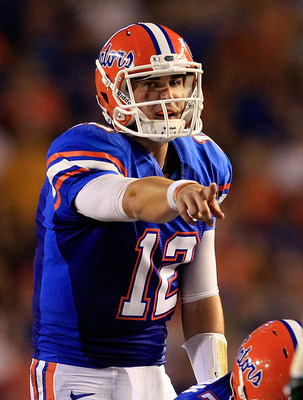 Sam Greenwood/Getty Images
There is no sugar coating it. John Brantley was not very good a season ago.
Of all the Florida players that were affected by Urban Meyer stepping down as Gators head coach, it had the most impact on Brantley.
Gone is the spread option attack where Brantley was on the move a lot and in came a more pro-style type of offense, which suits Brantley much more.
It doesn't hurt that he has Weis in his ear during games either.
Brantley just looks like a different, more confident player this year. He's taking care of the football and taking what's given to him.
He's not there yet, but he's starting to silence some of his critics. He's also showing that he can lead this team to some big victories the rest of the way.
Will Muschamp Is Going To Win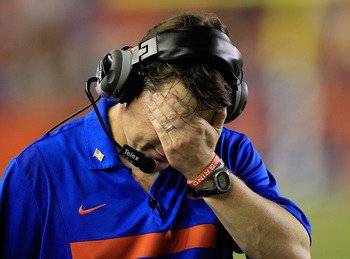 Sam Greenwood/Getty Images
Part of winning is talent, and another part of that equation is having guys buy in and give the extra effort.
That looks like that's happening at Florida.
The Gators are always going to have championship-type talent, and it will be up to Muschamp to get the right mix on the field to win a title.
It might not happen this year but it won't be too long before Muschamp has the Gators back in the title picture.
Keep Reading

Florida Gators Football: Like this team?