Pittsburgh, Syracuse Show It's Quantity over Quality in Conference Expansion
September 17, 2011
Jared Wickerham/Getty Images
The common saying is that quality is what matters, not quantity. Well, in the case of conference realignment in college football, that just isn't the case.
Coming as a shock to the majority of college football fans is the news that both the University of Pittsburgh and Syracuse University have applied to join the Atlantic Coast Conference.
The news seems to come out of left field, even for firm believers that conference realignment is nowhere near finished. It is confirmation that while not every conference is vocal about their conversations with schools, every conference is engaging in those conversations.
To some, the addition of these two teams to the ACC isn't huge news. Neither Pittsburgh nor Syracuse is a football powerhouse, and while both teams would be great additions to the already stacked ACC basketball lineup, it is clear that conference realignment decisions are made with the best interest of college football in mind.
If Pittsburgh and Syracuse were to join the ACC, it wouldn't make the conference better from a competitive standpoint. It would make it better from a numbers standpoint.
If the ACC were to add two additional teams, they would sit at 14 total teams. That sets the conference up nicely to become the first super-conference in college football.
When super-conferences dominate the college football landscape, there will be no more discussion about which conference is the strongest. At least, there will be no more discussion that matters.
With super-conferences, there will almost undoubtedly be some sort of playoff system, where the conference champions from each conference (remember that the number of conferences is arbitrary) will square off against each other in a playoff format until two teams are left to play for the national championship.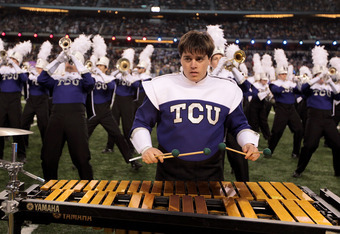 Jamie Squire/Getty Images
The SEC may have the toughest super-conference from top to bottom, but it won't matter nearly as much as it does today. Only one team will come out of every conference anyway, so the only thing that will matter is which conference's top team is the strongest.
For the same reason, the polls will have far less significance than they do today, where a team's ranking is everything.
This puts teams such as Boise State and TCU in a more difficult position than some may be willing to admit. TCU, who is set to join the Big East next season, and Boise State, who is playing their first season in the Mountain West conference this season, are big name teams that have built winning programs over the last decade.
From a quality perspective, TCU and Boise State are much more attractive than teams such as Baylor or Missouri, who will also be looking for homes as the Big 12 continues to crumble.
Recruiting pipelines and TV markets aside, TCU and Boise State are no more valuable to conferences than teams like Baylor and Missouri. While any conference would do well to get a Boise State or TCU (or Oklahoma or Texas, for that matter), getting enough teams to make up a super-conference is the ultimate goal.
Right now, things are still fluid and conferences almost have their pick as to which schools they talk with. However, as more and more teams realign, it will become more evident that pure numbers are more important than picking teams that win consistently.
With the futures of the Big 12 and most recently the Big East seemingly hanging in the balance, it will be interesting to see how many more teams come out and announce that they are exploring their options for the future.
One thing is for sure. While teams like Oklahoma and Texas A&M hog the spotlight, there are many more teams like Pittsburgh and Syracuse who are quickly making their intentions known.
The big names make conference re-alignment a story, but the lesser names are the catalyst in the process.