Alabama and Jalston Fowler Look to Quash North Texas' Hopes for Upset
September 17, 2011
Greg McWilliams/Getty Images
The North Texas Mean Green will be meeting the Crimson Tide for the second time in three years.  As before, this game is expected to be a real snoozer, but while the game is all but over, North Texas is sure to bring the kitchen sink. 
Back in 2009, Alabama was considered a real contender for the national championship, though most didn't expect them to get past Tim Tebow and the Florida Gators.  They broke in a first year quarterback, brought home a Heisman, and a crystal football anyway.  And they made Timmy cry. 
That same year, Alabama hosted North Texas in the third week and absolutely embarrassed them 53-7.  Then-future Heisman winner Mark Ingram rolled straight over them with 91 yards on 8 carries. 
Trent Richardson increased the hurt with 87 yards on 11 carries and Greg McElroy scorched their morale by completing 13 of 15 passes for 176 yards.  The rest of the game was run after run with Terry Grant eating clock on 19 carries.
Poor North Texas was held to a meager 187 yards of offense with 119 on kickoff returns.  Alabama punted only once for a touchback. 
This year, the outlook is familiar.  The game will be played on the same week with a new quarterback and the Tide, once again, in the hunt for the title with a stout veteran defense that is expected to carry them. 
North Texas' chances of winning are about the same as an Otter Pop's chance in hell.  You can bet that doesn't matter much to the Mean Green.  They are still a FBS team, regardless of how laughable the Sun Belt is.
Effort and heart, however, wont be enough to topple the Tide in Tuscaloosa.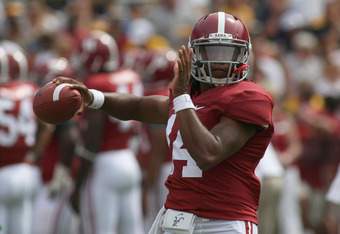 Greg McWilliams/Getty Images
Their running backs are barely teetering at 200 pounds, and the offensive line has no chance of opening holes for them.  Only one lineman is at 300 pounds, and two redshirt freshmen anchor the left side.  Any running to be done will be to the right of the center, though it will be more like getting squished as opposed to running.
Their defense is undersized almost everywhere, and only one defensive lineman breaks 300 pounds, but 6'4", 340-pound defensive tackle can make some trouble.
They do have a strength in their secondary, though.  All of their cornerbacks and safeties, backups included, are six feet or taller.  They could cause some potential problems for a vertically challenged Marquis Maze.  He will need to be extra shifty in getting separation. 
As for North Texas' chance to stop the 'Bama run game, there is none.  They run a 4-3 defense and their barely-200 pound outside linebackers will need a lot of help from the safeties to bring the Tide running backs down, especially once Jalston Fowler comes in to finish the clock, just like Terry Grant did in 2009. 
The Mean Green will likely load the box as full as it can get, leaving A.J. McCarron and Phillip Sims the possibility of completing a ridiculous percentage of passes.  Play-action passes will spell doom for the Green.
Most smaller FBS schools don't get many chances to upset a national contender.  The Mean Green, however, have been fortunate (or unfortunate, however you want to look at it) enough to get two shots at the same powerhouse. 
It can sometimes be tough for fans to get excited about lopsided games, but a lot of Tide fans are eager to see Jalston Fowler and Blake Sims getting more action. 
Kickoff is in one hour.