Tennessee Volunteers at Florida Gators Live Game Blog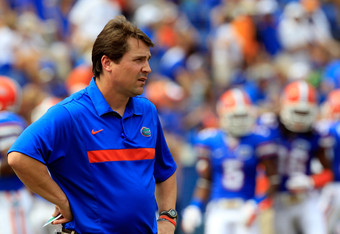 Will Muschamp watches his team in pregame warmups against Tennessee.
Sam Greenwood/Getty Images
Florida 16, Tennessee 0 -- 2Q, 8:27
Join us here Saturday afternoon as the Tennessee Volunteers visit Gainesville to take on the Florida Gators in a key SEC East matchup.
A few pregame notes:
-This is new UF coach Will Muschamp's first SEC game. Former Gator coach Urban Meyer went 5-0 against Tennessee.
-This game has added significance for three former local athletes. Gainesville High School products Ryan McGriff, Trevarris Saulsberry and Jordan Williams were 2011 prep graduates and have stakes in this game. McGriff is a walk-on quarterback for UF, while Saulsberry and Williams are scholarship defensive ends for the Volunteers. Saulsberry is redshirting this year after breaking his hand in the preseason (UT coaches also want him to get stronger). Williams is the son of former Gator Keith Williams. Meyer did not recruit the younger Williams very hard, but Muschamp (who liked Jordan Williams as a big OLB) took a late run at him, but by then Williams was all Vols. Later, Muschamp asked then-GHS coach Ryan Smith if UF had made a mistake letting Williams get away and was told yes.
-Look for Florida to blitz UT quarterback Tyler Bray a great deal. He is a tall, strong-armed passer, but he's hardly fleet of foot.
-Sophomore defensive lineman Sharrif Floyd is scheduled to return to the Gator lineup today. He missed the first two games serving an NCAA suspension.
-----------------------------------------
-So far, so good for the Gaors. Their offensive skill players look far too fast for the Tennessee defense. Charlie Weis also has devised an early gameplan based on short and intermediate passes. The UT defense isn't reacting well.
-Barely three minutes in and there already has been two booth reviews on potential scores for UF. Both accurately went against the Gators.
-UT WR Justin Hunter came down badly and appears to have hurt his left knee. It didn't look good initially, but he is walking off on his own power. Happy to see he seems to be in too much pain. He did have to go to the lockerroom to be checked on by doctors. It would be surprising if he returns.
-Josh Evans earns a personal foul with a brutal shot out of bounds on a Tennessee player. Muschamp loves aggressiveness, but that was pretty dumb (also unnecessary). The Vols haven't needed any help moving the ball so far, but they got it there.
-Jaye Howard, who I think might be the most underrated player in the SEC, with a big stop to force fourth down. Field goal attempt then misses badly.
-Weis is having fun with his toys so far today. UF has utilized speedy Rainey and Demps, as well as versatile Burton on almost every snap. This should open up the game later on for the wideouts to become more involved as Tennessee has to focus more on the Gator backs.
-Sturgis continues to be a nice comeback story. After missing eight games last year with an injury, he has opened 2011 5-for-5.
-Bullard and Howard offering a preview of Mayweather-Ortiz or Ellenberger-Shields (whatever your preference) with a small brouhaha. Bullard flagged as first quarter ends. To show it is involved, CBS plays the theme to WWE Smackdown coming back from commercial.
-It's tough to think of a more valuable running back in college football than Chris Rainey. He carries the ball, catches passes, returns blocked punts, returns kicks and punts and just blocked the fifth punt of his career. I'm not sure what position he will play in the NFL (due to his diminutive size, my guess is in the slot), but someone will have a place for him.
-Who is Florida's special teams player of the year so far? Rainey and Sturgis (now 7-for-7 on the year) are running a tight race early.
-Spurrier is Aflac answer (1990).
Florida 33, Tennessee 23 -- FINAL
Adois! Thanks for joining us. Enjoy Oklahoma-FSU, Miami-OSU, Louisville-Kentucky or whatever you will be watching.
Florida 33, Tennessee 23 -- FINAL
My initial MVPs are Rainey on offense and the DL as a whole on defense (UT had negative rushing yardage). Sturgis gets special teams nod. Tune in Sunday for final analysis.
Rainey with 223 total yards and a blocked punt. For the third straight game, he is the overall MVP.
Muschamp just hugged Emmitt.
Nice win for Will. Congrats, bud...
Florida 33, Tennessee 23 -- 4Q, 1:49
15 penalties for 141 yards against UF. At least 8 on the DBs. Unacceptable for the Gators.
Elam makes it all go away with late INT, though...
Florida 33, Tennessee 23 -- 4Q, 3:23
Lerner has punted very well for UF today in his first real action of the season. I covered him in high school, and no doubt, his family (from Gainesville) is in the stands and are happy tonight. His last punt helped UF a lot. The most recent pass interference did not, however.
Florida 33, Tennessee 23 -- 4Q, 3:56
Tremendous stop by Tennessee's Smith on Burton. Went unblocked. Vols still in this.
Florida 33, Tennessee 23 -- 4Q, 4:46
Regardless of outcome, Gator secondary needs to improve. Roberson has proven outstanding in coverage, but he needs some time with the juggs machine to work on his hands. Others have had issues in coverage (Roberson appears to be OK there).
Florida 33, Tennessee 16 -- 4Q, 6:42
I know it is easy to make fun of kickers, but Caleb Sturgis is 9-for-9 this year. That has been a huge part of UF's offense. He looks better than he was before he was hurt last season.
Florida 30, Tennessee 16 -- 4Q, 7:45
UF owning this one on the ground
Florida 30, Tennessee 16 -- 4Q, 13:49
The Swamp is a lot quieter now...
Florida 30, Tennessee 13 -- 4Q, 15:00
Vols making a game of it now. Might be a 10-point margin soon.
Florida 30, Tennessee 13 -- 3Q, 3:51
Quite a few Florida natives making plays for the Vols today: S Art Evans, OLB Curt Maggitt & RB Marlin lane to name a few.
Florida 30, Tennessee 13 -- 3Q, 4:25
Demps covers 10 yards as fast as I cover two.
Florida 30, Tennessee 13 -- 3Q, 4:25
Nice TD pass by Bray. Gotta question the two-point try, though.
Florida 30, Tennessee 7 -- 3Q, 6:11
Gators 0-for-4 on offensive review plays today.
Florida 30, Tennessee 7 -- 3Q, 6:11
To those who haven't noticed,TE A.C. Leonard is seeing his first action of his career today for UF. He is a true freshman from Jacksonville. He has been needed with Jordan Reed out with an injury.
Florida 30, Tennessee 7 -- 3Q, 8:09
Just a reminder to those who read Bleacher Report often. I predicted a blowout in this game prior to the season and got a lot of heat for it. Just saying...
Florida 30, Tennessee 7 -- 3Q, 8:09
Am I alone in thinking Chris Rainey has been one of the 10 best players in college football this year?
Florida 23, Tennessee 7 -- 3Q, 9:18
Tennessee deserves credit for how it uses Bray. He isn't forced to stand in the pocket or move around in the pocket. The Vols' pass plays primarily are quick drops and intermediate passes. Bray does those very well.
Florida 23, Tennessee 7 -- 3Q, 11:41
Stat of the game (at least from my four eyes): Tennessee is averaging 0.3 yards-a-carry.
Florida 23, Tennessee 7 -- 3Q, 11:41
Lotta guts by Gator coaches to call a run on fourth-and-goal after a few plays have failed. Emmitt was happy, as were the more than 90,000 in attendance along with him.
Florida 16, Tennessee 7 -- 3Q, 13:12
The Gators have done a really good job involving their three RBs (Demps, Rainey & Burton) in the passing game today. That actually could be a huge factor when playing Alabama, which has outstanding, but big, linebackers. Making those guys cover in space could be the best idea for UF on Oct. 1.
Florida 16, Tennessee 7 -- 3Q, 14:10
Wow, Josh Evans has been a big part of this game. Two bad first-half penalties and now a beautiful INT to open the second half. There shouldn't be a game story in the country on this one that doesn't include him.
Florida 16, Tennessee 7 -- halftime
Few notes...
*Justin Hunter won't be returning for Tennessee
*the crowd has been really rowdy
*Vols get second-half kickoff
Florida 16, Tennessee 7 -- halftime
Hard to believe two media members picked Mississippi to win the SEC West. Final score: Vandy 30, Ole Miss 7
Florida 16, Tennessee 7 -- halftime
Fun stat: UF is allowing an average of one point each quarter this season.
This article is
What is the duplicate article?
Why is this article offensive?
Where is this article plagiarized from?
Why is this article poorly edited?

Florida Gators Football: Like this team?