Sooners and Texas Decide Big 12 (FBS) Fate on Monday. Realignment Rumba: Part 5
September 17, 2011
The Associated Press reported last weekend, that in a last ditch effort by Texas to save the Big 12 conference, the school's top leadership (including President Bill Powers, Athletic Director, DeLoss Dodds, and women's Athletic Director Chris Plonsky) met with Oklahoma officials (including president David Boren) to discuss the Sooner's "presumed" move to leave the Big 12 conference.
Then, on Thursday, came news that the University of Oklahoma's board of regents had scheduled a meeting for this coming Monday, for the purpose of discussing changing athletic conference affiliation and the legal ramifications of such a move.
Finally, on Friday, an AP release stated that the University of Texas' board of regents will also meet on Monday to discuss "appropriate action regarding" their athletic conference affiliation.
So the divining of the entrails, scattered this past week by the Sooners and Longhorns, seems to suggest that, come late Monday afternoon, the Big 12 will officially begin its slide into history and college athletics will be thrust into realignment turmoil. It appears that despite last weekend's pleas to the Sooners by Texas to stay, Oklahoma will announce it is leaving the Big 12 conference. 
It will play as if Texas could not stop the selfish and unthinking "over-reaction" by Oklahoma to the departure of Texas A&M, leaving the Longhorns with no other recourse but to act out of self-survival and announce that they, too, will be departing the conference.
Two weeks ago I suggested on Bleacher Report the possibility of this scenario.  Of course I could have been mistaken, but let me explain why the new tea leaves make me think I am not.
This week you will hear of the financial instabilities that tore the Big 12 apart. You will hear about Texas A&M's jealous and selfish migration across the Mississippi to greener pastures. You will hear of the rejection of the gracious compromise offered by Texas to keep the conference whole, and you will listen to a tale of self-survival and far-sighted outlook by resilient Longhorns leadership. But my guess is that nowhere in any narrative will you hear of the fatal disease to which the Big 12 succumbed—The Longhorn Network (LHN).
Yes, currently, the LHN is far from threatening.  But it is the potential instability it carries that brings the concern. In its current form, the LHN has terrible distribution and limited content.  However, as long as ESPN is behind the network—the potential for continuing "over-reaching" at the expense of fellow conference members, is a portent for trouble.
Let's examine Texas' athletic profits. Nobody., and I mean NOBODY, generates more revenue from football than the University of Texas ($93.9 million). And nobody culls a larger profit from college football than the University of Texas ($68.8 million). DeLoss Dodds is the Texas Athletic Director and he is the financial rudder for the University of Texas athletic department.
It is his wisdom and acumen that captains the UT athletic ark of sports upon the propitious revenue streams it sails. What would Texas do financially without "Double D" and the Texas football team?
Interestingly, Texas' overall athletic profit derived from all sponsored sports is only $13.1 million.  This means that for all sports (other than football) the UT athletic department runs at a deficit of $55.7 million (and that is with $37.1 million of contributions and a profitable men's basketball team).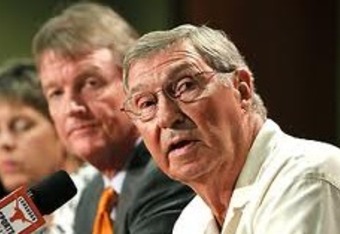 Without the extremely profitable football, Texas athletics would bleed money. Mr. Dodds is aware of this and therefore must "preserve, protect and defend" Texas football (excuse the pun) at all costs.
I find it extremely unlikely that a man who holds these responsibilities and is as wise as Deloss Dodds would first watch A&M and then Oklahoma prepare to leave the Big 12 and all the while idly stand upon his bridge and do nothing as these two torpedoes approach his flagship.
Yet surprisingly, other than the mention of a feeble and desperate eleventh hour maneuver, the events this week, as told in the media, would suggest just that. With all the cited revenue and programs at risk, you can rest assured that Texas and Dodds are doing a little bit more below decks than huddling in prayer.
With A&M gone and Oklahoma looking for its hat, Texas has three options before it: (1) Stay in a diminished Big 12; (2) Become an independent or; (3) Join another BCS conference.
Option 1 has been a lost cause for quite some time. Colorado, Nebraska, Oklahoma, and presumably Oklahoma State, the top four revenue generating school in the Big 12 for 2010 behind Texas, have or will have left. Replacing these schools from a financial standpoint is impossible. 
As I discussed in the first part of my chronicles, Texas knew in January, when it created its own network, that the top earning schools in the conference might leave and the Big 12 would sink.
Option 2  is not a viable or attainable alternative. Texas is not Notre Dame. The Irish are unique and their fan following is truly national and possesses heavy-tailed demographics. Texas is not in this position. 
While Texas fans are as fine as they come, once you cross the Red or the Sabine Rivers, the Texas fan base gives way to those of other schools. Moreover, what does Texas do about its non-revenue sports? I don't think playing in the Sun Belt or Conference USA is acceptable to the Austin management. 
They are not going to get the sweet deal like Notre Dame got from the other catholic schools within the Big East from any BCS conference—especially with Texas Tech and the Longhorn Network in tow.
That leaves option 3. First, Texas Tech is included in any conference deal. That is awkward to say the least.  Secondly, with Texas athletic revenues what they are, the Longhorns would eventually rule the roost of any conference volary they would potentially join. This would not sit well with "Tobacco Road" in the ACC or any member of the Big Ten Club.
Finally, these rumors about the ACC or an eventual invitation from the Big Ten are utter nonsense with the LHN (and ESPN) in the background. Neither of these conferences (or for that matter any BCS conference) is going to be willing to invite the LHN wolf into their conference hen house.
The LHN is the cause of the Big 12's death and it could potentially result in any conference that Texas would join experiencing a similar fate. Even after Texas agreed to equally share all conference TV revenue, the presence of the LHN presented such a strong instability that the top revenue producing schools still opted out of the Big 12. Unless the Longhorn Network goes away (and at the moment that's against Longhorn wishes) I don't think Texas will be warmly welcomed in many places.
However, the Pac-12 would be willing to allow Texas to continue the operation of its own network, but under an attenuated version and, one that would operate as a channel under the Pac-12 Network's umbrella.  If Texas took this option it would have to compromise its media vision.
Deloss Dodds is too smart to have let Texas A&M and Oklahoma put his revenue streams at risk and create this seeming dilemma for his school. Texas knows what it is going to do and knows where it is going to be when the Big 12 passes into antiquity; it is only us that remain in the dark—at least, until Monday.