Syracuse Orange vs. USC Trojans: Live Score, Highlights and Analysis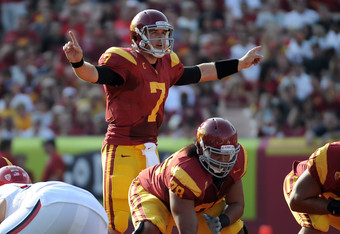 Quarterback Matt Barkley and center Matt Kalil
Harry How/Getty Images
USC 38 - Syracuse 17 Final
With the temperature expected to be in the upper 60s at game time, it should be a fantastic evening for football at the Los Angeles Memorial Coliseum.
Syracuse and USC have only met twice in their storied history, with USC winning both times. However, Syracuse comes into the Coliseum determined to change that.
Syracuse brings with them a perfect 2-0 record for the first time since 1999, and they would love nothing better than to leave with their first 3-0 start since 1991.
However, USC will surely have something to say about that. The Trojans are also 2-0 and looking to make it three straight. They are a two-touchdown favorite, but have had difficulty the last two years beating the spread.
So far this season, the USC offense has disappointed. In both their previous games, the Trojans offense has sputtered in the second half, scoring only one touchdown total. Lane Kiffin hopes his mistake-prone offense will finally step up this evening against a relatively inexperienced defense, or the Syracuse offense could steal this one away.
Syracuse has had to come from behind in both of their games. In their season opener, they found themselves down by 15 points in the fourth quarter. Ryan Nassib, the Orange quarterback, led the comeback to tie Wake Forest and then grab the victory in overtime, 36-29.
However, last week the Orange barely beat the University of Rhode Island Rams, 21-14. In both games, Nassib got off to a slow start but finished strong.
USC's junior quarterback Matt Barkley, a third-year starter, has done just the opposite. He started off strong but has faded along with the entire offense in the second half.
Although both schools will rely heavily on the arms of their quarterbacks, in the past Syracuse and USC have been known for their traditions of great Pro Hall of Fame and Heisman running backs.
Names like Jim Brown, Ernie Davis, Floyd Little, Larry Csonka and Joe Morris from Syracuse, and Sam Cunningham, Mike Garrett, O.J. Simpson, Marcus Allen, Charles White and Anthony Davis from USC, have thrilled both college and pro football fans alike.
Senior running back Marc Tyler hopes to continue that tradition for USC today when he meets his Syracuse counterpart, Antwan Bailey.
Once the game gets underway, I will have updated highlights, analysis and commentary.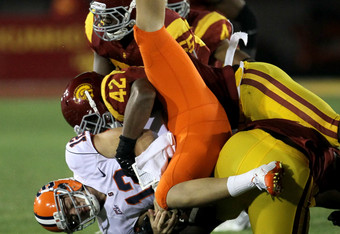 It wasn't a perfect game, but it was an improvement for USC. And that's what you want to see - improvement every week.
Even more importantly, it was a complete game. The Trojan offense and defense played well in all four quarters and that had not happened before tonight.
The Trojans should be able to build on this game as they go into the desert next week to play the Sun Devils, and you know Arizona State will be psyched up after getting upset today by Illinois 17-14.
Hopefully, the Trojans will be just as psyched and can use the improvement and the momentum from this win to take them to the next level and keep building from there.
So, that's it from Los Angeles, where the Trojans come out victorious, 38-17 over the Syracuse Orange.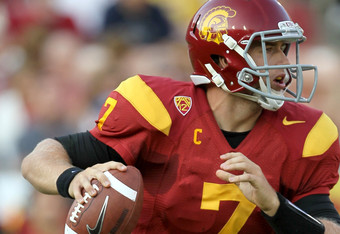 Barkley finished with 27-39 for 324 yards and five TDs. Nassib was 25-37 and 230 yards and a TD.
Neither quarterback threw an interception.
Alec Lemon also threw a TD on that flea flicker.
Rushing, USC ran for 186 yards on 33 carries. Curtis McNeal racked up 80 yards on just 5 carries. Marc Tyler picked up 47 yards on 15 carries.
Antwon Bailey had 47 yards on 11 carries for the Orange. Ryan Nassib had 17 yards on 7 carries.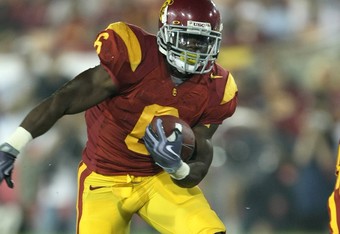 USC has finally put together a complete game. Both the offense and defense have looked special tonight.
Before the game, USC was ranked 91st on offense. If you take away that blocked FG touchdown run by Torin Harris last week, USC would be ranked 100th.
That will surely change this week.
Some other things might change as well like Curtis McNeal (I have been spelling his name wrong) getting more PT. This guy is a one-man wrecking crew on this drive. He has taken it all the way down to the Orange five-yard line. He has just had three straight runs for 9, 15, and 43. That last one was a thing of beauty.
But Barkley just got sacked for a 10-yard loss and USC should just run out the clock with 20 seconds left and that's just what they do.
Game Over!
The Trojans will probably keep it on the ground to try to rundown the clock. Hey, that was Curtis McNeil hopping around like a jack rabbit!
Nice run! Nice penalty on Devon Flournoy. Then D. J. Morgan puts the football on the ground again. Second time in two weeks.
That gives the ball back to Orange on the USC 24. Morgan might not see any playing time for quite a while. Too bad, he's a good kid. But USC just cannot afford to have mistakes like that two weeks in a row.
Fortunately, Nassib tried to run out of the pocket and coughed up the ball back to USC.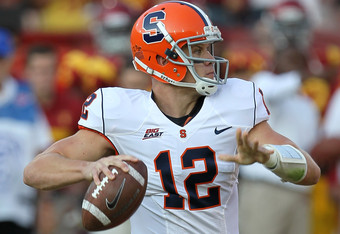 I like the way Syracuse is hanging in there despite being down by four touchdowns. They took the ball deep in their own territory and are now across midfield and into USC territory.
I think the Orange should do well in the Big East even though they have a young defense. There probably isn't another team in that conference that has the fire power that USC has.
Another true freshman for USC, Tre Madden, had a nice open field tackle.
Back to what I was saying. If Nassib can show a little more north-and-south mobility that will help them in the Big East. It will give their competition another thing to think about when they face them.
Syracuse is in hurry up and driving, and Nassib hits Lemon right between two defender. Nicely done! 86 yards in 13 plays.
Five TD passes tonight for Barkley to five different receivers.
Now the defense can come back on the field.
Oh, BTW, next week's opponent, Arizona State, lost tonight 17-14 to Illinois.
Except for USC, it has been a horrible day for the Pac-12. Arizona State, Washington and UCLA all lost.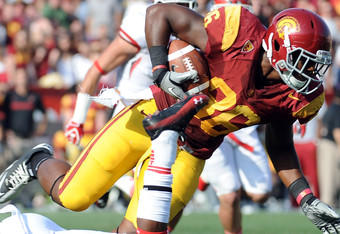 What?!! Barkley rumbling for a first down! More like Barkley running for his life and a 12-yard first down. Just keep that defense on the sidelines.
Well, well, Baxter slicing and dicing close to another USC first down. Who know? If DB keeps that up maybe he will get more PT.
This is the second time Xavier Grimble put the ball on the turn in two weeks. Actually, it's a TD. The ground caused the fumble as he hit the goal line. But the guys in the booth have to have a look. Hmm? His elbow and butt look short of the goal line.
Okay, I'm wrong. It is a touchdown.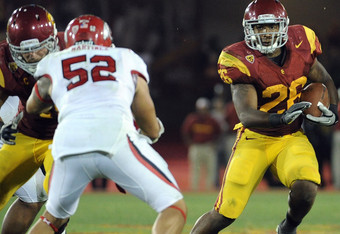 Defense! A big play by the offense followed by a huge sack by Wes Horton on the defense!
USC has the ball back on the 30, and Barkley short-armed a wide-open Randall Telfer, his worst pass of the night. But all-in-all, a pretty good night.
Of course, Barkley won't let that get him down. He comes back to Marc Tyler to keep the drive going and more importantly to keep the USC defense on the sidelines.
Kiffin is mixing it up now really well with Tyler running and Barkley throwing.
And that's the end of the third quarter with the Trojans up by three TDs.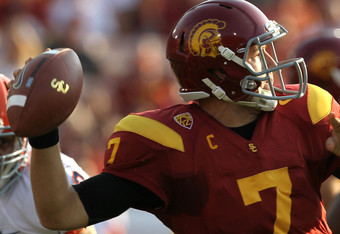 Okay, that's one first down with a qb sneak by Barkley on a third and one.
Uh-oh, two straight penalties on guess who? Marcus Martin, the true freshman. He got caught with a hold on the first one and then a false start.
Okay, that's the second first down on a non-catch catch by Woods that the refs missed. And then a good catch for the first down.
OMG! You want to see a picture-perfect fade route? You will not see a better one in college or pros than the one that Barkley just threw to the true freshman, Marquise Lee. It went for 43 yards and dropped right in Lee's arms for a TD, a real beauty!
Nassib dropped all the way back and hit Nick Provo his tight end for a 33-yard gain. But what happened to the USC rush? There was absolutely no pressure on Nassib. He had all night to throw that one.
Hello, Monte! Don't fall asleep on us, okay?
Ah, that's better two-pressure rushes and an incomplete and a sack by DaJohn Harris, forcing a punt.
Okay, you can nap now Monte. The offense is on the field. Hopefully they will pick up a few first downs so Monte can get his 40 winks.
It looks like we might have an old fashioned shootout on our hands tonight.
Mikhail Marinovich pressured Barkley on a third-and-nine to force a USC punt. Each stop will be very important in this half.
The Orange answered the USC touchdown with a touchdown of their own. Now USC must answer the Orange stop with a stop of their own.
It will be interesting to see what Monte Kiffin dials up after that flea flicker TD.
So far, 24 is the most points USC has scored this season.
But the Orange are not about to pack up and go home.
A little trickery with Nassib tossing to Alec Lemon who hit his wideout partner, Van Chew wide, wide open in the end zone for the first Syracuse TD.
Didn't I tell you? These guys compete to the very end. If USC thought this would be a walkover, they can think again.
That was quick! USC started off with two breakout runs by Marc Tyler. Then Kiffin figured the Orange would give Woods double coverage, which they did.
That left the seam down the middle wide-open for Randall Telfer the redshirt freshman tight end and a quick seven for the Trojans.
Heck! I could have caught that one and scored, that's how open Telfer was!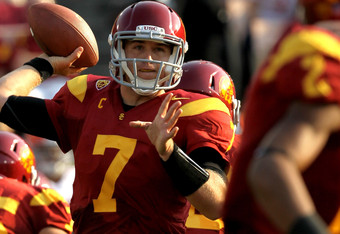 Barkley was 17-26 for 177 yards in the first half and two TDs. Woods caught six for 79 yards and 1 TD.
What will happen in the second half? Here we go! USC will receive the kick.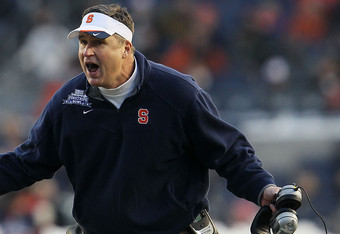 Here's the thing to look for in the second half. The Trojans are up by 14 (17-3). But so far USC has not fared well offensively in the second half after two and now three decent first halves.
In their season opener, the Orange came from 15 points down in the fourth quarter to tie Wake Forest and then win it in OT 36-29. So, USC cannot rest and try to glide to a win in the second half. Ryan Nassib is no quitter. He will complete all the way to the final gun.
Marrone and defensive coordinator Scott Shafer have taken away the Trojan ground game and have decide to let Barkley's arm beat them, which Barkley is capable of doing. No doubt Shafer will make adjustments and take the Barkley-to-Woods connection away.
So, the question is: Can Kiffin make the adjustments to Shafer's adjustment? That is something he has not been able to do in the first two games.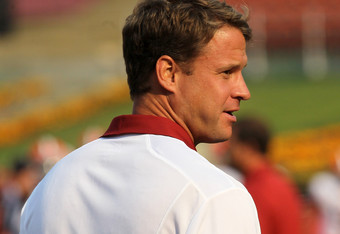 Hmm? Why did 'Cuse go for it on a fourth-and-ten from the USC 47? That should have been a punt. Well, if the Trojans score here, Marrone needs to rethink that one.
Okay, maybe Kiffin is just as dumb. Yeah, I'm sure of it. The Trojans have not been able to run against the Orange the entire half. So, Kiffin calls Tyler's number for a two-yard gain. Come on, Coach, what are you thinking?
Barkley hit Woods for 14 yards to the Orange 29 with just five seconds left. That brought in Andre Heidari again to try a 46-yard field goal. It curved way to the left. But if Kiffin had not called that run with Tyler, the Trojans would have had time for another pass to go for a score or get Heidari closer.
So, two dumb call by both coaches, but no harm done. HALFTIME!
Monte Kiffin has really dialed up the pressure on Nassib. He has decided not to let him sit in the pocket. He is blowing the linebackers and safeties in there, forcing the Orange to punt once again.
Despite the Trojans' score, the Orange defense is not playing dead. They are still flying to the ball and still stuffing the run. Deon Goggins and Jay Bromley are playing big.
Talk about playing big! True freshman Marquise Lee just made a circus catch and run on a third-and-eleven. That has USC driving once again.
OMG! Marcus Spruill nearly took Robert Wood's head off on another fly sweep. Wow!
Now we see why Dillon Baxter hasn't gotten the playing time he wants. He stopped running on short pass when he had a step on the defender. So, instead of seven, USC has to settle for a Heidari field goal.
Remember, Syracuse is a great come-from-behind team, and USC is not - as far as offense is concerned. The Trojans needed as many points as they could get in this half. Will 14 be enough?
Deon Goggins and Jay Bromley, the defensive tackles for the Orange, are really stuffing the run. Except for a Robert Woods end-around, the Trojan ground game has been grounded.
One penalty for another penalty. A pass interference against the Orange and a face mask against USC put the ball back from the Orange 21 to the 31. But the Barkley to Woods connection proved to the much for the Orange on this drive.
Two plays before Barkley threw a perfect pass to Woods. It hit Woods right in the hands and popped right out.. The TD pass was anything but a thing of beauty. It hung up almost for ever. I thought the free safety Thomas would get over to knock it down, but it reached Woods just in time for the Trojans second TD to put them up by eleven.
Wow, Torin Harris is doing a little bit of his magic once again. He intercepted the game-ending pass against Minnesota. Then last week he ran back a blocked FG for a TD to end the game against Utah. Now he breaks up a perfect pass and catch from Nassib to Alec Lemon by poking the ball out as he made the tackle on a sure-handed Lemon.
Hayes Pullard and Dion Bailey, the two young linebackers for USC, are having a great half so far. But so is the Syracuse defense. The Trojans were unable to do anything against the Orange on their second possession and had to punt. Syracuse will start from their 25 on their third drive.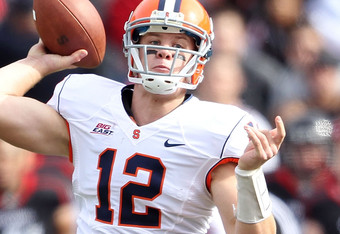 In the first quarter, Nassib was a perfect 11 for 11! I told you this kid was a very good quarterback. The problem has been that he has gotten off to a slow start in his first two games. But not today! This guy was on fire until ole Monte dialed up a blitz and Dion Bailey coming up from his linebacker spot nailed Nassib. Then Nassib threw long and threw his first incomplete. Still 11 for 12 isn't too shabby. But USC forced the Orange to punt and took over at their 21.
Nassib is really incredible. He has such a quick release, the kind that will light up the eyes of a lot of pro scouts just like he is lighting up the Trojan defense in the second drive for Syracuse.
I bet Nassib really has Monte Kiffin sweating gold bricks up in the press box.
That's the end of the first quarter with a first down for Syracuse at the USC 44.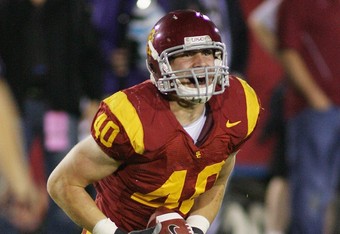 The Orange are flying around on defense and had USC pinned back in their own territory. But a personal foul gave USC some life.
The Syracuse corners are jamming the line of scrimmage, so Barkley is checking down to his short receivers to bring the Trojans down to the Orange four.
A trick shovel play to Robert Woods fell incomplete. I have no idea why they put in a dumb two-foot forward toss instead of a straight hand off. Kiffin should toss that one right in the trash can.
A third-and-goal pass in the flat to fullback Rhett Ellison gives USC their first TD and lead.
The Trojan defense stiffened and stopped the Orange short passing game deep in the red zone. Nikell Robey made the touchdown-saving tackle, and the Orange had to settle for three instead of seven.
Now its the Trojans turn to see what they can do.
Dorian Graham returned to the 23, where Syracuse will start. Ryan Nassib has a real quick release. He is going to be hard to sack. He has the Orange moving against the Trojan's defense with three first downs on short passes and good runs after the catch. A bunch of three-step drops and the ball is gone. Alec Lemon and Antwan Bailey have been the two go-to-guys for Nassib. And the Orange have the ball on the Trojans' five.
This article is
What is the duplicate article?
Why is this article offensive?
Where is this article plagiarized from?
Why is this article poorly edited?

USC Football: Like this team?